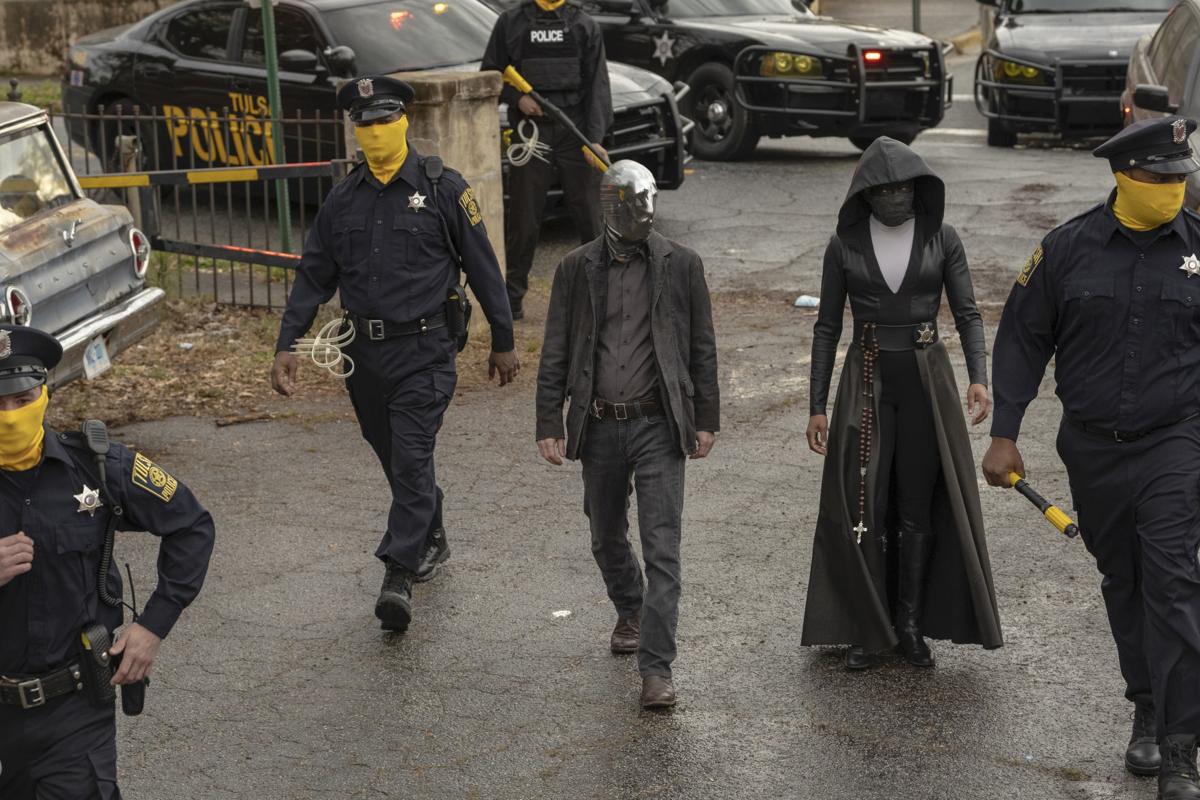 I had just settled in with my daughter on a Sunday evening. Like me, she is a comic book fan and along with another 1.5 million viewers, we decided to give the new HBO series called "Watchmen" a try. I was skeptical. The original comic is a genuine work of art — still one of the most daring, inventive and complex books made in the 20th century. (And I say this as someone who has devoted a career to the study of James Joyce!) Zack Snyder's attempt to adapt the original work into a 2009 blockbuster film had largely been a failure, mostly because he stuck too closely to the original. Although this HBO show promised something different, I still doubted that even an inventive writer like Damon Lindelof could translate the world of the comic to the screen.
After five minutes, we were both stunned. The show opens with a child watching a silent movie, but something is very wrong. There is a woman playing the piano in the theater with tears running down her face. Explosions shake dust from the ceiling. An armed man in an old Army uniform bursts in and leads them out onto Greenwood Avenue. It's last day of May in 1921 and the explosive violence of the Tulsa Race Massacre overwhelms us. All we can do is watch in powerless horror until the scene comes to a devastating close.
In this short sequence, the series captures something fundamental that had been missing from even the original "Watchmen" comic: a direct confrontation with American racism. The show viscerally reminds us that the superhero stories now driving so much of our popular culture grew directly out of the pain inflicted by white supremacy.
Superman, the first, foundational hero on which the entire genre now rests, was created by Jerry Siegel and Joe Schuster. They were children of Jewish immigrants who had fled the toxic anti-Semitism of Europe only to find it very much alive in the United States. So they created a "man of steel," an immigrant who changed his name and hid his real identity so he could pass as a white American.
Siegel first conceived of the character in 1933, the same year that Hitler seized power in Germany; the first comic (Action Comics No. 1) appeared in May 1938, just a few months before Kristallnacht, when Nazi mobs burned German businesses, homes and synagogues. Superman has since become many things, but he began as a fantasy about surviving an unjust world plagued by toxic, often murderous racism.
Every superhero comic that followed owes something to this foundational story. Some kept faith with it, such as Stan Lee and Jack Kurby's X-Men, a collection of regularly persecuted outsiders who fight to save a world that treats their differences with fear, derision and sometimes violence. For decades, they provided monthly stories of hope, survival and justice for those forced to the margins because they looked or loved differently. As these comic book universes grew into multibillion-dollar media properties, however, they lost touch with this origin story. Even the original "Watchmen" comic, which explores so many elements of comics' history, ignored this founding narrative of racial and sexual justice.
The HBO series, however, succeeds precisely because it insists on reviving this aspect of American superhero comics — and building an entire world around it. In the original story, the fictional world of "Watchmen" diverges decisively from our own when an atomic experiment goes wrong in 1959. In the HBO series, however, real and imagined history appear to diverge when white Tulsa laid waste to Black Wall Street. On those fateful days, the show tells us in that opening scene, history shattered. In the face of such overwhelming violence, the only thing to do was imagine an alternative where a black hero could hold the hatred at bay. (In fact, it's easy to imagine the entire story as a fantasy playing out in the head of that child we see at the start who watches his world disintegrate.)
By tapping into this foundational set of stories about justice, the show also creates an astonishing memorial to the massacre itself — not one carved of marble here in Tulsa, but one seared into the imagination of millions of viewers around the world. I cannot un-see the opening scene in the Dreamland Theatre or the flight of the young family through the bloodied streets of Greenwood.
And I'm also dazzled by the rest of what it dares imagine: Tulsa with a prosperous black middle-class sustained, in part, by a national monument to the massacre and by reparations paid to the survivors. This is the real superhero myth of the movie: not just the avenging character called Sister Knight, but a city that turned its bloody past into a livable future.
I'm not originally from Tulsa, but that's still my history on the screen: the history of my country, of my city, of the streets I walk with friends, of my favorite place to grab some beer and wings. I can do all those things without passing the memorial that now stands in Reconciliation Park. But every visit to the Arts District or ONEOK Field will now be shaded by those few minutes of a television show.
Memorials are not just about preserving the past, but also about making it useful for the here and now. "Watchmen" re-assembles our past for us then dares to invent an alternative future rooted in the justice and shared humanity this city once so violently denied its black citizens. This too is the work of memory. We remember because we have a moral obligation to confront the past's horrifying failures and preserve its fragile promises.
In "Watchmen," the burning of Greenwood becomes one such promise — albeit a fictional one. There are reparations, a sprawling memorial and a thriving multiracial community. As Tulsa now begins to plan its own memorials to the events of 1921, we would do well to look at "Watchmen" — at the way it insists on a powerful vision of justice that becomes a promise we must labor every day to keep. That has always been the utopian promise at the very core of the superhero story. It's a heroism we can all not just imagine, but actively practice.
Sean Latham is the Pauline McFarlin Walter professor of English at the University of Tulsa, director of Oklahoma Center for the Humanities and editor of "James Joyce Quarterly."