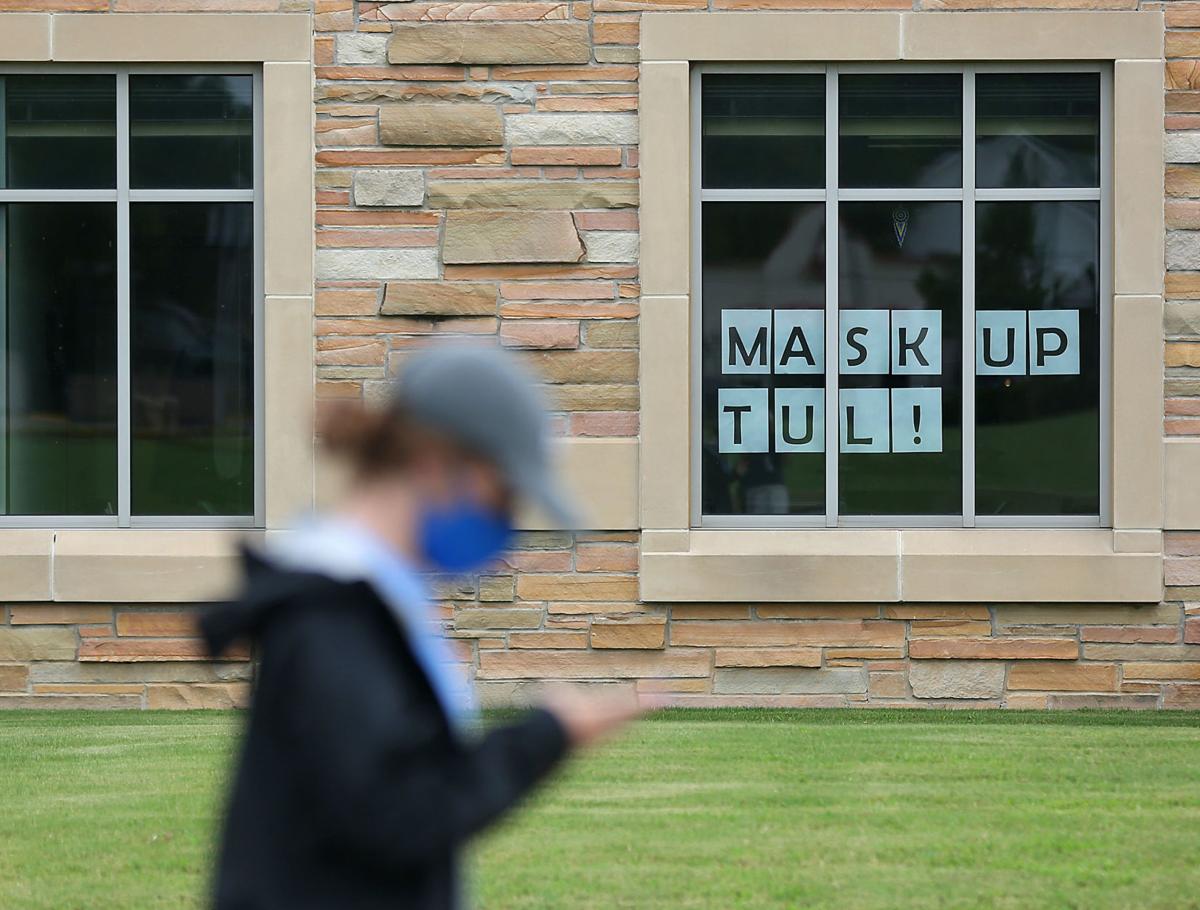 For those of us who have spent time in academia, the new year does not fall in January but rather at the end of August, when the university life cycle renews and refreshes.
From mid-August through Labor Day, year over year, the campus is reborn — new students to welcome; new classes and books and subjects to explore; new faculty to meet; new friends to make.
Due to the creativity, ingenuity and grit of so many faculty, staff and students at The University of Tulsa, the cycle continues this fall, although with some significant modifications. Six months into the pandemic that has upended all of our lives to varying degrees, business as unusual is the norm to which everyone is accustomed.
I offer my heartfelt gratitude to so many who have met daily since March to prepare our campus to reopen:
From hand-sanitizing stations to a mobile ordering app for meals,
From redesigning classrooms to finding clear masks for faculty,
From installing tents for socially distanced outdoor activities to enhancing campus Wi-Fi,
From adapting our schedules to training contact tracers,
From administering COVID-19 tests to delivering food to those quarantined.
Our TU community feels supported by our medical advisers, trustees, alumni leaders and others who care deeply about our university and our city. As of this writing, we do not know what the pandemic will bring to our campus next week, next month or next year. What we do know is that the best of TU met this challenge head on. And, for the time being, we are excited to be together — even if physically distanced.
Our university and our world have faced equally difficult challenges during the more than 125 years TU has existed, and we have always emerged stronger and more resilient. I am confident we will do so again.
For all the heartaches 2020 has given us, it has also provided us a new perspective. It has shone a light on the vital importance our colleges and universities have in the lives of our students and our community.
Today's students will answer our world's most pressing concerns due, in no small part, to the guidance and tools TU provides, such as pairing students with alumni mentors and offering community service opportunities.
Although the university's energy portfolio maintains a focus on oil and gas, new efforts in algae biofuels, geothermal energy and solar power show the capability to rapidly pivot to sustainability.
TU law students are learning to protect the rights of those who otherwise might be forgotten.
Alumni of our bachelor's degree in nursing and nurse practitioner programs are on the front lines of the COVID-19 fight.
And our biochemistry graduates will help cure diseases and conditions from AIDS to Zika and prevent future pandemics.
The benefits of having a world-class university in Tulsa are immeasurable. TU attracts talented students from virtually every state and dozens of countries. They spread the word that Tulsa is a modern, forward-thinking city.
Recent cutting-edge program additions include the unique TU-Team8 Fellowship for cyberresearchers and entrepreneurs and an online master's degree in cybersecurity that bolsters our nation's ability to protect its citizens, industries and infrastructure.
With students and faculty back on campus for the first time since March, we embrace the exhilaration of renewal that characterizes fall on a college campus. It may look different with students, professors and staff donning face coverings — but those masks won't hide the magic that happens when curious, creative, determined people gather at a place committed to higher education and the greater good. This is TU. This is Tulsa.
---
Janet Levit is interim president of The University of Tulsa.
Concerned about COVID-19?
Sign up now to get the most recent coronavirus headlines and other important local and national news sent to your email inbox daily.