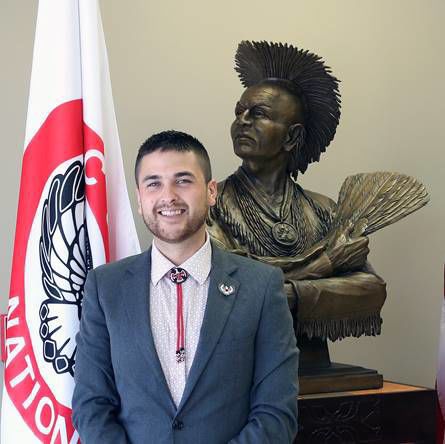 Ronald Reagan is a hero to many Republicans. He led a political revolution to reshape the role of government in America. His efforts restored America's economy and the American people's trust in the presidency.
As a Republican privileged to serve two terms in the Oklahoma House of Representatives for District 26, I subscribed to President Reagan's low-tax, less-regulation approach to government. That is why I was disheartened when I heard Gov. Kevin Stitt propose a 25% exclusivity fee rate on tribal gaming in Oklahoma.
As the principal chief of the Sac and Fox Nation, I value mutual respect, productive partnerships and statesmanship over salesmanship. Stitt's rhetoric seems intentionally divisive and destructive — a misguided and ill-conceived negotiation tactic.
A federal judge will weigh the law and facts to decide if the state's compacts with tribes renewed automatically. I stand firm with my fellow tribal leaders on the issue of automatic renewal. That's why we will continue to remit our exclusivity fees to the state, doing our part to avoid any disruption as we work toward a lasting resolution of this manufactured crisis.
As a legislator, I worked with my colleagues to bring opportunity to economically depressed rural areas. But I could never imagine how much tribal gaming would positively impact Oklahoma's rural communities. The gaming industry has created jobs throughout rural Oklahoma and brought money into our state from other states, particularly Texas. The robust tribal economies buffer Oklahoma's rural economy from a severe downturn.
Stitt's actions to date suggest he doesn't recognize our inherent sovereignty. He would rather divide us, where tribes prefer working together in the spirit of shared values and common goals for the greater good of the entire state.
Perhaps it is not too late. Stitt can learn from Reagan. Following disparaging and harmful comments by James Watt, Reagan's then-secretary of the interior, that disrespected the tribes and tribal citizens, Reagan took the courageous step to reset the relationship between the federal and tribal governments. He started with a heartfelt apology and promised his administration would work directly with the tribes, government to government. The National Congress of American Indians was so moved by the sincerity of Reagan's apology that it adopted a resolution commending him in the fall of 1983.
In his statement of apology to America's Indian tribes, Reagan said, "This administration will reverse the trend toward excessive federal control by removing obstacles to self-government and by creating a more favorable environment for the development of healthy reservation economics." Reagan and his administration followed through on their word, signing into law the historic Indian Gaming Regulatory Act in 1988.
Reagan's policy of respecting the tribes' authority to control their own economies worked, and so have the government-to-government compacts that the state of Oklahoma presented to Oklahoma tribes under Gov. Brad Henry's administration, which were later honored and upheld by Gov. Mary Fallin.
A strong government-to-government relationship must be based in respect. Monday's State of the State address presents an opportunity for Stitt to reset the relationship.
Justin Wood, a former state legislator, is principal chief of the Sac and Fox Nation.
---
Catch the latest in Opinion
Get opinion pieces, letters and editorials sent directly to your inbox weekly!