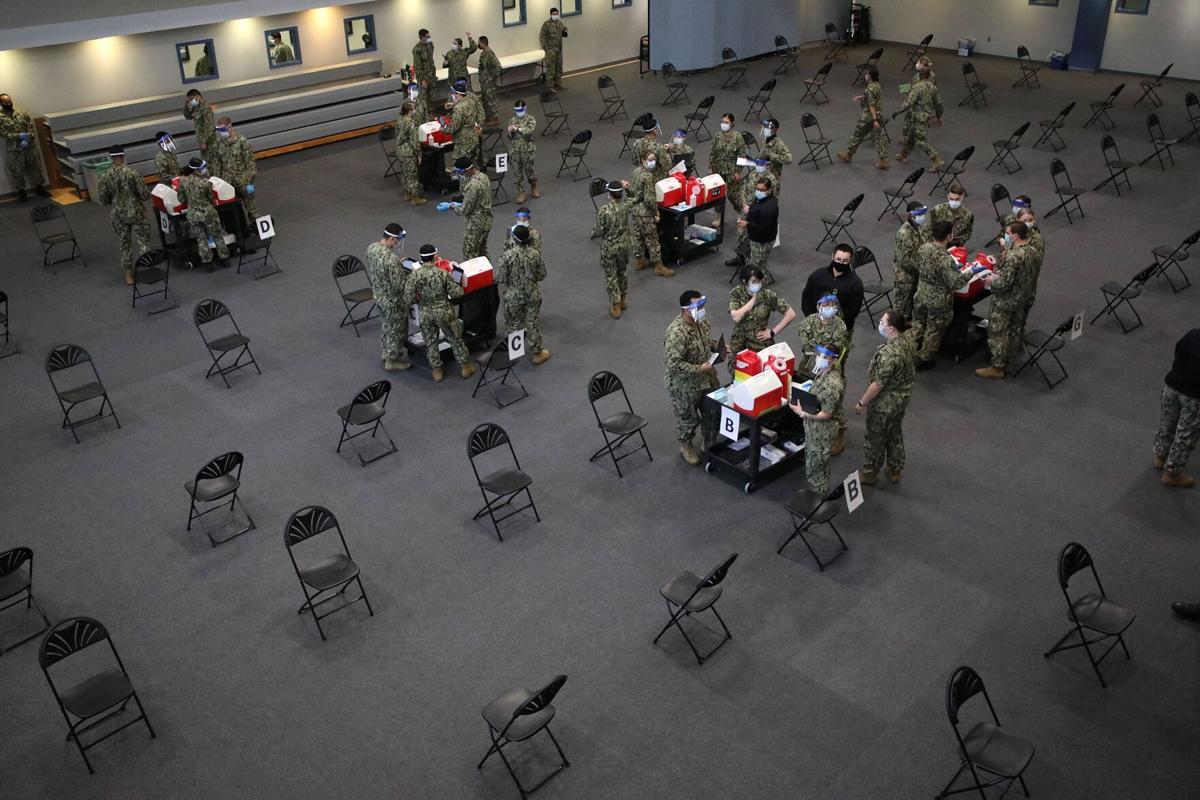 As the Tulsa Health Department rolled out COVID-19 vaccines, the most common question Reggie Ivey heard from Black residents was about how many people of color were part of the clinical trials.
This didn't surprise the agency's chief operating officer, who grew up on the north side of Tulsa. There are legitimate historical reasons people of color are dubious of the medical system.
"We realize there are minority populations who don't easily trust the health care system for a lot of reasons," Ivey said. "General population information does not connect with minority populations. Sometimes, you have to do things differently to reach minority populations when trying to make sure everyone in Tulsa County has equal access to information, or to have information at all."
Last week, a temporary, federally supported vaccine clinic at Tulsa Community College's Northeast Campus, 3727 E. Apache St., opened to help ease access to vaccines in the surrounding neighborhoods.
THD reports 42% of county residents have received at least one dose, and about 32% are fully vaccinated. Of white residents, 42% have received a vaccine, compared to 20.7% of Black and 16.3% of Hispanic residents.
This gap reflects the national trend of much lower percentages of Black and Hispanic residents being vaccinated, according the U.S. Centers of Disease Control and Prevention. The racial breakdown of fully vaccinated Americans are 68% non-Hispanic white, 8.3% Black, 9.5% Hispanic, 4.4% Asian and 1.2% Native American.
"With the COVID vaccine, the trust factor is a huge issue among minority populations," Ivey said. "We've had to identify physicians who are minorities to talk about the efficacy and safety of the vaccine because we needed to have individuals who were professionals who could speak to certain populations.
"This was so they could hear the message. We certainly have work to do."
Early on, THD began working with pastors and leadership of several churches in north Tulsa including the Antioch Baptist Church, New Jerusalem Baptist Church, Metropolitan Baptist Church and Friendship Church to reach north Tulsa residents with concerns.
"With COVID, there has been so much information coming from so many different sources, and a lot of those sources are not reputable. But people still hear that information," Ivey said. "When you hear a lot of false information constantly, daily, you begin to believe that is true.
"It has been challenge for us. Our efforts are to follow the CDC and the science; that is what we are going with to the community. But, the community is hearing a lot of information from not reputable sources. Trying to refute that has been a challenge."
Most clinics in the area have been offering the vaccine, including Westview Medical Clinic and Morton Comprehensive Health Services.
Westview business manager Brian Woodard said the clinic couldn't keep up with demand at first and has continued a steady distribution. At its busiest, the clinic provides about 80 shots a day.
The clinic staff made it easier on patients by contacting them for appointments rather than have them go through the state's online portal. Many patients have been going to Westview for years
"We had heard that the African American population would be reluctant, but we haven't experienced that here," Woodard said.
Morton has been working with its partners, such as Life Senior Services, to get out as many vaccines as possible. Like Westview, it has been calling and texting its patients to schedule appointments.
Registered nurse Darlene Reynolds, who also serves as a case manager at Morton, knew she would likely be vaccinated but felt an instinctive reluctance.
Distrust among minority populations comes from historical abuses of Black Americans, most notably a four-decade study called the Tuskegee Syphilis Experiment that infected unknowing Black men with syphilis and then refused them treatment.
Also, for decades medical researchers used the cancer cells extracted from Henrietta Lacks, a Black woman, without permission or compensation. In the 80s, Black foster children in New York City were enrolled in AIDS drug testing without safe monitoring.
Recently, studies are showing bias in the exam room have a role in the higher rates of poor outcomes for minority populations from diabetes to infant and maternal mortality.
But, Reynolds, being a nurse, knew the accurate information about the COVID-19 vaccines and trusts the Morton physicians. A conversation with Dr. Ed Mulkey at Morton gave the peace of mind she sought.
"I knew I probably should take it," Reynolds said. "Dr. Mulkey said that for sure people are dying from COVID-19. So, if you don't take the vaccine, you could die from COVID. But you probably aren't going to die from the vaccine."
The CDC states that the database "has not detected patterns in cause of death" to indicate safety problems with COVID-19 vaccines. Also, the agency says "a review of available clinical information including death certificates, autopsy, and medical records revealed no evidence that vaccination contributed to patient deaths."
The suspended Johnson & Johnson vaccine caused blood-clot complications in six patients out of the 7.5 million doses given, including one death.
Reynolds used Dr. Mulkey's reasoning and CDC information to convince at least 30 others to take the vaccine.
"A lot of African American people say, 'Don't you remember Tuskegee and how we were used as guinea pigs? I say, yes, but if you look at how many of us or those who look like us are dying, we are at a really high risk," Reynolds said. "And they listen."
Reaching all the corners of Tulsa County is challenging considering the diverse populations, including translating information in multiple languages. Online registration remains difficult for older populations and those without access to technology.
THD at its clinic arranged for appointments by telephone and through other online platforms like Sign-Up Genius.
But, having answers to concerns has been a big part of the vaccine push. That's why Ivey got into the details of the clinical trials.
Dr. Anthony Fauci, the top U.S. infectious disease expert, has stated in interviews that he stressed to drug researchers that the trials must closely reflect the country's race and ethnic populations. Historically, people of color have been under-represented in trials.
Among the global Pfizer trials, it included 81.9% white, 9.8% of Black patients, 26.2% Hispanic, 4.4% of Asian and 0.6% Native American. The Moderna U.S. trial breakdown is 79.4% white, 9.7% Black, 20% Hispanic, 4.7% Asian and 0.8% Native American.
For comparison, the U.S. population of 16 and older is 73.6% white, 12.3% Black, 17.6% Hispanic, 5.9% Asian and 0.8% Native American.
"We have to educate the community that in those trials, minority populations were a part, and this is how it impacted the minority population," Ivey said. "It's important we go into communities where those populations live and not have them always come to us.
"It's a heavy lift but a necessary lift because we want to make sure everyone has equal access to this vaccine. It's an uphill climb because trust in the health care and medical systems are major issues for the minority populations."