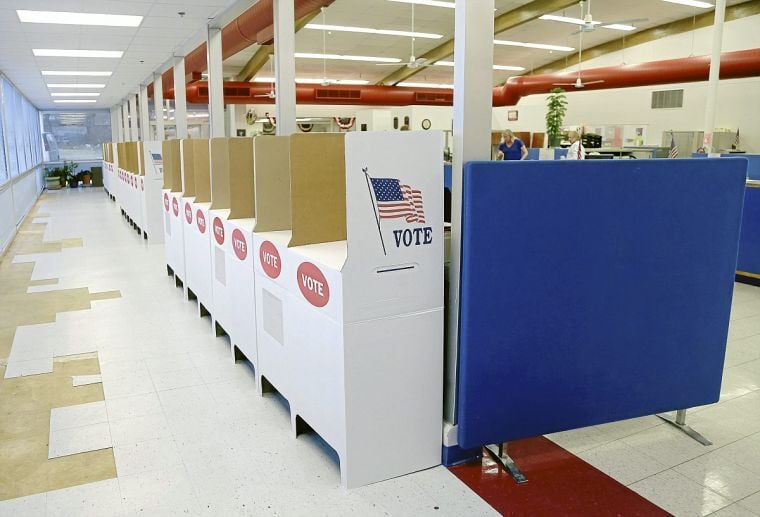 The pandemically styled presidential conventions wrapped with great fanfare and little surprise in the quest to convince undecided voters. 
Each party's convention put forth a candidate who has spent a lifetime in the public eye. There ought not be questions about where the men stand on public policy and political positions. 
So, it's a head-scratcher how anyone can claim to be undecided. 
For so long, undecided people have been interpreted as middle-of-the-road thinkers, tinkering on a line between candidates. Campaigns exert a lot of energy finding the right argument to tip that scale. 
Only, nonvoters aren't so undecided, according to an intriguing report from the Knight Foundation on people who consistently avoid voting. 
The "100 Million Project" took a deep dive into who and why about 100 million Americans — or about 43% of eligible voters — didn't go the polls in the last presidential election. These also are people who usually never vote. 
Of those, only 8% say they didn't know enough about the candidates and 5% say they weren't educated on the issues. 
The biggest reason for not voting (17%) was they didn't like the candidates. Other explanations centered on a lack of faith in the system or just didn't find time, which smacks of looking for an excuse.
When it comes to how nonvoters feel about political issues, they have definitive opinions. 
"When asked what is the most important issue currently facing the United States today, non-voters cite many of the same issues as active voters: immigration, gun control, jobs, health care, the environment and race relations among the most important. Where they differ from active voters is in their prioritization of these issues," the report states.
That order goes from immigration as the top concern followed by health care and the economy. Trailing after that are issues around guns, race and the environment. 
Even though they are more likely to not affiliate with a party, many nonvoters are even more conservative or liberal on issues than the political parties or candidates.
They aren't all moderates. They aren't undecided at all. 
What these ballot-shy people are undecided about is the worth of their vote and confidence in the democratic process. They are undecided about giving attention to candidates who don't motivate them.
 "In the focus groups, non-voters across the country — regardless of age, race, gender, education or income — described feelings of alienation from voting and a need to deprioritize voting compared to other day-to-day activities," the report states. 
"Many participants indicated that there was a scarcity of candidates who truly motivated them, leaving them with less-than-ideal alternatives. Non-voters struggling with this choice reported hearing primarily negative information about both options, making 'none of the above' a rational choice in their minds."
People are already talking about not voting because they don't like the choices. It's a cynical position. 
It's fine to feel upset and frustrated your dream candidate didn't make the ballot. But, candidates and elected officials evolve as constituents force them to evolve by letting their opinions be known. 
Democracy only works with people making choices. We aren't guaranteed the best choices. 
The problems with trust in the voting system and value of a ballot are battles needing to be fought with education year-round, not just during election time. 
But different channels are needed to get those messages across. 
A significant distinction between chronic nonvoters and active voters are how they engage with news and information. 
"When asked about their general media consumption, only 33% of nonvoters reported that 'news' was the primary category they accessed, versus 45% of active voters," the report states. "The self-reported media diets of nonvoters were more likely to lean towards entertainment like TV shows, movies and gaming than those reported by active voters."
So, enlisting the movie stars and professional athletes isn't such a bad idea. 
There is change coming, according to the report. 
Of those who sat out last time, 71% said they plan to vote in this presidential election. Going a little further into that group, 78% of them say they "are absolutely certain" they will cast a ballot. 
Researchers estimate that  55% of last election's nonvoters are certain to show up on Election Day.
President Donald Trump is the draw, with nonvoters split on their support and opposition.
That is just the top of the ticket. Much more will be decided in November, from the makeup of Congress and legislatures to city councilors and district judges. 
Demographically, there isn't much of a common thread among nonvoters.
"...persistent nonvoters are by no means a monolithic group, but as varied as American society itself. There is not a one-size-fits-all description of the nonvoting population, nor is there a single, unifying explanation for their lack of participation. They can be found across the political spectrum, at every level of education and income, and from every walk of life," the report states.
But all these people are Americans, capable of overcoming doubts and excuses to make a decision between candidates.
To be American is to be a voter. 
---
Ginnie Graham 918-581-8376
Twitter: @GinnieGraham
Catch the latest in Opinion
Get opinion pieces, letters and editorials sent directly to your inbox weekly!