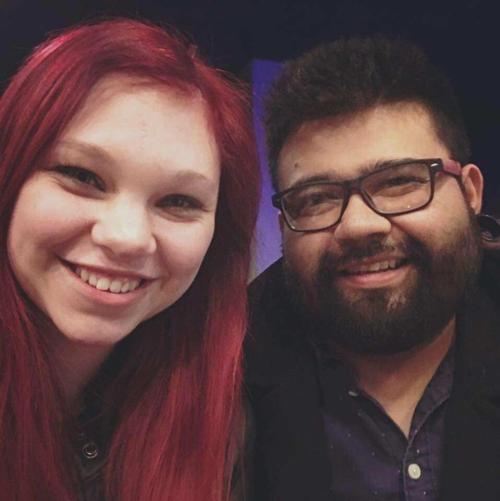 Ivan Godinez Reyes used to lead marches in Tulsa, speak at rallies and protest for immigrant rights.
At age 34, his life is quieter now. He's a social worker helping families find resources, finishing the last of a bachelor's degree and preparing a nursery with his wife to welcome their first child.
Reyes is still doesn't have permanent residency, even though he has lived in Tulsa for two decades.
He was one of the first who could have benefited from the still-pending Dream Act proposed in Congress 21 years ago. He was in the first wave of young immigrants accepted in the Deferred Action for Childhood Arrivals, known as DACA.
The program prevents deportation as long as he never crosses paths with law enforcement. But, it does not provide legal residency or a path to citizenship.
It's a cruel legal limbo.
While lawmakers dithered in Washington, D.C., over immigration reform, Reyes and a generation of young undocumented immigrants grew from children into adults. They moved from invisibility to activists to parents and professionals.
Of the undocumented immigrants in the U.S., more than 66% have lived in the country for more than a decade, according to the Pew Research Center. The median length of stay is 15.1 years.
The smallest share are new arrivals and those living in the country less than five years.
Now-adult Dreamers are waiting for Congress to throw out the antiquated immigration system for laws designed around economic opportunity and family stability.
Inaction made the Dream Act too small; the dream has grown much bigger.
"It's amazing how much more I'm able to do just with DACA," Reyes said. "If the Dream Act, which would have led to citizenship eventually, had passed, it would have opened my world up even more back then. Now, I feel like it's shifted.
"We don't just want DACA or the Dream Act, but we believe there needs to be reform that involves a lot more people other than just Dreamers."
The Dream Act was proposed as a first step of reforms, giving children brought here illegally by their parents a chance to stay. The provisions of background checks, education, work and good behavior are the same as in DACA.
DACA came about in the Obama administration out of frustration with Congress. Presidents can't change immigration laws, but they can prioritize deportations.
The Trump administration sought to disband the program, but the U.S. Supreme Court held it in place.
For Reyes, DACA was life-changing. He graduated from Tulsa Public Schools but was unable to get any college scholarships or government-backed loans due to being undocumented.
Working fast-food and cash-only jobs, he paid his way through Tulsa Community College, where he earned a communications degree and became politically active.
When DACA was enacted, Reyes was accepted, allowing him to come out of shadows. It was the first time in his life he could legally apply for employment.
"I wasn't counting on DACA; I had already made up my mind that I was going to have to work fast-food for a long time," Reyes said. "It's joyful to see undocumented children applying at 16 and out of high school, able to get the job best for them and their skills, getting more opportunities than we had had at that age."
At age 28, he was hired by Community Action Project Tulsa as a Spanish interpreter. He now works in the nonprofit's inclusion department helping families with children with developmental disabilities access community resources.
"I was nervous at that job interview. I had no experience, and other people probably had resumes full of office jobs," he said. "They saw something in me and gave me the opportunity to put my foot in their door. I am thankful to them for that."
In typical American fashion, life started to take over.
Reyes worked full time, married and continues taking classes at Northeastern State University to get a social work degree. His activism took a lower priority.
After his marriage nearly two years ago, Reyes immediately applied for legal residency through a sponsorship from his American wife, Amanda.
"We're still at the beginning of the process," he said. "It's taken longer than it should be. In two years, I'm still depending on DACA and have no other way to get a green card."
The couple are expecting a baby boy on July 4. Born on the Independence Day, the child will be a birthright citizen.
"I've always thought of my obstacles as opportunities," Reyes said. "I feel like everything that has happened to me and the sacrifices of my family has come down to me having my family. The reasons why my Mom and Dad left Mexico was so I could have better life, and I am living that despite its limitations.
"I can't wait to pass along those experiences so I can raise decent human beings. I'm not as active in activism. It is my job to make sure my family is aware, responsible and decent people.
"They will be the future of this country, and I am part of this country. My job is not out protesting but now here in the home."
Reyes says he had a hard time seeing the public policy of separating children from parents at the border and keeping kids in caged areas. He recalled his own journey at age 14 from Veracruz, Mexico.
He and his mother paid a human smuggler $2,400 to reunite them with his father working in Tulsa. They spent an entire night going across a desert, shredding his pants to shorts and leaving his feet covered by blisters.
"I remember being so afraid of her not being able to make it," he said. "We ran the entire night, and I had fear of getting lost out there. I still lie awake with that. I sometimes doubt myself that I would do it again.
"My experience was already traumatic. If we would've been separated after living through that, well, I can't imagine. I was horrified by it. Adding to that fear of being separated, it adds so many other layers to it."
Being undocumented meant never returning to their home country and never doing anything to gain attention. Reyes and his family were not able to attend the funerals of his three grandparents in Mexico.
As Dreamers age, they better appreciate these decisions by the parents.
"The advocacy is no longer about college students who were brought here as young kids. It is more than just Dreamers; it's about community," Reyes said. "If you think we are worthy of being here as Dreamers, then there are a lot more people in our lives — like our parents — who made that happen for us. They want a better life, and they should be protected as well.
"It's about human dignity and the ability to travel freely without being criminalized."
At times, Reyes has questioned why he continues to fight for citizenship in a country with some elected leaders so hell-bent on getting rid of him.
"I also know that despite everything, I love my wife; I love my parents; I love my friends; I live here; and I love this country," Reyes said.
"I want to vote. I have been involved in politics not because I wanted to be, but because I needed to be. I want to vote and let my voice be heard."
---
Ginnie Graham 918-581-8376
Twitter: @GinnieGraham