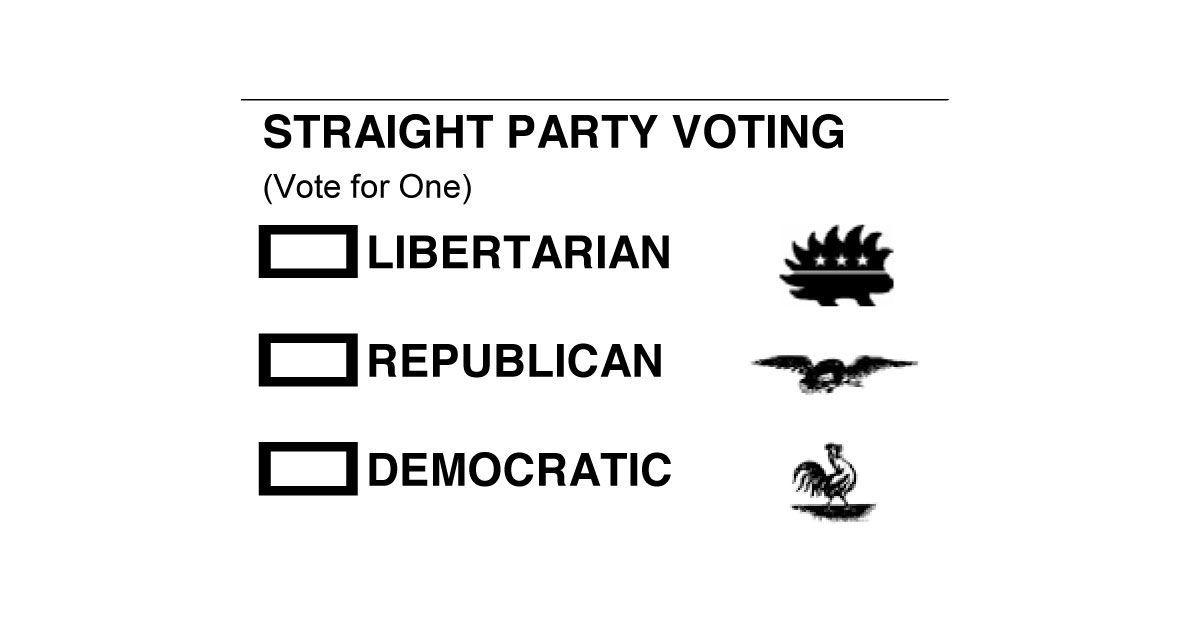 The popularity of straight-party voting in Oklahoma is creeping up, with 40 percent of the 1.185 million state ballots cast Tuesday.
This means more than one in three Oklahomans made their decisions for a political party rather than a person.
Part of this might be the antiquated design of the ballot, which puts the straight-party option as the top item. At first blush, it appears to be asking for party affiliation and some voters may think its a requirement instead of an option.
A lot voters fill it in before figuring out the meaning.
I'm sure that's no accident as a way to encourage party loyalty. It has looked like this for decades, so that means Democrats put it there.
If a person marks the straight-party box, then chooses some individual races, those varied choices will be counted. The straight-party option doesn't override decisions made in races lower on the ballot. It's still confusing and causes anxiety at the polls.
More important, straight-party voting serves no purpose other than putting power in parties, not the candidates. It's a passive approach to democracy.
Counties vary among voters using straight-party. It's a factor Rep. Cory Williams cited to the Stillwater News Press in his loss to incumbent District Attorney Laura Austin Thomas, who handles cases in Payne and Logan counties.
Williams said straight-party voting in Logan County is about 4-to-1 for Republicans, and the city of Perkins is 3-to-1 for the GOP.
"You can have a great message and you can meet a lot of people, but you're not going to get past someone who's going to do a straight-party Republican vote. Or a straight-party Democrat. It is what it is. It's one of those things, I wish the Democrats had gotten rid of it on the way out the door 15 years ago, but it remains still, and it's a force to be reckoned with," Williams told the Stillwater News Press.
This year's straight-party voting was higher than in previous recent elections. In 2012, Oklahomans choosing this option was at 37 percent. That dipped to 34 percent for the 2014 midterms but inched back to 36 percent for the presidential election two years ago.
While it appears more Oklahoma voters enjoy this simple selection, it has been falling out of favor nationally. In the past 25 years, 12 states have eliminated straight-party voting, and Indiana abolished it in at-large races. Oklahoma is one of only eight states still offering the option, and that will fall to seven when Texas drops it in 2020.
In breaking down Tuesday's straight-party vote, a total of 477,233 ballots were marked for the rooster (Democrat), eagle (Republican) or porcupine (Libertarian).
With only two Libertarians running for statewide offices and one in the 2nd Congressional District, I'm not sure how that saves any time.
Of the straight-party voters, 64.5 percent were Republicans (307,963 ballots), 34 percent Democrats (161,946 ballots) and 1.3 percent Libertarians (7,324 ballots).
The number of ballots cast for a governor's race set an Oklahoma record, and that's something to celebrate.
Now, the state needs to take another step and encourage more informed voting on candidates by getting rid of the straight-party option.
Ginnie Graham 918-581-8376
Twitter: @GinnieGraham