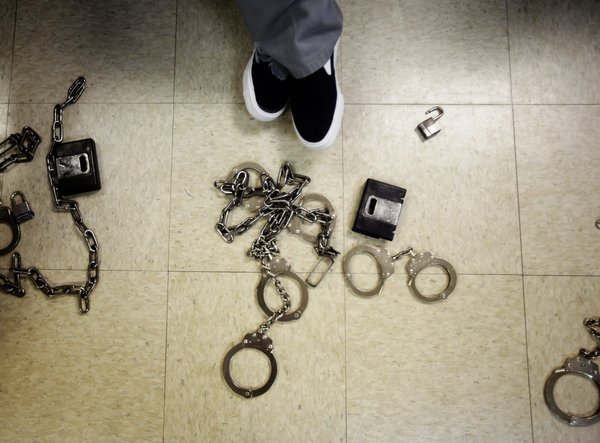 Criminal justice reforms aren't all about major shifts in laws or funding; sometimes it's as simple as phone calls and visitations.
Oklahoma does not fare well in incarceration and hasn't for decades. The state has the dubious distinction of locking up more people than any other democracy in the world. It's been No. 1 in female incarceration for more than 30 years and has ranked among the top five for men about that long.
That kind of consistent tough-on-crime attitude hasn't reduced crime but has devastated families. A recent legislative interim study hosted by Rep. Mark Lawson, R-Sapulpa, sought information and solutions.
The nearly two-hour meeting at the Capitol recently gave an overview of the financial, emotional and long-term consequences on families with a loved one in prison. It doesn't just affect the inmate; it harms their kids, partners and parents.
Over the course of a year, between 35,000 and 40,000 Oklahoma children will be separated from a parent who is in prison or jail. On any given day, there are 21,000 children with an incarcerated parent.
About 96,000 Oklahoma children younger than 18 have had a parent incarcerated during their lives.
"The consistent thing I have found in over 25 years of research is the high level of depression and anxiety in their children," said University of Oklahoma professor and researcher Susan Sharp.
"When (the children) hit their teens, substance abuse starts happening. In very young children, especially babies born to mothers in prison and taken away at birth, they develop attachment disorders. And they are at very high risk of engaging in criminal activities themselves — seven times more likely than other children."
Oklahoma does not formally gather information about children who are left behind when a parent goes to prison. Sharp's work is based on research estimates.
Less than 10% of children of incarcerated parents are placed in foster care, according to those testifying. For the rest, they could be with their other parent or maybe with an extended family member or friend. No one really knows, making their well-being difficult to track.
Those caregivers face increased costs and stress in raising children who are experiencing the trauma of parental separation. That can have lifetime affects on a child's health, education and relationships.
That's why advocates are stressing ways to keep children and incarcerated parents connected. It can be done through affordable phone calls, emails, video chats and visitation.
A phone call from an Oklahoma prison costs $3 per 15 minutes; a video call is $5.95 for 20 minutes; and it's 75 cents per email, according to Colleen McCarty, attorney and deputy director of the Oklahomans for Justice Reform.
Commissary items are sometimes marked up three times higher than prices found at a local Walmart, she said. Families often support inmates by helping put money in commissary accounts and pay for communication.
Because prisons are located in some far-flung areas of the state, families sometimes face four- or five-hour drives for visitation. Sometimes it might require an overnight stay.
This is on top of excessive court costs that total into the tens of thousands for inmates. That debt follows many for the rest of their lives with nonpayment putting them in jeopardy of being re-arrested.
"Financial instability is the No. 1 reason for relapse," said Rachel Delcour of Tulsa's Women in Recovery program. "Anything that we can do to reduce the financial instability is vital for long-term reductions in crime and for the long-term prosperity for families."
This eventually gets too expensive, leading to less frequent contact. Losing that link and support hurts in family reunification and transitioning from prison, McCarty said.
To ease this burden, these recommendations were made:
Allow prisoners phone calls for free up to 90 minutes a day; reduce commissary costs; place inmates in prisons closest to their families; and overhaul the system of court fines and fees so it doesn't financially cripple inmates and, by extension, their families.
"If we know this excessive punishment isn't really doing what we thought it would for public safety even 20 years ago, you really start to wonder if this type of family separation is what we want," McCarty said. "Or, should we start to look at more holistic solutions?"
Ultimately, Oklahoma needs to figure out how to prevent so many people from going to prison, through alternative courts or expanded sobriety programs.
Until then, finding ways to keep families connected ought to be a priority.