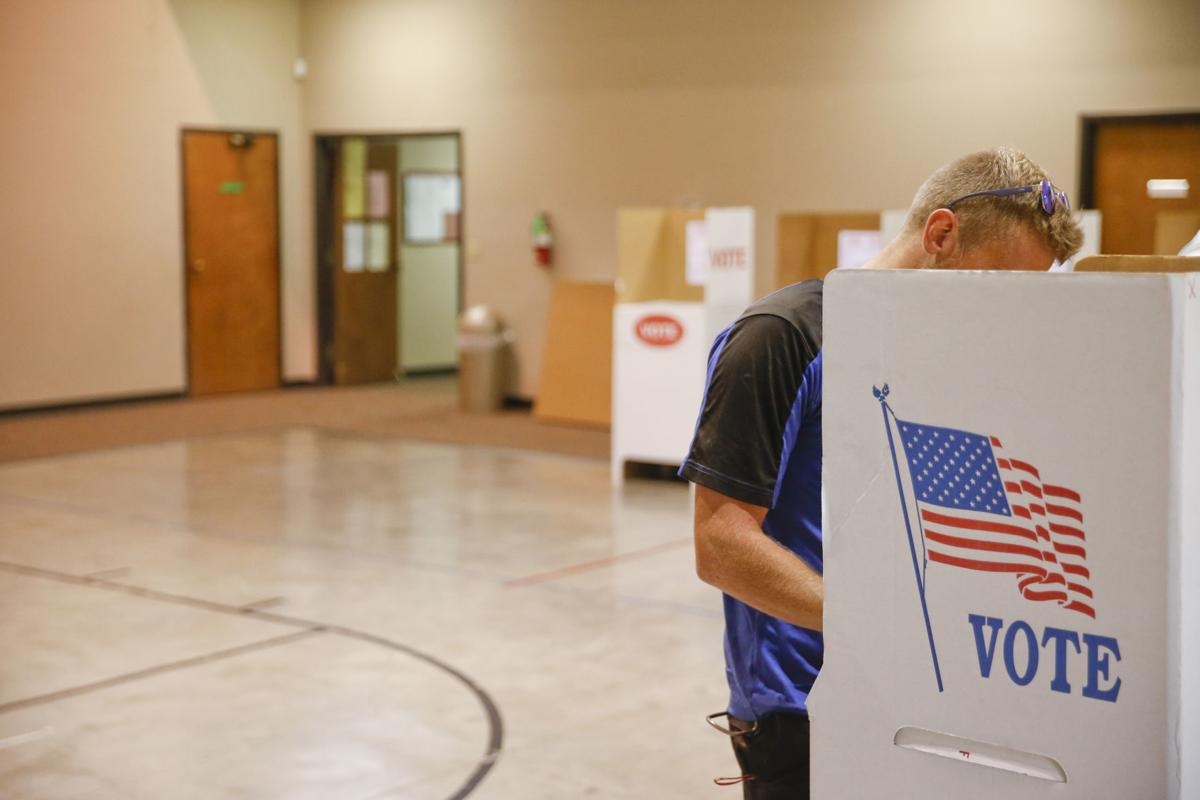 Oklahoma had the 43rd worst percentage of eligible voters registered to cast a ballot in the general elections from 2012 to 2016.
Only in last year's election did more people get signed up in time to vote, inching up to the 38th ranking. That's an outlier because the popularity of the measure that legalized medicinal marijuana brought more voters to the polls.
When looking at the younger voters (18-24), the ranking drops to 48th. The percentage of those newly eligible ranged between 34% (2014) to 48% (2016).
A Tulsa couple is convinced that Oklahoma's abysmal voter registration rates will get better with technology.
With Tuesday as National Voter Registration Day, Mona and Mark Whitmire will be launching their nonprofit, OKVOTE.
The couple has experience leading nonprofit organizations and decided to put their expertise into moving the state up in voter participation.
They founded OKVOTE as a nonprofit, nonpartisan organization focused on using technology to increase registration. It centers around a website that will be operating by Tuesday.
"OKVOTE will reach out through social media and collaboration with interested stakeholders to promote a simplified and convenient voter registration process," said Mona Whitmire. "Visitors to the site can register to vote, check their registration status and accuracy of their registration record and identify and get driving directions to their polling place.
"For those wanting to register, site visitors will complete the State Election Board-approved form, and a few days later they will receive a printed copy ready for signature. "They will also receive a pre-addressed and postage- paid envelope, which can be used to mail the completed form to the State Election Board."
Other organizations, such as the League of Women Voters, also push voter registration. The league will be holding drives at the Tulsa City-County Library's three regional branches on Tuesday.
While the League of Women Voters also educates voters about candidates and issues, OKVOTE will stay focused only on voter registration "to the benefit of a more engaged electorate," said Mona Whitmire.
"While there are many barriers to registration, lack of a convenient process is chief among them, especially for eligible voters in the younger demographic categories," she said. "People live very busy lives and many times just don't want to make the effort. We are so fortunate to live in a country where we have the right to exercise our freedom to vote.
"Voting is the first step to being more engaged and involved in our community and our state and taking ownership for how you want your future to look."
Online registration has been discussed for more than a decade to improve Oklahoma's voter registration.
Congress provided funding in 2002 to bolster the voting systems to give greater access (Help America Vote Act). Since then, Oklahoma has received about $41.2 million through the act to make improvements.
In 2015, the Oklahoma Legislature passed Senate Bill 313 to design an online voter registration system using a current state driver's license or ID card issued by the Department of Public Safety.
That isn't in place. But in 2017 Senate Bill 360 was passed to allow registered voters to update their address or change party affiliation.
This is referred to as phase one and has been available since November.
Getting the rest up and running (phase two) is going to take some time, requiring multiagency systems updates and testing for security.
"At some point in the near future Oklahoma will follow the lead of the 37 states which have implemented online voter registration, or perhaps the 16 states which have implemented automatic voter registration," said Mona Whitmire. "In the interim, however, we want to provide this simple online tool and encourage everyone who is not registered to go to www.OKVOTE.org."
Mark Whitmire is the executive director for 501 Tech, a program of the Tulsa Community Foundation to provide charitable organizations with high-quality, discounted technology expertise, products and services. He has worked in information technology for 40 years.
Mona Whitmire is the executive director of the Tulsa County Medical Society and Tulsa County Medical Society Foundation. She oversees the foundation's charity program that provides nonemergent specialty care to uninsured, low-income residents.
Tulsa Community Foundation is the fiscal sponsor of OKVOTE.
The couple funded the initial development of the project. They are retiring from their jobs at the end of the year to focus full time on OKVOTE.
"The focus of OKVOTE is straightforward: Make voter registration easy and convenient," Mona Whitmire said.
Getting people to cast a vote is a different kind of challenge. The overall turnout at general elections since 2012 has ranged between 34% to 57%.
The Whitmires believe increasing registration will inspire voters, particularly younger ones, to follow through on Election Day.
"We know that millennials and generation Z respond better to online options," said Mona Whitmire. "And while the OKVOTE tool will be available to all, our hope is to motivate young people to register and be involved in shaping their future by using their voices."
Ginnie Graham 918-581-8376
Twitter: @GinnieGraham