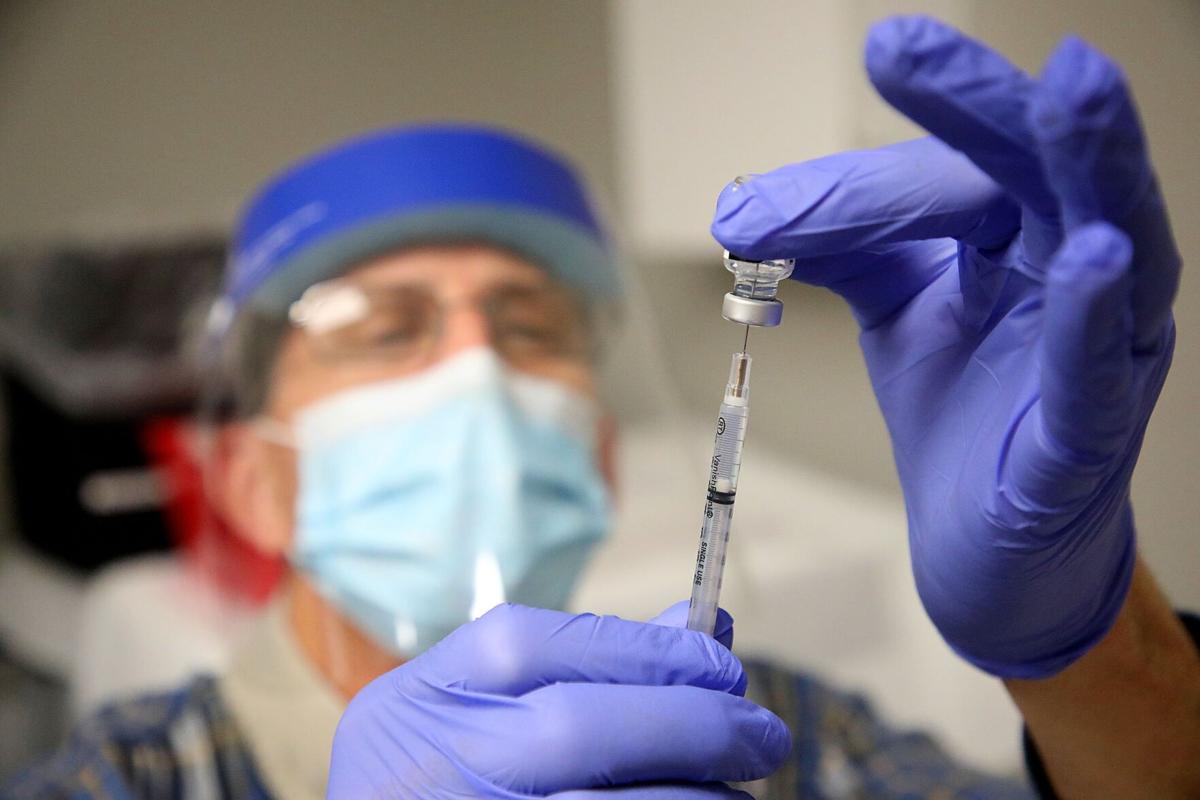 In elementary school, someone got everyone into the trend of sticking spoons on the ends of our noses during lunchtime.
It drove teachers nuts. We couldn't even blame the COVID-19 vaccine to get out of trouble for the new-found trick.
Today, some people are falling for it, going by the many anti-vaxx videos of people sticking metal things to their skin. It's attempting to back claims of microchips and metals in the formula.
That would mean we are being tracked or being made magnetic. It's hard to keep up with it all.
The videos feature lots of keys and kitchen magnets placed on foreheads, and some do the spoon on the nose thing. It looks so real and unexplainable. Only, it can be explained and likely isn't real.
The Great Magnet Scare of 2021 reached a fever pitch as a known anti-vaxx physician testified before a state legislative committee for 45 minutes, repeating those false claims and one about the vaccine connecting to 5G wireless technology.
My family is vaccinated, and we still have problems with the internet fritzing out. So I'm for-sure not buying that one.
It was a video that took off. Dr. Sherri Tenpenny was named by a watchdog group as one of 12 influencers responsible for 65% of anti-vaxx information on Facebook, Twitter and Instagram. She also urges against pregnancy after getting a shot and believes in vaccine "shedding," an idea that a vaccinated person can spread the virus to others.
All of that is well-documented bunk.
That's the problem with the internet. Conspiracies and misinformation get amplified through shares and likes.
I'll bet the staffers putting that sentence together did so with a head shake and an eye roll.
Of all the things U.S. public health officials prepare for in crisis management, combating a fear of being magnetized probably didn't make any textbook.
An aside: I learned in elementary school that not all flatware is magnetic. Stainless steel usually is; aluminum spoons aren't.
Another thing without magnetic properties? The COVID-19 vaccines.
These are the kinds of rabbit holes available for backgrounding or researching COVID-19 claims. The magnet one stands out among the whackiest.
Infectious disease experts and officials with the CDC, FDA and World Health Organizations are constantly battling false claims of vaccines causing infertility, DNA alteration and COVID-19.
The weird, wild, half-truths and outright lies still run rampant in cyberspace.
The BBC reported in December that its news footage was being shared on anti-vaxx sites to support inaccurate claims of "disappearing needles," suggesting that vaccines don't exist, and vaccinations are fake. The video showed safety needles that retract into the device after use.
Some people still think hydrogen peroxide can cure coronavirus and respiratory diseases and that Bill Gates has the time, desire or ability to track everyone's movements through microchips.
The Center for Countering Digital Hate named the "disinformation dozen" responsible for two-thirds of false anti-vaxx claims. In addition to Tenpenny, it named Robert F. Kennedy Jr., Joseph Mercola, and Ty and Charlene Bollinger.
The group also found that platforms last year failed to act on 95% of COVID-19 and vaccine misinformation reported to them. The 425 anti-vaxx sites tracked reached 59.2 million people.
The study didn't include TikTok, the site believed to be ground zero for the magnetism scare. The anti-vaxxers didn't even make a fun dance to go with their superpowers.
If people did have a magnetic field, they'd want to go all X-Men with it or at least sharpen their hip pops.
When I took the magnetism challenge, a couple of bank cards stuck to my cheek for a few seconds, giving me hope of world domination by controlling the magnetic field.
Then, nothing at my arm injection site; another dream dashed.
Because so much bad information is out there, it's fun to see social media users fight back.
Doctors and nurses have taken to TikTok with videos showing magnets falling to the ground after getting an injection. Comedians mock sticky, oily skin. Many others just poke fun at the falsehoods.
That's where this ought to go, back to our elementary school days when we knew — and accepted — why spoons stick to noses.