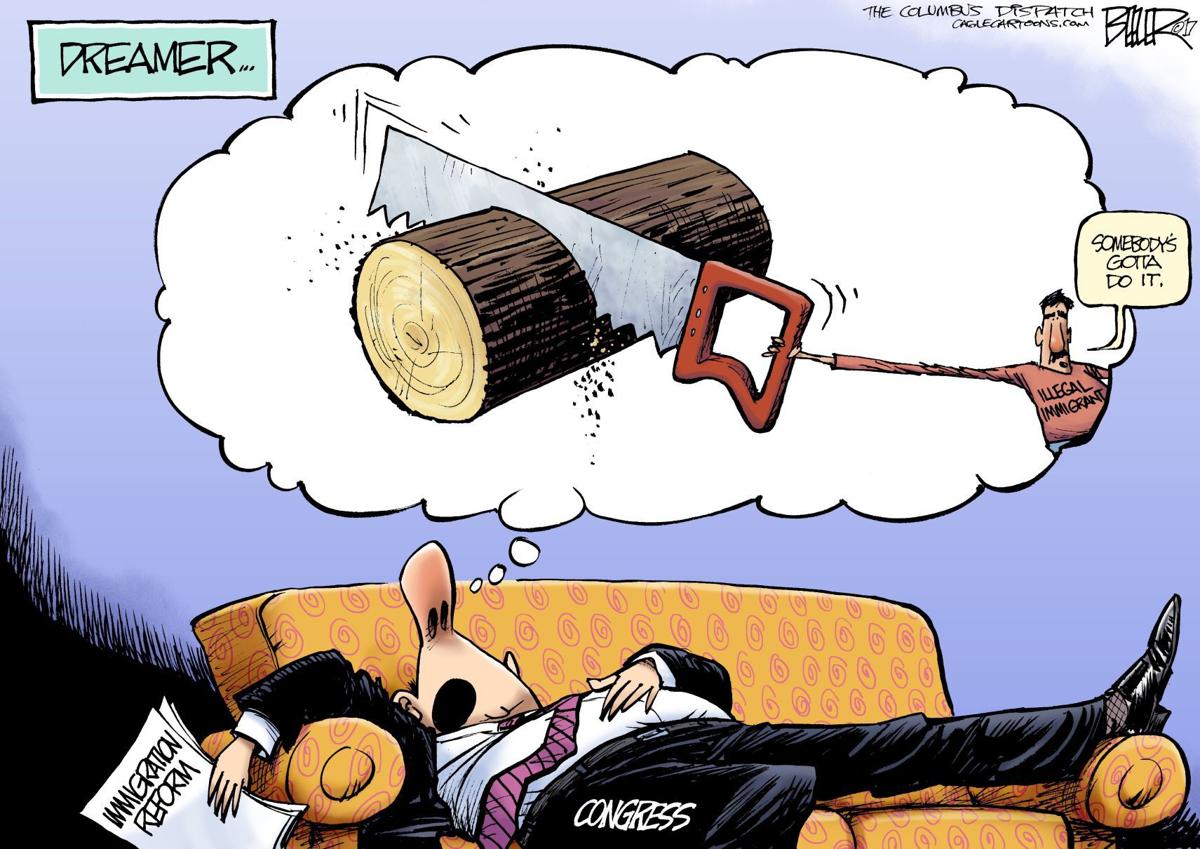 Americans generally agree on a few aspects about immigration: We prefer people go through the legal process and believe the current system is broken and needs reform.
So, what does immigration reform look like?
For starters, scrap things that aren't helping. As is, the law is making everything worse.
A guiding principle ought to be workforce needs, human migration patterns and flexibility for a changing economic environment. Using a compassionate and morally right compass ought to be a defining American trait.
The usual approach tinkers with what's in place. The time has come for a major shift in thinking and process.
Here would be aspects of my immigration reform package:
• Create an independent, non-partisan commission to review regularly the workforce and economic needs and set employer-based visas, from farm work to high-tech jobs. Members would be experts in economics, labor, demographics and immigration. No politicians.
• Move the immigration courts to an independent judiciary. It is currently a part of the U.S. Department of Justice with prosecutors from Homeland Security.
• Pass the Dream Act. Our country does not punish children for the sins of their parents. Give undocumented adults and teens who grew up in America a chance to be Americans.
• Allow undocumented people to apply for legal status without having to return to their countries of origin and wait.
• Include an array of border security tools such as strategic wall sections, drones, patrol officers and cutting edge monitoring technology.
• Keep families together by continuing the preferences among immediate relatives.
These would eliminate the antiquated system of per-country quotas and re-entry bans. It doesn't change asylum, family preferences or background checks.
The waiting list for family visas is about 3.7 million people and another 121,000 are waiting for employer-sponsored visas, according to the National Visa Center. In some countries, people wait more than 20 years.
To figure out how we got here, it's useful to know the origin of laws. It shouldn't be surprising much is rooted in a history of racism, xenophobia and fear.
Against the anti-immigrant backdrop of World War I and accepted theories of eugenics, Congress first set per-country caps in the 1921 Emergency Quota Act, later enshrined in the 1924 Immigration Act.
A series of earlier, racist provisions paved the way including literacy tests, taxes for entry, the 1882 Chinese Exclusion Act and 1907 "Gentlemen's Agreement" with Japan to curb Asian immigration.
Those first quotas provided visas based on 2 percent of the total people of each nationality in the U.S. as of 1890. It excluded all Asian immigrants.
Because the government considered the origins of all residents, including Americans born in the country, it inflated the number given to the largely white British Isles and Western Europe.
It doesn't appear indigenous people figured anywhere in these calculations.
Congress revised the act in 1952 and replaced it in 1965 with the Immigration and Nationality Act, which ended the quota formula in favor of visas weighted toward family relationships and some skill-based considerations. It made it illegal to discriminate based on race, ethnicity or nationality.
It retained annual caps with no country getting more than 20,000 visas and a total of 290,000 worldwide. Immediate relatives of U.S. citizens were exempt from the quota count. Three-fourths of admissions were reserved for family categories, according to the Migration Policy Institute.
What is now derisively called chain migration was once considered a priority for family unity.
This led to a demographic shift; the U.S. went from an annual immigration of about 297,000 people in 1965 to more than 1 million by the mid-2000s.
Though Congress altered quotas through the years, this remains the basic framework.
In 1986, the Immigration Reform and Control Act required employers attest to workers' legal status, made it illegal to hire undocumented workers knowingly and provided for a partial amnesty.
In 1996, Congress enacted the Illegal Immigration Reform and Immigrant Responsibility Act. It expanded the definition of aggravated felony, combined removal proceedings into a single court system and created the now-controversial 287(g) program for local law enforcement to enforce federal immigration laws.
Undocumented immigrants living in the U.S. for more than a year are banned from returning for 10 years. It lowers to three years for unauthorized immigrants living in the country between 180 days and a year.
To apply for a visa, immigrants must return to their countries of origin. So, even if a legal pathway becomes available, a person must leave and wait a minimum of a decade to even apply.
The result is that undocumented immigrants don't seek legal residency or leave the country. It's created a huge hidden class of people.
To lower illegal immigration, the door for legal immigration must be widened.
We can learn from our history. We can do better for the well-intentioned, hard-working people who just want a shot at being American.
Ginnie Graham 918-581-8376
Twitter: @GinnieGraham