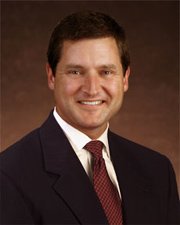 Perry Dyson Inhofe, II, devoted husband, father, son, and physician passed away on Sunday, November 10, 2013.
Perry graduated from Thomas Edison High School in 1980. He attended Duke University, where he received Bachelor of Science degrees in Biomedical Engineering and Electrical Engineering, graduating first in his class. He graduated from Washington University Medical School in St. Louis. Perry met his wife and best friend, Dr. Nancy Rader Inhofe, when he rotated through the Washington University Pediatric Emergency Department during his General Surgery Internship at Barnes Hospital.
They married in 1989. Perry continued his postgraduate training with an Orthopedic Surgery Residency at the University of Oklahoma College of Medicine followed by a Hand Surgery Fellowship at the University of New Mexico Medical Center Department of Orthopedic Surgery Division.
Perry, Nancy, and their young son Glade returned to Tulsa where Inhofe began his practice, joining Central States Orthopedics. Three years later, their family was complete with the addition of son, Cole.
A compassionate and meticulous doctor, Dr. Inhofe pursued his love of medicine with the same attention to detail and high standards he held in all aspects of life. His professional accolades are too numerous to mention; his patients' words and well-being carry the full meaning of the impact his work has on our community.
Perry's lifelong love of flying began over three decades ago when he learned to fly with his father and earned his first license, his Private Pilot's License. Through the years, he earned his Instrument License, Instructor's CFI, Instructor's I-CFI, and his Multi- Engine Instructor's Rating. He shared this love with his son, Cole, teaching him to fly the same plane in which Perry earned his license. In August, Perry celebrated his 34th consecutive year at the Oshkosh Air Show with his dad and brother, a tradition he cherishes with his sons, Glade and Cole, and many pilot friends.
His greatest joy was found in spending time with his wife and family. Time at the dining table working on science and math with his sons, countless hours on the road for never-missed tennis tournaments, college visits to take his oldest son to Duke University, hiking and skiing with family and friends in New Mexico, innumerable hours finessing a woodworking passion learned from his grandfather - these are the memories that will be cherished and sustained.
Perry is survived by his wife of twenty-four years, Nancy, and their two sons, Glade Edward Inhofe and Perry Coleman Inhofe, his parents, United States Senator James Mountain Inhofe and Kay Kirkpatrick Inhofe, his brother Jim Inhofe, sisters Molly Rapert and Katy Swan, and their families. He is also survived by his extended family, including Dr. Edward and Norma Rader, brothers-in-law Jeff Rader and Dan Rader.
A celebration of Perry's life will be held at 2:00pm on Thursday, November 14, at First Presbyterian Church, Tulsa. In lieu of flowers, the family requests that donations be made to Orthopedic Research and Education Foundation in Perry's name: www.oref.org. Funeral arrangements are in the care of Stanley's Funeral Home.
Obituaries Newsletter
Sign up to get the most recent local obituaries delivered to your inbox.