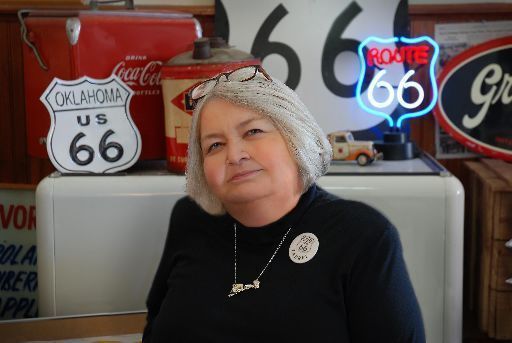 Along a once-thriving stretch of Route 66 in Afton, Oklahoma, is a vintage service station where visitors from around the world would find, and later seek out, a welcome and a smile from Laurel Kane. The modest '30s-era building was purchased by Laurel and her then-husband, David Kane, in 1998.
In 2001, Laurel and David reopened Afton Station as a welcome center for tourists, including a museum displaying Laurel's Route 66 memorabilia and David's collection of restored, vintage Packard automobiles. Afton Station quickly became a mainstay on Route 66 and is featured in most guidebooks that highlight Route 66's top attractions.
Laurel welcomed visitors from around the world. Her vast knowledge of the "Mother Road," her kind nature and quick wit endeared her to those who stopped by Afton Station, making her a Route 66 celebrity. "Oh, we love our visitors," Laurel was known to say. Since opening Afton Station, Laurel reckoned she greeted over 7,000 visitors a year.
Laurel, a resident of Tulsa, passed away at the age of 69, on January 28, 2016.
Her dedication to Route 66 began as a side interest to her other great passion, collecting vintage postcards. The many Route 66 postcards in her collection inspired her to reconnect with the iconic highway, eventually leading to a family roadtrip in 1997. During this trip, Laurel, David and their daughter, Sarah, travelled the entire length of Route 66 in a 1957 Packard. Following that trip, the Kanes decided to retire in Oklahoma.
Before moving west, Laurel lived in Darien, Connecticut, with her family for 27 years, including several years in one of the town's oldest homes built in 1705. While there she served as a volunteer and supporter of many community organizations, including Darien High School's Theatre 308, Appalachian House and the First Congregational Church of Darien.
Most mornings Laurel could be found in Darien's Sugar Bowl Luncheonette enjoying a meal and chatting with her friends. She was also active with the Silver Lake Conference Center, home of the Connecticut Conference - of the United Church of Christ Outdoor Ministries Center, where Sarah attended summer camp and later worked on the camp staff. Silver Lake would grow to become a very special place to the Kane family.
Prior to Darien, Laurel and David also have lived in Philadelphia, where they owned a small farm, Buffalo, N.Y., and Okinawa, Japan before that. Laurel was a proud alumna of the University of Kentucky - College of Education, where she supported academic scholarships for many years as a member of the President's Circle.
Laurel is survived by her daughter, Sarah, of Evanston, Ill.; and her ex-husband, David, of Grove. A celebration of her life will be held this spring at Afton Station, details to be announced. Donations in memory of Laurel will be accepted by the Silver Lake Conference Center, 223 Low Rd., Sharon, CT, 06069. www.silverlakect.org