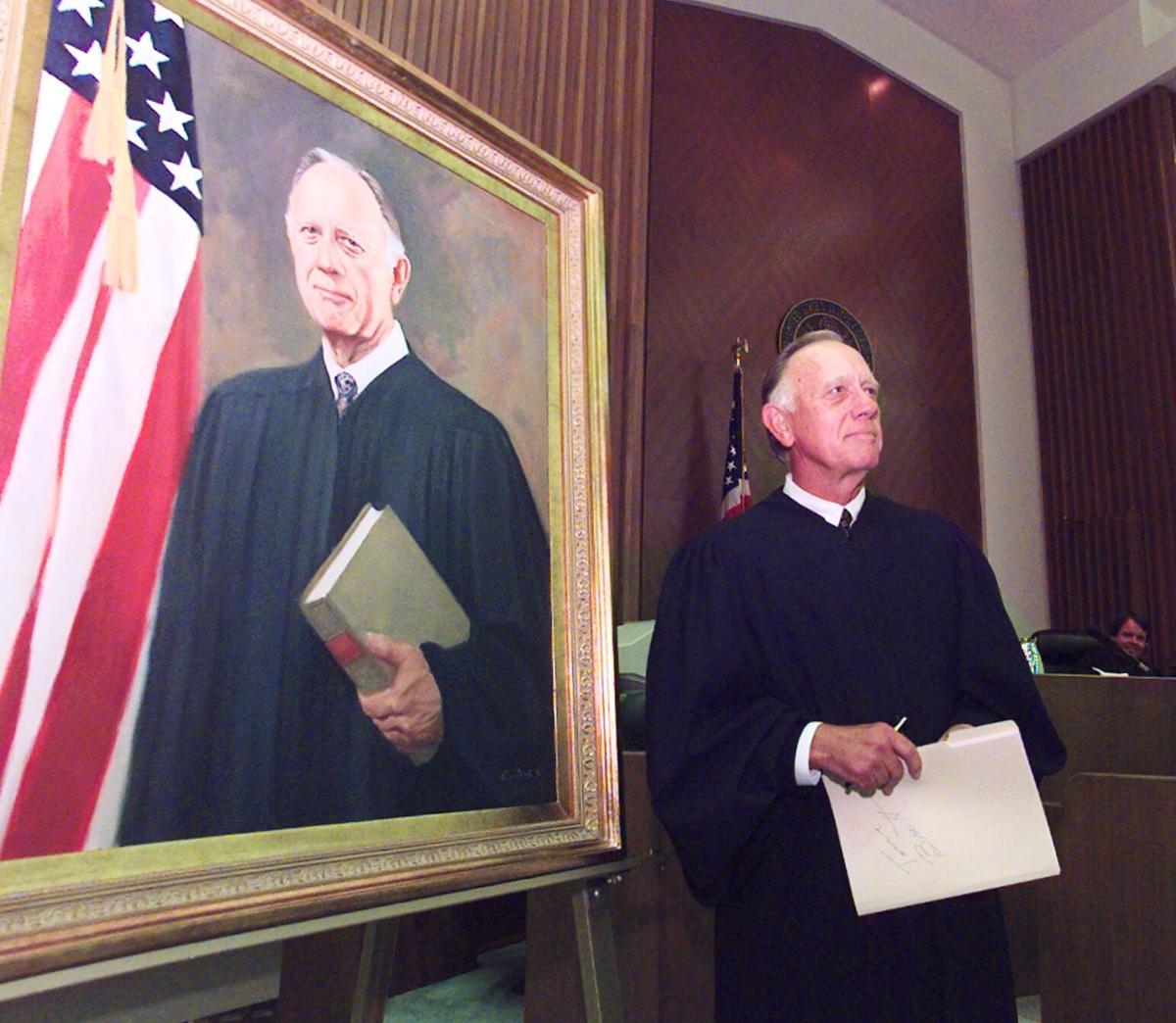 Thomas R. Brett, a revered former federal judge whose tenure with the U.S. District Court for the Northern District of Oklahoma spanned parts of four decades, died Saturday. He was 89.
Due to the coronavirus pandemic, the service at Kirk of the Hills in Tulsa will be for family only. However, it will be livestreamed at thekirk.online.church at 11 a.m. Friday.
Brett, a member of the Tulsa Hall of Fame and the Oklahoma Hall of Fame, served as a judge for the Tulsa-based Northern District court for 24 years.
He was chief judge from 1994 until his semi-retirement in 1996, at which time he assumed senior status until retiring fully in 2003.
Among Brett's many trials, the most high profile was probably that of South American drug kingpin Jose Abello Silva in 1990.
Silva, who had ties to the Medellin cartel and Pablo Escobar, was extradited from Columbia after he was indicted by a federal jury in Tulsa on drug-trafficking complaints.
Brett, who received death threats for his involvement in the case and was under U.S. Marshals Service protection, presided over the trial, ultimately sentencing Silva to the maximum of 30 years in prison and $5 million in fines.
Brett was one of a celebrated trio of judges, along with the late H. Dale Cook and James O. Ellison, who put their stamp on the Northern District court in that era.
The three stalwarts served alongside each other for years and at one time were juggling some 600 cases each.
Paul J. Cleary, one of the Northern District's magistrate judges, was a law clerk under Brett and first knew him as a mentor.
From there, "he became a dear friend and, finally, a colleague," said Cleary, adding that it was "a highlight of my life" when Brett administered the oath at his swearing-in as a federal judge in 2002.
Possessed of "one of the finest legal minds in the land," Brett as a judge was "unflappable (and) ready for whatever presented itself," Cleary said.
Moreover, "justice delayed is justice denied" was always his guiding maxim.
"No motion or other decision languished," Cleary said. "People needed decisions, and he made the best legal determination he could, and he did it in a timely fashion."
U.S. District Judge Gregory K. Frizzell was also a former law clerk of Brett's.
"Who you start out with is important in whatever you do. And he was such a great mentor for so many of us," Frizzell said.
"In all of our views he was just the best judge that you could be."
Born and raised in Oklahoma City, Thomas Rutherford Brett was a third-generation attorney and judge.
A graduate of the University of Oklahoma College of Law, he served as a Tulsa County prosecutor and a trial attorney for two firms before his 1979 judicial appointment by President Jimmy Carter.
In a retirement interview with the Tulsa World, Brett said the transition to the bench was challenging and called for a much quieter approach than as an attorney.
"The hardest part of being a judge was learning to patiently listen so you can give a just result," he said. "Good attorneys don't really need a judge if they're able to zero in on the issue at hand. My job is to keep them on point."
"It's also important that when litigants leave the courthouse — no matter what the outcome — they feel like they got a fair shake," he added.
In addition to his cases, Brett tried to streamline the overall judicial process, promoting administrative improvements and alternative methods of dispute resolution to reduce costs and delays.
Brett, a retired colonel with the U.S. Army Reserve Judge Advocate General Corps, was a past president of the Tulsa County and Oklahoma bar associations.
He was a former member of the University of Oklahoma Board of Regents and a former trustee of both the Oklahoma Bar Foundation and the Mabee Foundation.
Brett was also the founder of Tulsa's American Inns of Court chapter, a fraternal association of judges and attorneys.
Survivors include his wife of 69 years, Mary Brett; four children, Laura Brett Tribble, Ford Brett, Susan Brett Hughes and Maricarolyn Brett Swab; 11 grandchildren; and 17 great-grandchildren.
Floral Haven Funeral Home in Broken Arrow is handling arrangements.