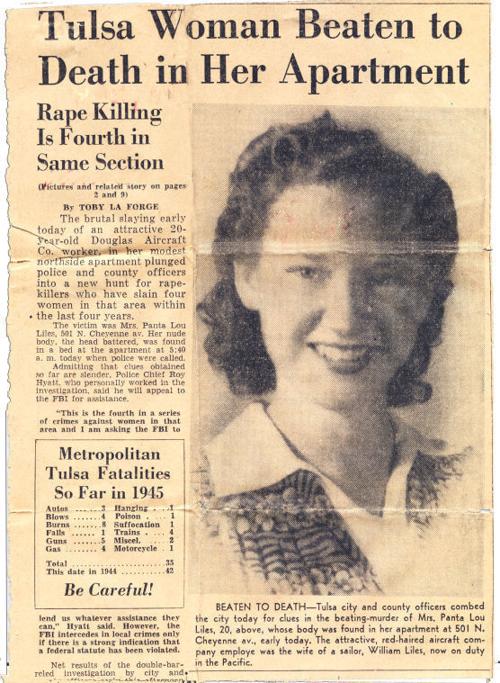 At 5:30 a.m. on the morning of May 15, 1945, a night nurse called the detective squad of the Tulsa Police Department to report an ominous conversation.
She had reason to be worried because Tulsa was being stalked by a "sex maniac," a "fiend" who had committed a string of brutal murders of women in their homes near downtown, the Tulsa World and the Tribune reported.
The nurse had tried to call her roommate to wake her up for her job at the Douglas Aircraft Co. plant. A gruff voice answered the phone and told her to call back later.
The nurse asked police to go to the apartment at 501 N. Cheyenne Ave. she shared with 20-year-old Panta Lou Liles, described as a pretty redhead whose sailor husband was serving in the Pacific as World War II continued.
Police found the bludgeoned body of Mrs. Liles sprawled in her bloody bed, with clothing and bedding piled over her face. The contents of her purse were dumped out, but nothing of value had been taken.
The killer apparently had entered the first-floor apartment through a torn kitchen window screen.
County physician Dr. Jeff Billington reported later that Mrs. Liles had died at 3 a.m. of skull fractures resulting from repeated blows to the head.
"Probably a piece of heavy pipe was used," Billington said. "She was murdered as she slept and after she was dead the killer criminally assaulted her."
Between 1942 and 1948, five Tulsa women were bludgeoned to death as they slept in the early morning hours. Just as disturbing, each of their bodies had been sexually assaulted after death.
The newspapers and the public demanded that the killer be caught.
Tulsa police and Tulsa County investigators rounded up known sex offenders and filled the jail with possible suspects. They checked out hundreds of tips, false leads and rumors, all to no avail.
The first victim was Helen Brown, a 19-year-old pregnant woman. In the kitchen of her apartment in the 900 block of North Main Street, the killer consumed a meal of sausage and toast before leaving.
Next, Mrs. Clara Stewart, 48, and her daughter, Mrs. Georgia Green, 31, were murdered in a similar fashion in their home. Afterwards, the killer cooked and ate seven scrambled eggs and toast.
At the Liles crime scene, police found strands of gray hair and grease smudges on the bedsheets, but no fingerprints.
The World and the Tribune put up a $500 reward following the Liles murder and the state of Oklahoma added $1,000.
LeRoy Benham Benton, a 33-year-old black man was arrested and grilled by police for days until he confessed. Soon after, he repudiated his confession. Because Tulsa didn't have a lie-detector machine, he was taken to Kansas City, Missouri, for testing. He was charged on June 13, 1945, with killing Panta Lou Liles.
Benton was tried by County Attorney Dixie Gilmer and convicted. On Nov. 17, 1945, he was sentenced to life imprisonment.
'Star chamber' confession
Benton appealed, his attorney Amos Hall arguing that he had been coerced and threatened with mob violence. In a blistering decision, the appeals court charged "star chamber" and "sweat box" methods were used in obtaining the confession.
Benton was freed on March 4, 1948, and left for Gary, Indiana, to accept a job offer.
On July 2, 1948, the fifth and final murder was committed.
An apartment tenant in the 200 block of West Easton Street was awakened at 2:30 a.m. by a rapping sound and a scream at a neighboring unit. Police arrived to find a woman, her 13-year-old daughter and the daughter's friend battered and unconscious, but alive. They were rushed to a hospital but were unable to describe their assailant.
Later that morning, three blocks away, a neighbor in the 100 block of East Cameron Street discovered the body of Mrs. Ruth Norton. Like the others, she had been fatally bludgeoned in her bed.
Two Tulsa Police detectives, Bob Cleveland and W.V. (Bud) Caffey worked on their own time and spent their own money investigating the killings. They got wind that Charles F. Floyd, a 52-year-old truck driver was working at a junkyard a block from the slaying scene at the time Mrs. Liles was killed.
On Nov. 22, 1949, the detectives arrested Floyd in Dallas. He was returned to Tulsa and taken to a room in a downtown hotel where he gave a detailed account of the Liles murder to police in the presence of Tulsa World reporter Gilbert Asher.
Floyd said on the night of May 15, 1945, he went to a movie after work and walked back to where he had parked his truck near the intersection of Cheyenne Avenue and Easton Street – where Mrs. Liles' apartment was located.
"I looked in a window, the shade was up, and I saw here standing there without any clothes on. I watched for a minute or two and then she reached down and picked up a nightgown and put it on," Floyd said, according to Asher's story.
He said he wanted to get into her apartment then, but he didn't have the nerve.
"For the next couple of hours I thought of how she looked standing there naked. I couldn't get it out of my mind," Floyd said.
About midnight, he said, he picked up a piece of pipe and put it into the side pocket on the leg of his overalls. He then picked up a piece of stiff wire to use to unfasten the window screen hook.
He said he went back to the apartment and  the light was off but he could see her lying on her bed illuminated by a streetlight.
Floyd detailed how he entered the apartment and committed the crimes. He even described books and a framed photograph on her bedside table. The police corroborated his description.
He also confessed to the Norton murder.
A psychiatrist later declared that Floyd was a deranged murderer. He was ruled mentally incompetent and committed to Eastern State Hospital in Vinita where he died in 1968.
To this day, the crimes remain unsolved.
Debbie Jackson 918-581-8374
Hilary Pittman 918-732-8182