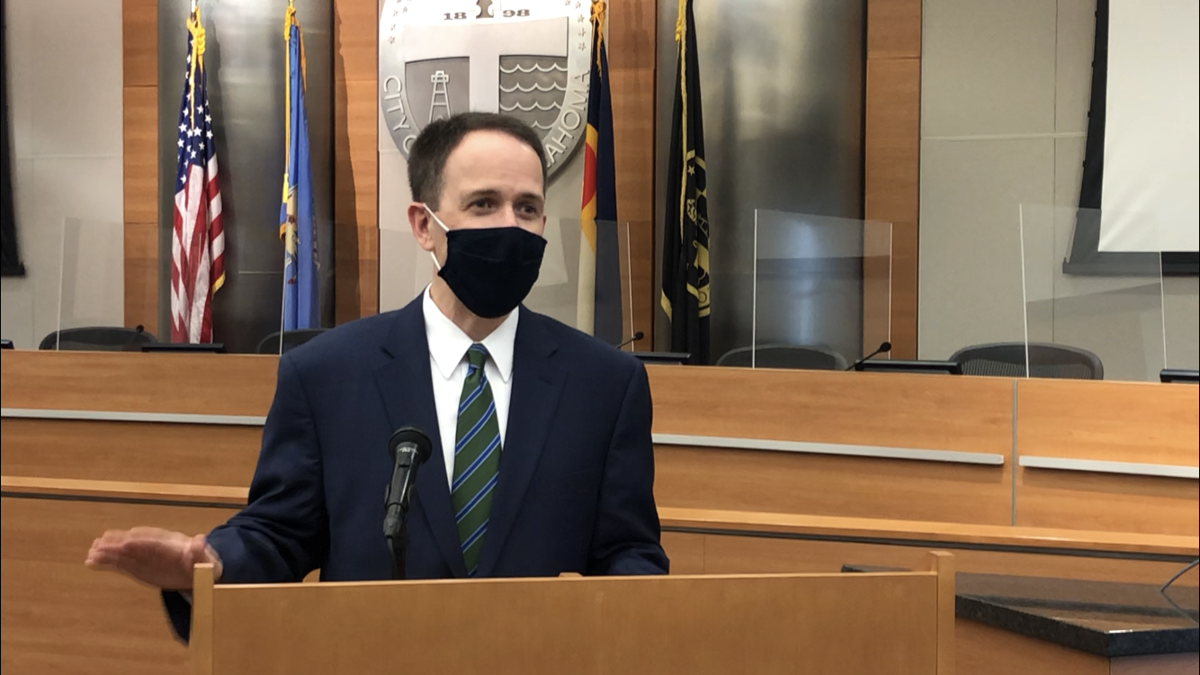 Tulsa's mask mandate will end at midnight on Friday, but that does not necessarily mean residents should celebrate this weekend with "mask-burning parties," Mayor G.T. Bynum said Thursday.
The end of the mandate does not mean the end of masks everywhere.
City facilities will continue requiring masks, as will the airport and 14 of Tulsa's largest area attractions, including ahha Tulsa, Discovery Lab, Gathering Place, Gilcrease Museum, Oklahoma Aquarium, Philbrook Museum of Art, Sherwin Miller Museum of Jewish Art, Tulsa Ballet, Tulsa Garden Center at Woodward Park, Tulsa Historical Society and Museum, Tulsa Performing Arts Center, Tulsa Symphony, Tulsa Zoo and the Woody Guthrie Center.
The ball is now in individual business owners' courts, however, for them to make the call on whether requirement is right for their operation.
If faced with any customers who will not comply with their rules, business owners continue to have a fundamental right to call the Police Department to enforce the city's trespassing ordinance, Bynum said.
The comments were made during a broadcast city and county COVID-19 briefing one day ahead of the ordinance's expiration.
Bynum also issued an executive order that ended the requirement for restaurant or bar workers to wear masks, which was set to continue even when the mandate expired, but he said the civil emergency proclamation will remain in place, along with the city's requirement that any events of 500 people or more have safety plans.
Bruce Dart, executive director of the Tulsa Health Department, recommended business owners continue to follow the latest U.S. Centers for Disease Control and Prevention guidelines.
Tulsa County is about halfway to herd immunity, Dart said, with about 31.5% of the population fully immunized against the virus, but it's important residents not cease their efforts to increase that ratio.
The more people who are immune to the virus, the less chances it has to multiply, he said, effectively setting up roadblocks to community spread.
Vaccines are now so plentiful in the county they're comparable to seasonal flu vaccines, Dart added, and even available without an appointment at the Community Vaccination Center in north Tulsa.
The site at Tulsa Community College's Northeast campus, 3727 E. Apache St., is available for any person ages 16 and older from 10 a.m. to 7 p.m. Tuesday through Sunday.
Dart encouraged everyone able to get the vaccine to do so, and emphasized that while the agency is providing the Johnson & Johnson vaccine again, patients at their clinics can choose which vaccine they'd like to receive out of the Johnson & Johnson, Pfizer and Moderna vaccines.
"Please do not wait," Dart said, adding that the vaccine is completely free to everyone.
Bynum also urged those on the fence about receiving the vaccine or those against it to call their personal doctor and discuss their individual risks and benefits.
"This is the best thing that we as a community, each of us, can do to end this pandemic in Tulsa and in northeast Oklahoma," Bynum said. "The challenge, I think, is...a lot of focus on why there's some folks who don't want to get it or won't. But I really want to emphasize how grateful I am for all the people in our community who didn't need to be begged; who recognized the value of it."
Now that you're vaccinated, here's what you can and can't do
When are you fully vaccinated?
You are fully vaccinated 2 weeks after receiving the Johnson and Johnson vaccine, or 2 weeks after receiving the second dose from Pfizer or Moderna.
What you can do
CDC guidance contains activity recommendations for fully vaccinated people in private settings and includes:
Visiting with other fully vaccinated people indoors without wearing masks.
Visiting with unvaccinated people from one other household indoors without wearing masks or staying 6 feet apart if everyone in the other household is at low risk for severe disease.
Refrain from quarantine and testing if no symptoms of COVID-19 are experienced after contact with someone who has COVID-19.
The CDC has also updated its guidance to say fully vaccinated people can travel within the U.S. without getting tested for the coronavirus or going into quarantine afterward. Read more about that here:
Precautions in public
The CDC says that anyone who is fully vaccinated should continue to take these precautions when in public, when visiting with unvaccinated people from multiple other households, and when around unvaccinated people who are at high risk of getting severely ill from COVID-19:
Stay at least 6 feet apart from people you do not live with.
Avoid medium and large in-person gatherings.
Get tested if experiencing COVID-19 symptoms.
Follow guidance issued by individual employers.
Follow CDC and health department travel requirements and recommendations.
10 things to know about vaccine side effects
Here's a list of 10 things you should know about potential COVID-19 vaccine side effects, according to the Centers for Disease Control and Prevention and Harvard Medical School:
The Pfizer-BioNTech COVID-19 Vaccine and Moderna COVID-19 Vaccine both require two shots in order to get the most protection. You should get the second shot even if you have side effects after the first shot, unless a vaccination provider or your doctor tells you not to get it.
Side effects from the second injection may be more intense than the ones you experienced after your first shot.
The most commonly reported symptoms are pain, redness and swelling at the site of the injection. Other common symptoms reported include tiredness, headache, muscle pain, chills, fever and nausea.
You may take acetaminophen, aspirin or antihistamines for any pain and discomfort you may experience after getting vaccinated — as long as you have no medical conditions that prevent you from taking them normally.
It is not recommended that you take pain relievers before being vaccinated in an effort to prevent side effects. They may interfere with the vaccine's effectiveness.
If you have pain at the vaccine's location, keep the arm active and use a clean, cool, wet washcloth over the site.
For a fever, drink plenty of fluids and dress lightly to remain as cool as possible.
The symptoms should improve within two or three days.
Call the doctor if redness and/or tenderness at the injection site worsen after 24 hours.
Call your doctor if any other symptoms seem to be worsening or not improving after two to three days
Common questions
Can I get COVID-19 after being vaccinated?
Like other vaccines, such as the flu shot, the COVID-19 vaccines work by teaching the immune system how to recognize and fight the virus that causes COVID-19. It typically takes two weeks after vaccination for the body to build immunity against the virus, according to the Centers for Disease Control and Prevention.
Because of this, it is possible for a person to get COVID-19 before or just after vaccination, and then get sick because the body hasn't had enough time to develop protection.
Dr. Michael Lindberg, chief medical officer at Monadnock Community Hospital in New Hampshire, said that while possible, it's "very uncommon" for someone to become infected with COVID-19 after vaccination.
Should I still get tested after getting vaccinated?
If you've been vaccinated and are showing symptoms of COVID-19, then yes, you should get tested.
If you have been vaccinated and don't have symptoms, however, you don't need to get tested even if you suspect you've been exposed to the virus, per guidance from the Centers for Disease Control and Prevention.
When will we hit herd immunity?
Scientists estimate that potentially 75% to 85% of the population needs to be immune to reach herd immunity for COVID-19. Some estimates are higher, at around 90%. As of March 29, 15.8% of the U.S. population had been fully vaccinated, 28.6% had gotten at least one dose.
How long will we have to wear face masks?
Dr. Anthony Fauci, director of the National Institute of Allergy and Infectious Diseases, said in February that even with increasing vaccinations, it's "possible" Americans could still be wearing face masks and coverings in 2022.
Also contributing to this report: The News & Observer (N.C.), The Keene Sentinel (N.H.), Dayton Daily News (Ohio) and The Staten Island Advance (N.Y.)