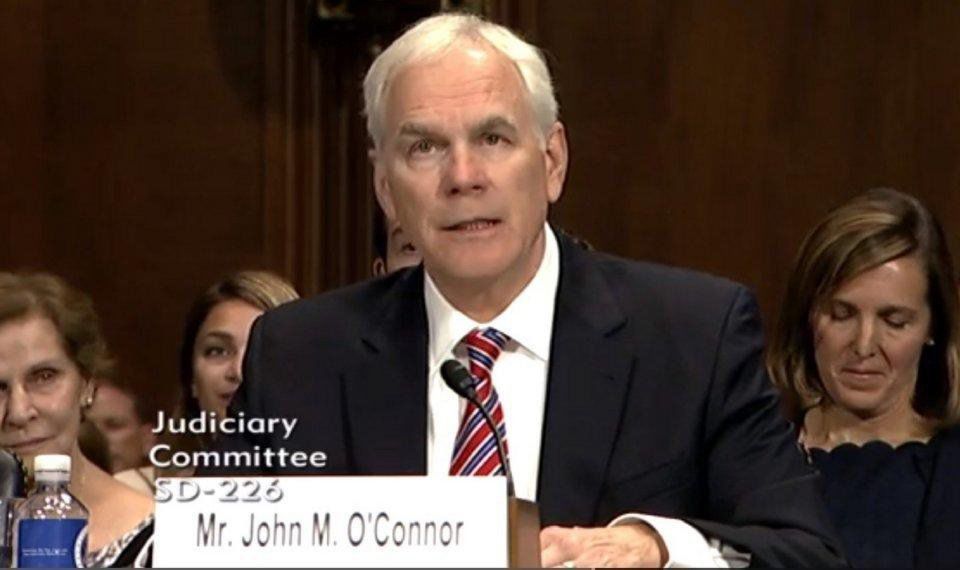 WASHINGTON — Tulsa attorney John O'Connor, whose federal judicial nomination failed to advance last year, announced Thursday that he no longer wants to be considered for the post.
"It was a great honor to have been nominated by the president for the federal judgeship," O'Connor said in a written statement.
"I am likewise deeply honored to have had the vigorous and sustained support from Sens. Inhofe and Lankford."
A member of the Hall Estill law firm, O'Connor said he now plans to focus on his law practice.
His move to withdraw from further consideration for the judicial post was somewhat unexpected.
After his nomination expired in January when the Senate adjourned sine die, O'Connor hoped his nomination would be resubmitted.
"To serve the citizens of Oklahoma in the court has been a life-long dream," he said at the time.
Sen. Jim Inhofe, R-Okla., who as the state's senior senator plays a key role in nominations to federal courts in Oklahoma, expressed disappointment.
"While I understand John's decision to withdraw, I don't like it," Inhofe said in the same written statement. "We are missing out on an opportunity to place a person of the highest integrity and competence on the federal bench to serve all Oklahomans."
In his own statement on O'Connor, Sen. James Lankford, R-Okla., said he was "grateful for John and his family's sacrifice as they patiently and professionally endured our nation's grueling nomination process."
"I completely understand his decision not to continue to seek this nomination after almost a year of delay as a nominee for the court," Lankford said.
He also expressed hope that the Senate can fix a "broken nomination process" so future nominees are not forced to undergo this kind of delay.
"John has been a trusted source in the Tulsa legal community, and I know he will continue to serve our state and nation through his continued advocacy," Lankford said.
In a separate interview, Inhofe said O'Connor also faced a new issue that had not kept him from being nominated last year.
Inhofe said President Trump now wants a younger nominee. O'Connor is in his mid-60s.
Maybe even more than his predecessors, Trump has stressed the importance of judicial appointments, which can become a major part of a president's legacy. Younger nominees can remain on the bench for decades after a president leaves office.
Senate Majority Leader Mitch McConnell, R-Ky., has spoken of Trump's track record in the area of filling judicial slots across the country.
Initially submitted by Trump last April, O'Connor's nomination appeared to be headed to at least a routine party-line vote in the Senate Judiciary Committee, which would have sent it on to the Senate floor for final confirmation.
However, a "not qualified" rating from the American Bar Association took a toll, and then votes on the O'Connor nomination and several others repeatedly were delayed after the committee took up the nomination of Brett Kavanaugh to the U.S. Supreme Court in what became a headline-grabbing process.
And then came the longest government shutdown in U.S. history, which kicked other matters aside. Inhofe said time just ran out.
In the interview, he expressed confidence that O'Connor's nomination eventually would have been confirmed if Trump had resubmitted it to the Senate.
Inhofe had reason to bet on confirmation this year.
As a result of the 2018 elections, Republicans increased their majority on the Senate Judiciary Committee from an 11-10 partisan split to 12-10. That extra cushion should have boosted odds for confirmation.
Inhofe said the process to come up with another recommendation for the White House to fill that vacancy will begin.
He also expressed confidence about the confirmation of another pending Oklahoma nominee, Patrick Wyrick, a member of the state's Supreme Court.Wyrick's nomination for a federal judgeship in the Western District advanced out of committee last year but never received a floor vote.