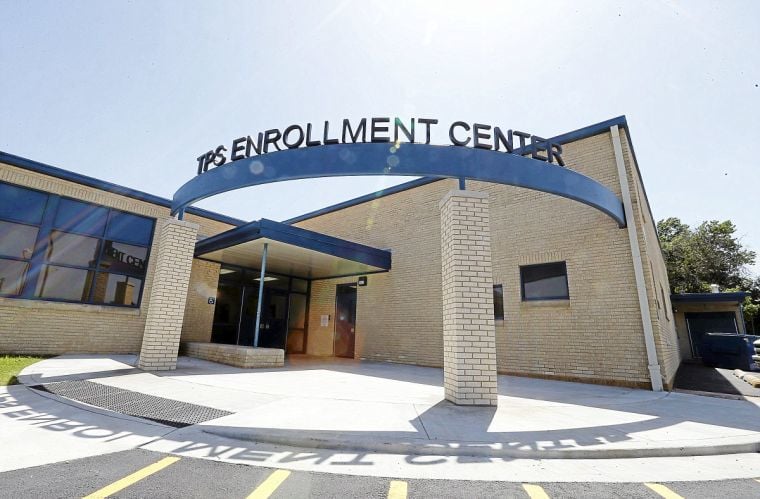 Add "student recruitment efforts" to the list of tasks moved online at Tulsa Public Schools due to COVID-19.
With the district still in distance learning until March, Tulsa Public Schools is hosting virtual enrollment expos on Tuesday and Wednesday afternoon for families and students considering their options for the 2021-2022 academic year.
The district's elementary schools will be in focus from 4-7 p.m. Tuesday, while an expo for secondary schools is scheduled for 4-7 p.m. Wednesday. Both events will be online at tulsaschools.org/enrollexpo and Spanish interpretation services will be available.
At the virtual expo, families will be able to go in and out of Zoom rooms to view presentations and ask questions of school representatives. The presentations will be recorded and made available for viewing at a later date as well.
All sites participating in the district's unified enrollment platform will have representatives on hand to talk with parents and prospective students. Along with neighborhood and magnet schools, TPS' enrollment platform also includes its alternative sites and authorized charter schools except for Tulsa School of Arts and Sciences. The district's enrollment window is open through Feb. 12.
"We're excited to start planning for the next year," TPS Director of Strategic Operations Cesar Dominguez said. "We are planning already to be more prepared as all districts are for what comes our way when it comes to COVID-19. We want our families back, as many either took the year off or pursued other options."
TPS scheduled a similar in-person enrollment event in 2020, but it had to be canceled due to inclement weather. Dominguez said there is interest in attempting an in-person expo in the future as public health conditions allow.
"If it works well, I can imagine us doing some kind of combination," he said. "We want to make sure we connect with families and sometimes technology is a barrier."
Recruitment efforts for individual TPS sites are not been limited to just the expo, as school administrators have turned to yard signs, mailers, Facebook Live chats, Zoom and other methods to seek out prospective students and their families while maintaining their physical distance.
"Safety is the overriding concern over here," Eugene Field Elementary Principal Angela Callahan said. "If I can't let you come in here to visit with me, I will find ways to meet with you."
For Callahan, that has meant a lot of time on camera, either with pre-recorded videos or live chats with families. It has not been the same as being able to see families in person, but it has kept the conversation going while maintaining social distance.
"Prior to COVID, we loved gathering at Eugene Field," she said. "We loved gathering and we had amazing moments to gather together. We like to eat with our families and create with our families. However, the pandemic is not sympathetic to that, so we just have to find other ways."
Rebecca Grooms, the principal at Memorial High School, is also resorting to other ways to reach students and families.
Along with putting signs outside the campus and occasionally raiding the costume closet for YouTube videos and Zoom chats, her staff has encouraged prospective students to get out their own video cameras.
As part of Memorial's outreach efforts, she and her staff hosted a Flipgrid contest for eighth graders living in their feeder pattern or attending nearby Thoreau Demonstration Academy. Students were challenged to simply introduce themselves.
"Some of those videos were just outstanding," she said. "We're trying to do interesting stuff like that to get the kids hooked. We want to remind them that we will be back in person, we'll get to socialize and get to meet them in person."
---