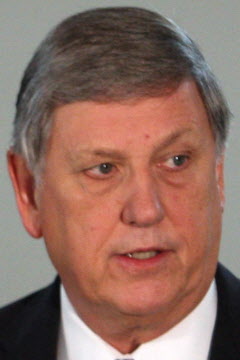 Tulsa Superintendent Keith Ballard sent a letter home to parents Thursday blasting the Oklahoma State Department of Education for "dysfunction and ineptitude" in the calculation of school report cards due out next week.
The annual report cards, which assign a single letter grade between A-F to every public school, have been the source of great controversy since their 2012 debut. They replaced Oklahoma's previous school accountability system, which gauged schools with an Academic Performance Index score of 0-1,500.
"To say we have no trust in this system is an understatement," Ballard wrote Thursday to parents of Tulsa Public Schools' roughly 40,000 students. "The incompetence in the roll-out of these grades is rivaled only by the testing debacle that took place in April when computer servers of the state's new testing vendor crashed, interrupting test-taking throughout the state."
Ballard's letter to parents also slams the school grading system as a whole as "seriously flawed, in spite of tinkering by the state legislature."
On Oct. 16, the state Department of Education posted the newest grade cards for public schools statewide to a secure website for school administrators to review. But school administrators all over the state reported finding that their school grades had been changed four, five and even six times over the first two days because of calculation errors by state education officials.
On Oct. 18, State Superintendent Janet Barresi issued an apology to educators for "delay and confusion" caused by the calculation glitches.
She extended the period school administrators have to request corrections through 10 a.m. on Oct. 28. That is one day before the Oct. 29 meeting where the state Board of Education will be asked to certify the grade cards as final and release them to the public.
Ballard was one of the most vocal of the 300-plus school superintendents who last fall questioned the Barresi administration's first-ever school grade calculation methods. This spring, the legislature intervened and passed some changes to those calculation methods.
Over the summer, Ballard and several suburban Tulsa area school district leaders began supporting the exploratory campaign of Tulsa Republican Joy Hofmeister, who resigned her appointed position on the state Board of Education to pursue a challenge to Barresi's 2014 re-election campaign.
Phil Bacharach, the state education department's new director of communications, responded to Ballard's letter in a written statement.
"First, it is important to note that changes in the new law on the A-F Report Card have resulted in a grading formula that is more reflective of academic realities," he wrote. "With all due respect, given Dr. Ballard's stated political preference, this letter amounts to campaign material on school district letterhead.
"It's unfortunate that the head of a school district would undermine an initiative that gives parents information they need about how their child's school is doing. It's worse than unfortunate — and perhaps unconscionable — that he would do so before the grades even come out. Given the academic challenges that exist in Tulsa Public Schools, this letter is disappointing. Tulsa schoolchildren deserve better."
In his letter, Ballard told parents that in addition to using state test scores as a "meaningful measure that guides instruction," TPS also relies on individual student literacy scores, measurements of student growth each year to determine teachers' specific contributions, and student and parent surveys.
"To my amazement, some schools that showed improvement over last year will have a lower grade than they had last year. That alone is a clear indication that these grades are simply flawed," he wrote. "A simplistic grade for schools tells us nothing."