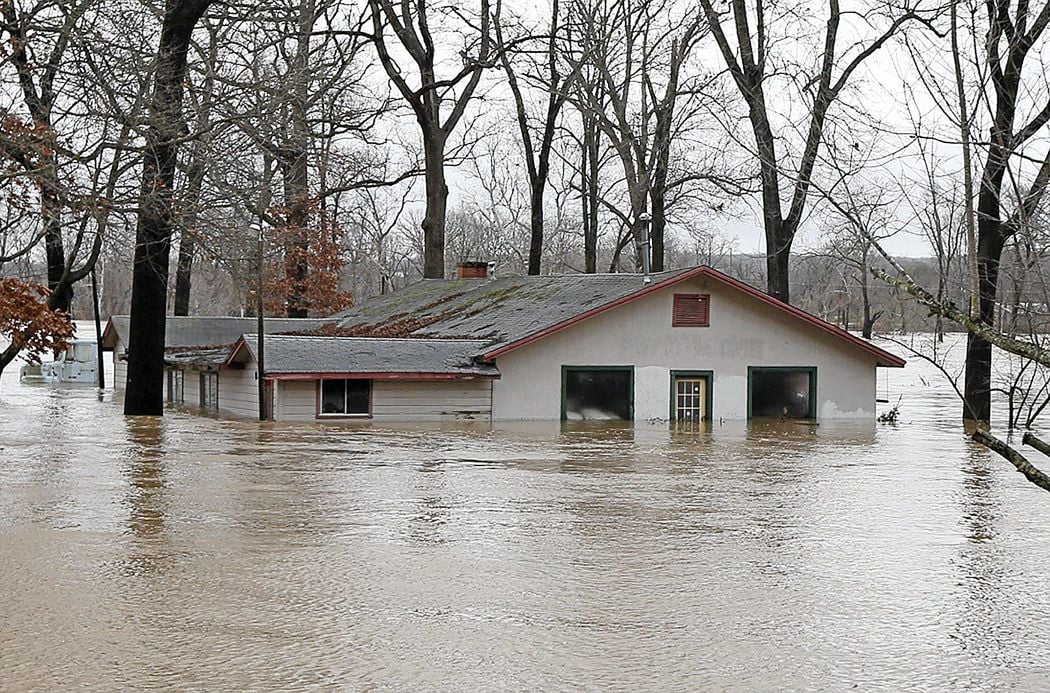 "Oh, good. Now I'm happy," were the words that accompanied a sigh of relief from Ed Fite, vice president of scenic rivers and water quality for the Grand River Dam Authority.
After devastating floods on the river in 2015 and 2017, he had good reason to feel a sense of relief.
For northeast Oklahoma, last week's rains that ranged from about 6.5 inches in the Cookson area to 4.5 inches at Tulsa and 1.5 inches in northeast Osage County were welcome relief from drought conditions.
But it was also enough to say, "That's enough!"
"I certainly wouldn't want 2 inches to fall right now, and I really wouldn't want to see another 4 or 5," Fite said. "When I saw the rain forecast for this week, I was concerned."
The early rain before the typically wet month of March reminded him of past floods, like in 2015 when rain events filled the rivers and creeks and saturated the soil, and then another large rain followed and the river hit a 100-year high. A similar scenario played out last spring.
"All of our capacity to store water right now is saturated. We get 2 or 3 inches last week and it's dry and it's no problem, we get 2 more inches this week and the ground is saturated and the off-stream channels are full. That's where we have most of our water storage, and the river rises that much faster," Fite said.
The volume of water is easily noted in the conditions at Lake Tenkiller. The reservoir was 5 feet below normal at the beginning of last week. On Monday it was 10.8 feet above normal and still rising.
State Climatologist Gary McManus said periods of drought followed by periods of heavy rain are unfortunately the typical cycles in Oklahoma.
"In northeast Oklahoma people wouldn't have thought they would have this problem a couple weeks ago," he said. "But coming this week we probably will not see the kind of volume of rain we saw over the past seven to 10 days, with the exception of maybe the far southeast corner of the state."
The forecast calls for rain, but expected amounts from Tulsa to Miami and areas in-between are less than a half inch.
McManus said the problems of northeast Oklahomans might fall on deaf years with people in far northwest Oklahoma, where they haven't seen more than 0.25 inches of rain in a day for more than 150 days, or in the southeast, where precipitation is nearing all-time highs.
The northwest is always a little dry, the southeast damp, but not like this.
"It's like the typical climatology pattern for the state, but it's on steroids right now," McManus said.
On the Illinois River, which just dropped below flood stage at Tahlequah before noon Monday, periods of heavy rain have become more and more problematic, Fite said.
"Back in the 1980s, the land had the ability to capture, store and slowly release into the river about 65 percent of what fell out of the sky," Fite said. "Now because of development and land use practices, we can hold something on the order of 35 percent."
Roofs, driveways, parking lots, mowed landscapes and storm drains and ditches channel off and shed water much faster than wide expanses of tall grass, forest lands and seasonal wetlands, he said.
"We see water moving faster through the system," Fite said. "You can look at the timing of the crest through the state line and gradually, the time it takes for it to go up has come quicker and then it goes down quicker. There is more energy coming down the river."
Kelly Bostian
918-581-8357
Twitter: @KellyBostian
Be the first to know
Get local news delivered to your inbox!