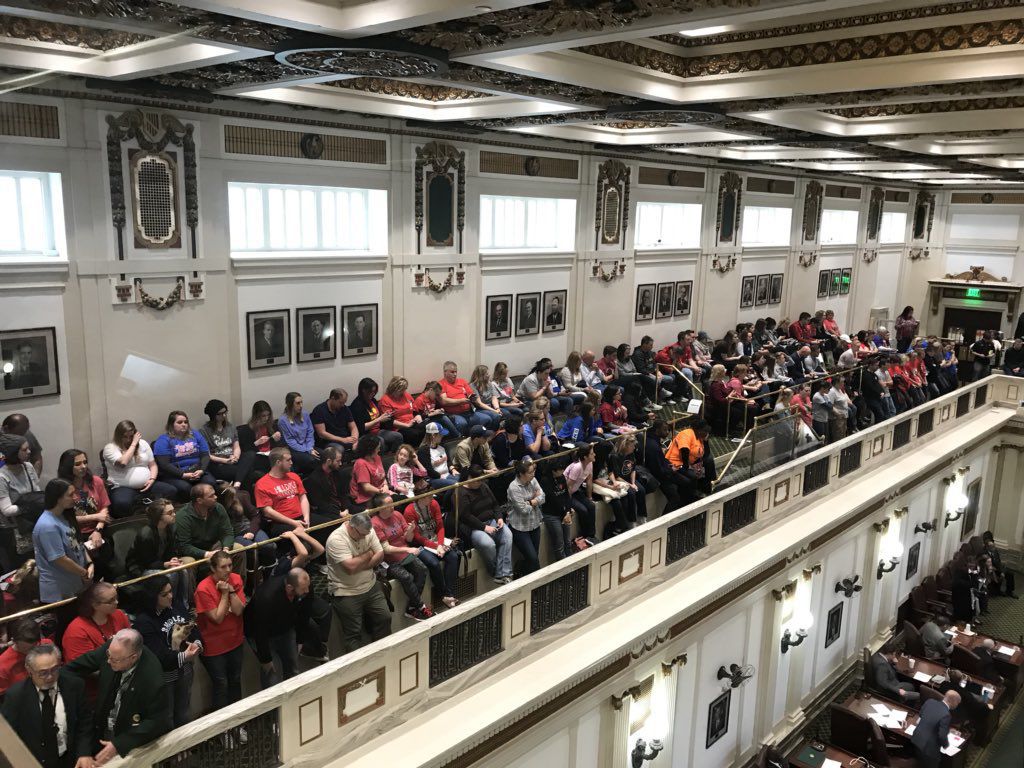 OKLAHOMA CITY — Oklahoma's teacher walkout and Capitol protest showed no signs of stopping after a second day as thousands of teachers brought their fight for more state funding for public schools indoors.
Protest chants filled the Capitol rotunda Tuesday as educators pressed lawmakers to take action on stalled-out measures that could bring in additional revenues for school operations. Thousands spent the day outside, protesting or waiting to get in.
"What do we want? Funding! When do we want it? Now!"
"We'll be back on Wednesday!"
"This is what democracy looks like!"
Oklahoma Highway Patrol troopers said the Capitol had reached maximum capacity by about 9:45 a.m., and they would only allow people still lined up to come inside as others departed.
The Oklahoma Education Association listed three teacher demands that would end the walkout: fill the $50 million gap created in hotel/motel tax the Legislature repealed last week, pass a bill that would bring in revenue by allowing "ball and dice" gambling, and find additional revenue sources to increase funding for schools.
Teachers packed the House of Representatives gallery on Tuesday morning and hundreds more waited in a line that snaked all the way around the fifth floor, but they never got in.
---
---
Rep. Scott Inman, D-Del City, attempted to bring to the House floor a vote on Senate Bill 1086, which he said could bring in $70 million to $100 million in new revenue by eliminating a capital gains tax credit, but his effort was blocked.
When the House voted to adjourn about 10:30 a.m., teachers in the gallery booed and chanted: "Fund our schools! Fund our schools!" Presiding officer Josh Cockroft, R-Wanette, ordered ushers and state troopers to clear the galleries, but when the outcry subsided, Cockroft relented.
Legislative assistants for House members were being sent home Monday afternoon "in the interest of safety," according to the House clerk. The House is adjourned until 3 p.m. Wednesday, and many protesters said they were disappointed by the lack of action.
"There is a big push for the (removal of the) capital gains exemption – that would be a tremendous win," said Alison Clark, a local school board member in Bartlesville. "Now that we know there are possibilities on the table, teachers are trying to hammer the legislators."
Educators said they are in the fight for the long haul until the Legislature does more.
School districts already closed for Wednesday include Tulsa, Bixby, Broken Arrow, Claremore, Jenks, Muskogee, Sand Springs, Sapulpa, Union and Wagoner. Schools will have to add make-up days to their academic calendars once they exhaust the number of snow days built into their existing calendars.
---
---
"I'm coming back until this is solved," said Susan Franklin, a fourth-grade teacher at Jenks East Elementary School. "I'm retiring soon. Once I'm gone, who's replacing me? I have to worry about my grandchildren and other people's children and grandchildren."
Jenks teachers are paying $5 each to ride school buses to the Capitol, and they filled eight buses Tuesday. They said they were poised to take their local school board up on an already-approved allowance of up to 10 days to advocate at the Capitol, if need be.
Robert Yadon, a teacher at Hale Junior High in Tulsa, said he was thrilled about the teacher pay increase that lawmakers approved last week, but "they've given us a raise and nothing for students."
He said recent legislative failures to fund teacher pay and education in general was "the straw that broke the camel's back" and made the walkout inevitable.
"We needed to come up here and tell them to fund education and teacher salaries," Yadon said. "The Republican answer to everything is to cut."
Sapulpa High School teacher Christine Lyons came to the Capitol on Tuesday with Mattie Smith-Broom, a paraprofessional of 20 years who works in her special education classroom for profoundly disabled students.
"I'm here for her, for support worker raises. I could lose all three of my paras because they could make more at McDonald's," Lyons said.
Lyons, who graduated in 2002 from the school where she now works, said she is shocked by the fact that current Sapulpa students no longer have access to honors and Advanced Placement courses or French or Latin courses that were offered when she was a student, "all because of staff cuts. It's sad."
Smith-Broom said that like many other districts, Sapulpa is surveying its employees daily about their intent to participate in the next day's protest at the Capitol, so administrators know whether to close schools.
"I'll be here even if they're not (closed)," Smith-Broom said. "We need extra funding for support raises."
Not every teacher is in it for the long haul, however. Meishel Fry and Jessyca Lance work in the Putnam City and Moore districts, respectively, and even if their districts are closed Wednesday, they won't be at the Capitol.
A Tuesday meeting with Rep. Rhonda Baker, R-Yukon, changed their minds about the value of walking out.
"This is all they (legislators) can do right now," Fry said. "The longer we stay here, the worse it looks for us. "They're being badgered and called names. That's not how I want educators to be seen. I really thought that more could be done."
Lance said: "No one wanted to walk out." She said at first she was prepared for a long walkout, but "now my ideas have kind of changed."
---
Andrea Eger
918-581-8470
Twitter: @AndreaEger
Samuel Hardiman
918-581-8466
Twitter: @samhardiman