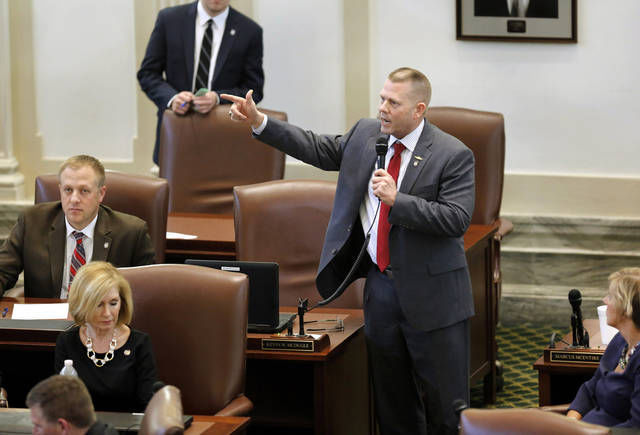 As the statewide teacher walkout entered its second day, some lawmakers are criticizing the behavior of those protesting at the Capitol.
Rep. Josh Cockroft, trying to move on with business in the House of Representatives, threatened to clear the gallery Tuesday after protesters started booing.
After unsuccessful attempt by Dems to get vote on Senate Bill 1086 to bring in $70-$100 mill by eliminating capital gains tax credit, teachers booed & chanted: "Fund our schools!" Josh Cockroft, R-Wanette, ordered ushers & troopers to clear galleries, but then relented. #oklaed pic.twitter.com/exA7JtWMW6

— Andrea Eger (@AndreaEger) April 3, 2018
Rep. Kevin McDugle, R-Broken Arrow, took to Facebook Live with his frustrations on Tuesday. He has since deleted the post.
McDugle — who represents Broken Arrow, Coweta, Fair Oaks, Okay, Porter, Redbird, Tullahassee and Wagoner — said he voted for each funding measure to support education last year, but what he's seen during the walkout has changed his mind.
"I'm not voting for another stinking measure when they're acting the way they're acting," he said on Facebook Live.
McDugle said he didn't think teachers were setting a good example for students.
"You're losing support of people who supported you all year long," he said. "Now you're going to come here and act like this after you got a raise?"
"Go ahead, be pissed at me if you want to," he concluded.
As reported on KOCO, McDugle later apologized for how his message came across and said he removed the video because it didn't fully explain the situation he was experiencing on the "pretty rowdy" House floor.
"I will continue to vote for teachers, but I will tell you this: I don't approve of some of the things that are being done here, and it's not necessarily Oklahoma teachers that are doing it."
He said legislators have received death threats and alluded to legislative aides being released from duty early Tuesday due to safety concerns at the overcrowded Capitol.