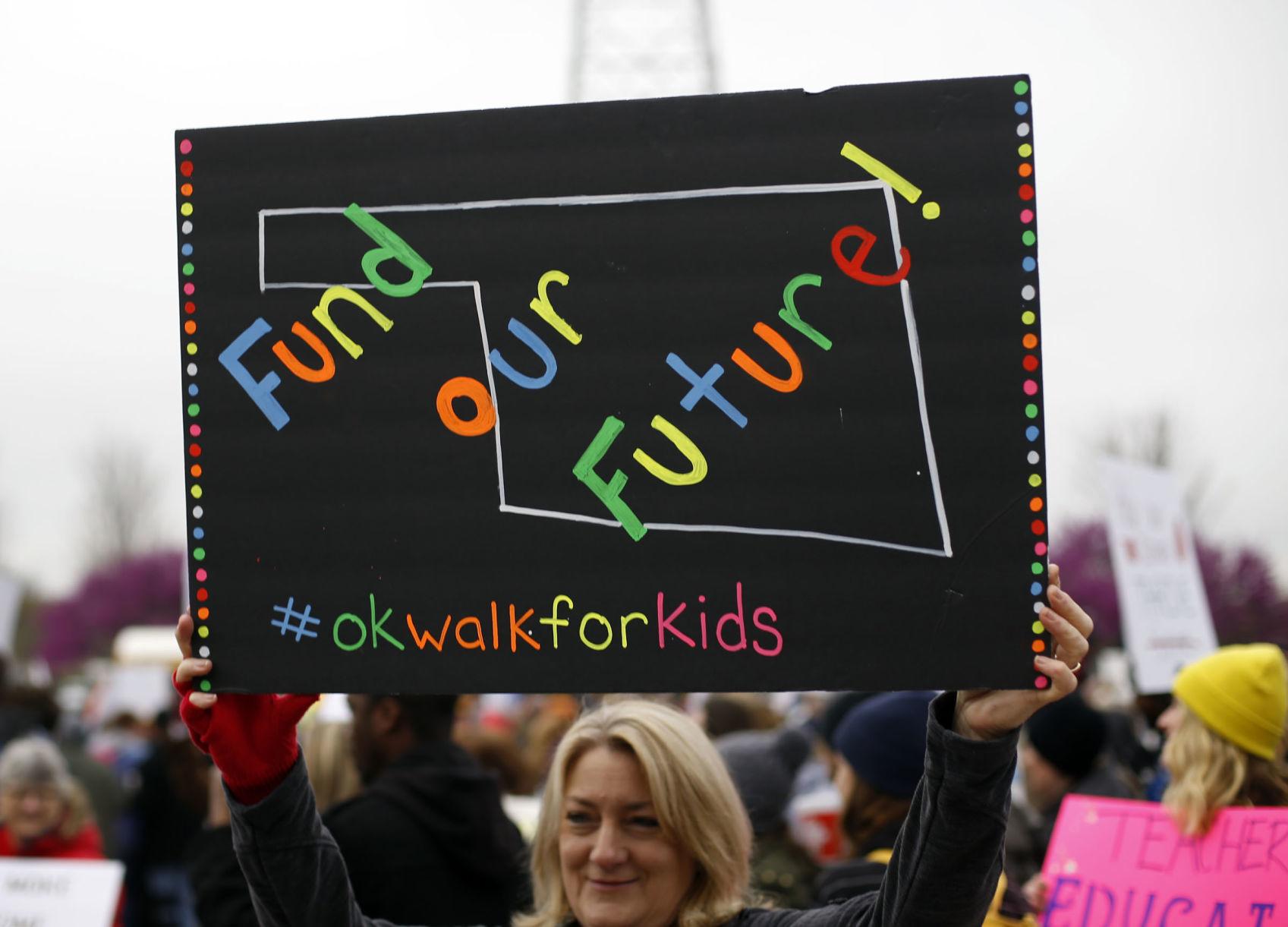 Statewide pay raises lifted Oklahoma's average teacher salary from its longtime ranking of 49th in the nation to 34th overall, according to a new state-by-state comparison.
The National Education Association's annual Rankings and Estimates found that Oklahoma's average salary, including all state-paid benefits such as retirement and health care premiums, rose 13.2% from $46,300 in 2017-18 to $52,412 in the current academic year.
"This is exciting news for Oklahoma, as it is the first time in our state's history to rank this high in teacher pay," said Gov. Kevin Stitt. "I look forward to protecting this pay increase and continuing to invest in our teachers and students in order to move Oklahoma forward."
Under threat of a statewide teacher walkout, the Oklahoma Legislature in late March 2018 scrambled to pass teacher raises that worked out to about $6,100 more on average for the 2018-19 academic year.
Teachers walked off the job anyway in protest of the effects on students of Oklahoma's nation-leading state funding cuts over the last decade. At its peak, the two-week teacher walkout in April 2018 had more than 500,000 students out of school — about two-thirds of the state's student population.
After adjusting for inflation, analysts at the Center on Budget and Policy Priorities recently found that Oklahoma's state aid to schools is still 15% less for the current fiscal year than it was in 2008, despite the fact that by raising teacher salaries, lawmakers increased state aid funding per student by 19%.
Only Texas came out worse in the comparison of current state aid levels against those provided before recession struck a decade ago.
Continued investment needed
Alicia Priest, president of the Oklahoma Education Association, said new pay hikes by Texas, the biggest drain on Oklahoma's pool of public school teachers, highlights the need for ongoing attention to the matter of public education funding.
"We made great gains last year and we're thankful that the Legislature was able to pass the revenue-raising mechanisms so we could start to reinvest in public education," said Priest. "It is imperative that our legislators look at this and see that we can't not address funding public education. We have to continue to invest because Oklahoma is not the only one investing in their teachers. Texas has already passed a $5,000 raise for next year, so if we stay stagnant, we will be right back in the same boat."
Suzanne Schreiber, who recently became vice president of the Tulsa school board after a term as president, called Oklahoma's jump to 34th "a great start," but echoed Priest's sentiments in saying there is another part of the equation yet to be addressed.
"They are worth every dollar and more," she said of teachers. "I know what our teachers and communities want is more money in their classrooms and that's our next priority. Well-paid teachers plus well-funded classrooms equals success."
Bartlesville Superintendent Chuck McCauley unwittingly played a role in sparking the grassroots organization of teachers behind Oklahoma's 2018 statewide walkout by emailing a survey to gauge how many other superintendents and local school boards like Bartlesville's would stand by their teachers.
By his view, the statewide teacher pay raises improved teacher retention in Bartlesville but any kind of reversal of Oklahoma's statewide teacher shortage still seems a long ways off.
"Because of the pay raise, I know several of our teachers that have put off retirement," McCauley said. "I believe it will take many years for the recruitment side to improve. I am hopeful our state Legislature will continue to invest in education so teaching will become a more attractive profession for our youth."
Committing resources to education
NEA's annual salary reporting is aggregated from state-level data and commonly used by public policymakers and researchers.
The 2018-19 national average teacher salary is estimated to be $61,730. That is 2.1% more than the average of $60,477 in 2017-18, and 11.5% more than the average of $55,370 in the 2009-10 academic year.
But when the NEA factored in the effects of inflation, it found the average classroom teacher salary decreased by 4.5% from 2009-10 to 2018-19.
The full NEA report also provides comparative state data and national averages for a host of other public education statistics in an effort to compare the extent to which local, state and national governments commit resources to public education. These include student enrollment and revenue and expenditures for the most recent school year.
Shawn Hime, executive director of the Oklahoma State School Boards Association, noted that the new NEA report indicates Oklahoma has moved from trailing every surrounding state in average teacher compensation to third behind Texas and Colorado.
"That's significant progress and a sign that with continued investment, Oklahoma can begin to reverse a severe teacher shortage crisis and focus on the need to hire more teachers, reduce class sizes, restore programs that contribute to academic success and increase mental health supports for students," said Hime.
---
Top 5 teacher pay raises from 2017-18 to 2018-19
| | | | |
| --- | --- | --- | --- |
| State  |  2017-18 Salary  |  2018-19 Salary  |  % Change  |
|  Washington  |  $55,693 |  $72,965 |  31.01 |
|  Oklahoma |  $46,300 |  $52,412 |  13.20 |
|  North Carolina |  $51,231 |  $53,975 |  5.36 |
|  Hawaii |  $57,866 |  $59,757 |  3.27  |
|  Idaho |  $49,225 |  $50,757 |  3.11 |
Source: National Education Association, Ranking of the States 2018 and Estimates of School Statistics 2019
Andrea Eger 
918-581-8470
Twitter: @AndreaEger
Be the first to know
Get local news delivered to your inbox!