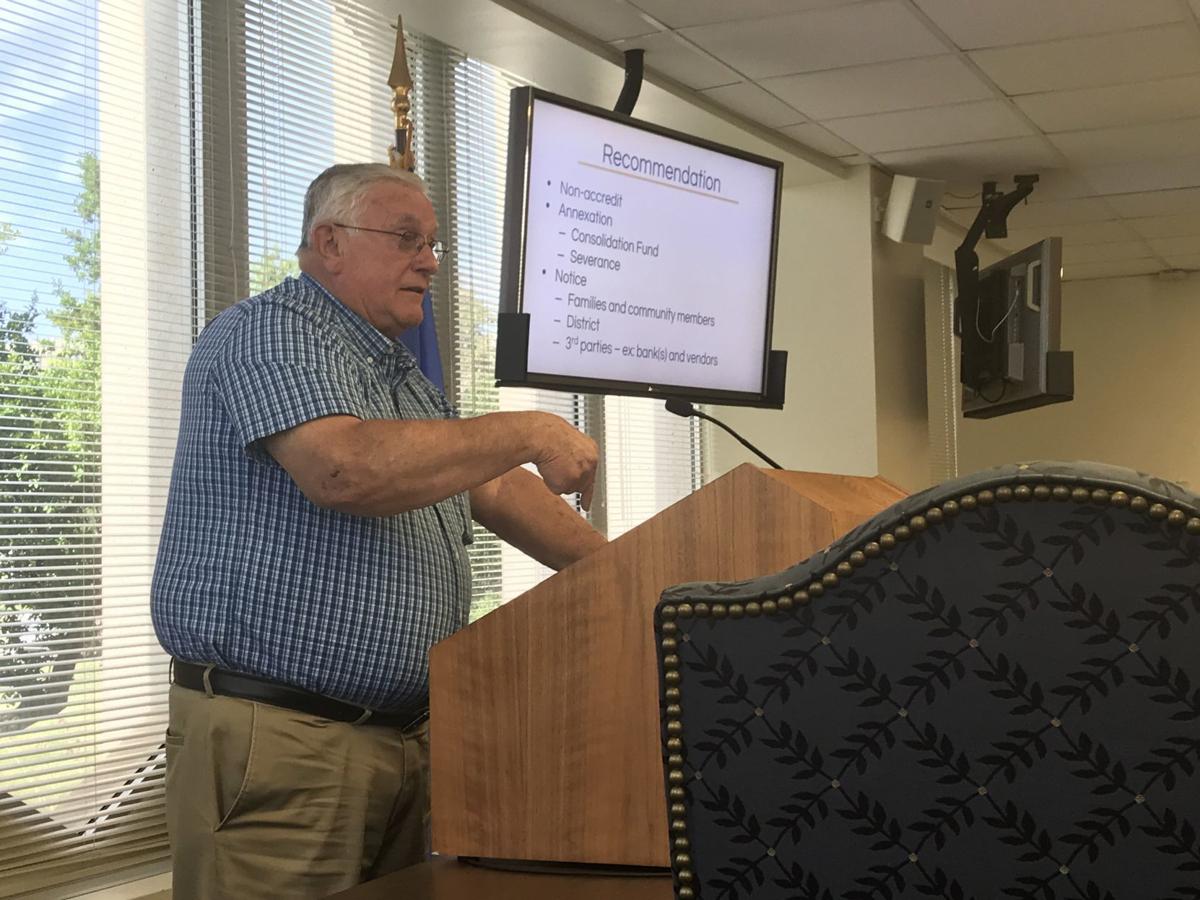 OKLAHOMA CITY — The Oklahoma State Board of Education on Thursday approved the mandatory annexation of Swink Public Schools with its neighboring district of Fort Towson after several board members expressed reservations and concerns.
Swink's lone remaining board member and a former lawmaker from the area made impassioned pleas to save the school, whose governance has been crippled by the resignation of its other two local school board members in June.
Lewis Collins, a retired longtime Choctaw County sheriff and Oklahoma state trooper, joined the Swink school board only five months ago. He explained how he had spent the past month desperately trying to address the concerns raised later in June by the administration of State Superintendent Joy Hofmeister to avoid the consolidation of Swink, which serves 140 students.
"You guys are going to cut our legs off and tell us to jump a six-wire fence. Without a board member, we can't meet one stipulation you've given us," Collins said.
Collins also disputed the accuracy of three of the main concerns raised by state education officials:
• He said the district's insurance policy had not lapsed on July 1, as claimed.
• In response to concerns about student transportation, he explained that the school's leased bus is picked up every summer by its owner so it can be serviced and then returned in time for classes to begin in August.
• And he provided copies of Swink's bank statements showing balances totalling far more than the $151,000 state education officials said the district had for operations.
Collins and Randall Erwin, a former state lawmaker who worked previously as a school superintendent and state accreditation officer at the state Department of Education, told the board they and current legislators representing the area had submitted requests asking Gov. Kevin Stitt to appoint at least one replacement board member.
At least two members would have been required so the Swink board could hold public meetings once again to handle the district's financial affairs.
Erwin said they were told Hofmeister herself had advised Stitt not to act on the requests.
Although she did not specifically deny the accusation, Hofmeister said Stitt's own legal counsel determined there is nothing currently in state statute that would allow the governor to make such an appointment.
Board members raise issues
All of the board members present asked pointed questions and expressed concerns, including why the state Department of Education's financial figures for Swink didn't match the bank statements presented by Collins.
Board member Brian Bobek of Oklahoma City asked whether anyone in the Swink community was interested in serving on the board, and Collins responded that they had submitted multiple names of those willing to serve to the Governor's Office, to no avail.
Board member Carlisha Williams Bradley of Tulsa asked if it would be possible for the board to pass a resolution asking the Governor's Office to appoint someone to the Swink school board. Hofmeister responded that the board could, "but I don't know if that's something that's productive, if we're clashing against the start of the school year."
Bobek called allegations that the state's regional accreditation officers had not returned calls and messages left by Collins and Erwin "unacceptable."
Of the annexation, he asked: "Once something like this takes place, can it be undone at a later time?" Hofmeister responded no.
Board member Kurt Bollenbach of Kingfisher said the Education Department needs to work with lawmakers to ensure there is a clear legal path for the method of filling local school board vacancies when such serious situations arise.
All state board members except Hofmeister are Stitt appointees.
Outside of the meeting, the Tulsa World asked Stitt's office whether it was true that Hofmeister had advised the governor not to appoint a member to the Swink school board and whether it is true the governor's lawyers believe there is no legal basis for the governor to fill a vacancy on a local school by appointment.
A spokeswoman said the governor's legal team determined the law was unclear and said the Governor's Office is committed to working with state lawmakers to clarify how school board vacancies should be filled.
"The governor's legal team and the State Department of Education's legal team consulted with each other in advance," Stitt Communications Director Baylee Lakey said in a statement. "The clearest path for this unique event was for the state School Board and state superintendent to address the matter. The governor supports the state School Board's decision to bring 147 students officially under the leadership of Fort Towson in Choctaw County."
Switch to Fort Towson
State education officials had initially recommended Swink be consolidated with a neighboring school district called Valliant. Hofmeister explained that the move to recommend Swink be annexed instead with Fort Towson was in response to direct feedback from Swink residents and parents, as well as the 70 percent failure by voters in a voluntary school annexation vote taken in May.
Collins thanked the board for that switch and asked them to investigate and consider sanctions against Valliant Superintendent Craig Wall, who Collins accused of trying to submarine Swink for his own district's benefit during the last year, when he also agreed to serve as Swink's superintendent.
"Here Swink stands innocent. You all got rules about a superintendent who would do harm to a school district. He needs to be up here, not Swink," Collins said. "He's walking free, and we lost our school."
Hofmeister vowed to follow-up, saying: "There are comments made that should move us to a very thorough look at what the auditors come back with. And the agency and board could take steps with certified individuals."
Wall did not respond to the Tulsa World's request for comment.
---
Andrea Eger 
918-581-8470
Twitter: @AndreaEger
Be the first to know
Get local news delivered to your inbox!