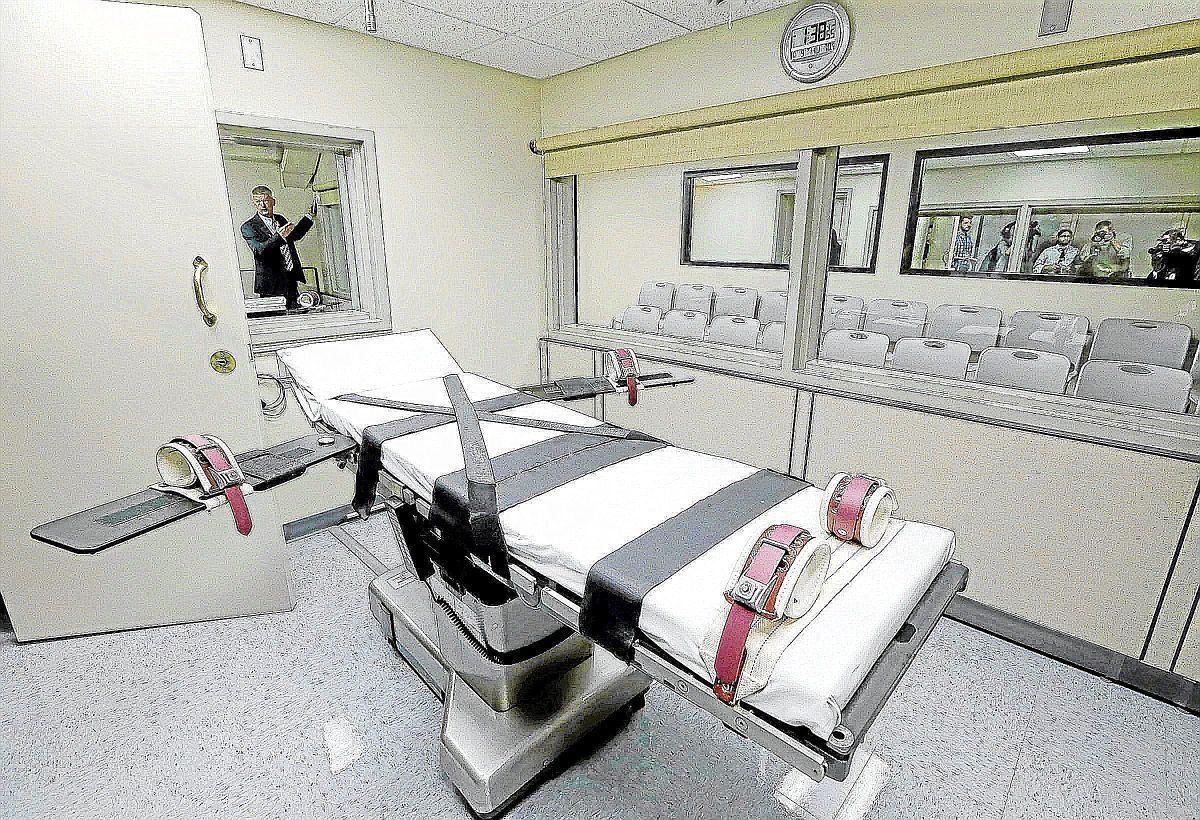 OKLAHOMA CITY — A bipartisan private commission recommended on Tuesday that a court-ordered stay on executions in Oklahoma remain in effect until "significant reforms" are accomplished, citing concerns about resources available to those facing death sentences and the faulty application of execution procedures.
The Oklahoma Death Penalty Review Commission released its findings and nearly four dozen recommendations in a nearly 300-page report on a study of capital cases from initial contact with police to the day defendants are put to death.
Former Gov. Brad Henry, who helped lead the effort, announced that the commission unanimously recommended that the moratorium be extended due to what he said were serious flaws in the way Oklahoma handles death-penalty cases. He said the number of death-row exonerees from Oklahoma — 10, according to the Death Penalty Information Center — was among his biggest worries, along with the discovery of the limitations capital defendants have when presenting legal defenses.
"If you look at the various defense counsel organizations, whether it's (the Oklahoma Indigent Defense System) or Oklahoma County or Tulsa County public defenders, they are just overwhelmed with felony cases," Henry said. "They don't have enough attorneys. They don't have the funding that they need, especially in death-penalty cases, to hire investigators (or) to hire experts. You have to decide whether you want to pay to do it right, and either you do or you don't."
Oklahoma has put more than 100 people to death in the modern era of capital punishment, and according to commission member and trial lawyer Robert Alexander, it's almost certain that at least one of them was innocent and couldn't prove it because of financial reasons.
"Our report has found, 41 years (after the death penalty resumed), systemic flaws in our death-penalty system," Alexander said. "Whenever there's a systemic flaw in the system, any injustices that system could cause … fall on the people with the fewest resources to navigate that system."
The commission also noted that two forms of evidence — forensics and witness identification — were determined to be among the most unreliable.
Henry said he came to the conclusion that the process as it stands needs to be "overhauled" by policymakers, and he said there are good reasons for conservatives to be concerned about the practice despite voters' November decision to protect the death penalty in the state constitution with State Question 776.
"What we all agreed on was that if you're going to have the death penalty, it ought to be done right," Henry said of the commission. "It ought to be done in a way that, as best we can, ensures no innocent person is ever put to death by the state of Oklahoma."
Co-Chairman Andy Lester, a former federal magistrate, said the fact that an execution is permanent makes it paramount that everyone involved be certain that those on death row are in fact guilty and that they've received the best possible legal aid.
"Nobody wants to execute an innocent person," he said. "If one of (the 10 exonerees) slipped through, just think how horrible that would be. It's bad enough that somebody gets wrongfully convicted. It's possible to recreate a life after a wrongful conviction, but it is not possible after a wrongful execution."
Gov. Mary Fallin released a brief statement Tuesday evening after the report was made public indicating that she's not yet well-versed on its contents.
"My office has not received a copy of the report, but my staff will obtain a copy and review it," she said.
Issues with drugs highlighted
The Oklahoma Attorney General's Office requested a moratorium in October 2015 once it learned about issues with a lethal-injection drug used in the January execution of Charles Warner and the scheduled execution of Richard Glossip. Those mistakes occurred after Oklahoma received international attention for the 43-minute execution of Clayton Lockett in April 2014.
A multicounty grand jury issued a highly critical report in May 2016 about the handling of Glossip's and Warner's cases by multiple state agencies. The grand jury recommended that the Department of Corrections overhaul its protocol yet again but did not recommend any indictments.
An Oklahoma Department of Corrections spokesman told the Tulsa World on Friday that it is still working on revising its protocol but declined to say what's been done so far.
When asked about the drugs used by Oklahoma in the past, Henry said it appears that the best practice is to use a one-drug protocol with a barbiturate rather than the three-drug protocol featuring midazolam. The latter drug was the basis of a federal lawsuit filed by death-row inmates over constitutionality concerns, which resulted in a 5-4 U.S. Supreme Court ruling against the inmates.
Nitrogen hypoxia, although approved as an alternate execution method last year, wasn't detailed in the report because of the limited scientific literature on its effectiveness.
Henry acknowledged the difficulty states have had finding a consistent supply of lethal-injection drugs in recent years but said, "When you start compounding drugs, there's just much more opportunity for serious issues to arise."
"When you start mixing multiple drugs in a so-called 'cocktail,' if you have a three-drug protocol, that's three times the opportunity for something to go wrong," he said. Of a one-drug protocol, he said, "it's easier to acquire one controversial drug than it is three." He added that authorities should stay informed about scientific advances in this area.
The report noted that Oklahoma has one of the most broad confidentiality statutes, which keeps the supplier of its execution drugs a secret. Although the commission said there are legitimate privacy concerns, it advocated for improved transparency in the form of better documentation and reviews by DOC staff.
"The commission did not recommend (naming the drug supplier) for fairly obvious and straightforward reasons," Lester said. "We don't want to create a problem for anyone legitimately operating a business and making that business have to shut down, and that's what's happened in a number of situations."