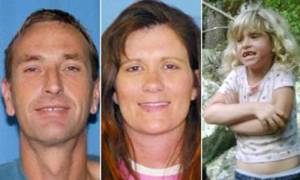 The state Medical Examiner's Office has identified three bodies found by hunters in Latimer County in late 2013 as two adults and a 6-year-old girl who had been missing since 2009, but the cause of their deaths has not yet been determined.
A news release from the agency states the cause of death for Sherilyn Jamison, 40; Bobby Jamison, 44; and Madyson Jamison of Eufaula as unknown due to incomplete skeletal remains.
The couple was looking to purchase a 40-acre plot near the Sans Bois Mountains in southeastern Oklahoma when they disappeared with their daughter in October 2009.
Witness sighted the Jamisons in the area on Oct. 8. Nine days later the family's abandoned pickup was found southwest of Kinta, a few miles from where the bodies were found four years later.
The Oklahoma State Bureau of Investigation said after the discovery on Nov. 16 that they recovered no evidence indicating the bodies were the missing family despite an exhaustive search by local, state and federal authorities.
There were no signs of foul play, and it appeared the family had planned to return to the truck, agents said at the time based on personal belongings and a family pet found inside the pickup.
Sherilyn Jamison's mother previously told The Oklahoman that her daughter was on a hit list maintained by a religious cult.
The newspaper also reported that the Jamisons filed a protective order petition six months before their disappearance against Bobby Jamison's father, Bob, who had allegedly threatened to kill them twice within six months. The case was dismissed and Bob Jamison died in December 2009.
Amanda Bland 918-581-8413