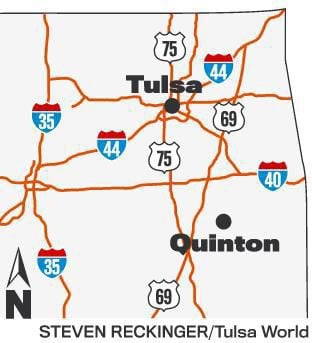 ---
Correction: A headline in print misstated the agency that releases the "Dirty Dozen" list. National Council for Occupational Safety and Health issues that report.
---
The drilling company involved in the explosion that killed five workers near Quinton is named in a list by a national job safety advocate group as a company with unsafe practices that puts workers and communities at risk.
The National Council for Occupational Safety and Health on Wednesday released its "Dirty Dozen" for 2018. The report cites a five-year increase in workplace deaths (5,190 in 2016), climbing 12 percent since 2012. In that same time frame, the budget for OSHA has dipped by $12 million.
OSHA had 815 inspectors on staff in Fiscal Year 2016 who were responsible for overseeing workplace safety, according to the report. It then cites the AFL-CIO in that "(f)ederal OSHA has enough inspectors to inspect workplaces once every 159 years."
"A lack of regular safety inspections puts workers at risk," the report states. "And while employers frequently complain about the high cost of complying with government regulations, peer-reviewed research shows that regular and random safety inspections can save employers money."
---
---
Dedicated to promoting safe and healthy conditions for workers, the National COSH is a federation of local and statewide COSH groups that are private, non-profit coalitions of labor unions and health and technical professionals, according to its website.
The Dirty Dozen list this year includes Houston-based Patterson UTI, which was drilling a natural gas well near Quinton that ignited and exploded Jan. 22.
The report references a Reuters article that reported OSHA cited the company 110 times for "serious" safety violations in the past decade, but only twice since 2015. The company's 13 worker deaths in that time frame is the second worst among its peers, Reuters reported.
The Dirty Dozen report also references a Tulsa World story that reported the Quinton explosion is exempt from comprehensive federal safety standards implemented in the 1990s after several chemical industrial disasters because separate regulatory rules were to be developed for the industry but never materialized.
The report recommends that joint health and safety programs — such as ones developed by the United Steelworkers — have made "significant gains" and can be a model for the oil and gas industry.
"The disaster in Quinton was one of the worst onshore drilling incidents in U.S. history, and the deadliest event in the oil and gas industry — onshore or offshore — since the 2010 Deepwater Horizon rig explosion," according to the report.
The five who died were: Roger Cunningham, 55, of Seminole; Josh Ray, 35, of Fort Worth, Texas; Cody Risk, 26, of Wellington, Colorado; Matt Smith, 29, of McAlester; and Parker Waldridge, 60, of Crescent.
Patterson UTI declined to comment on its inclusion in the report.
The other 11 companies named by national COSH are: Amazon (Seattle); Case Farms (Troutman, North Carolina); Dine Brands Global Inc. (Glendale, California); JK Excavating (Mason, Ohio); Lowe's Home Improvement (Mooresville, North Carolina); Lynnway Auto Auction (Billerica, Massachusetts); New York and Atlantic Railway (New York City); Sarabandad Farms (Sumas, Washington); Tesla Motors (Fremont, California); Verla International (New Windsor, New York); and Waste Management (Houston).
Corey Jones
918-581-8359
Twitter: @JonesingToWrite
Be the first to know
Get local news delivered to your inbox!