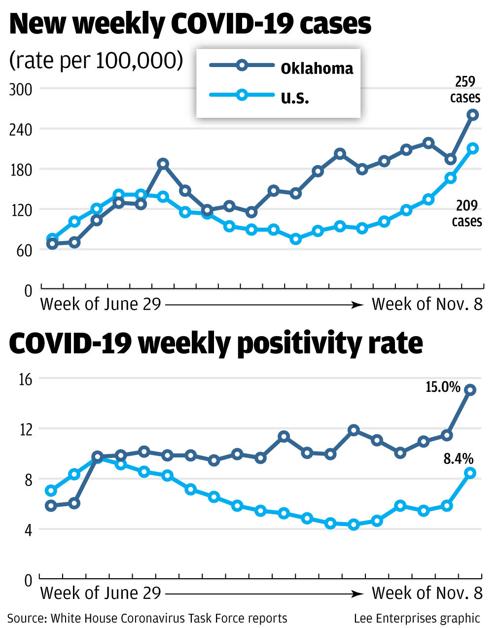 COVID-19's spread in Oklahoma is unyielding, unmitigated and requires immediate action, with all indicators worsening as hospitalizations hit record numbers, according to the latest White House Coronavirus Task Force report.
Oklahoma's weekly new cases and test positivity rates both set highs, with 83% of the state's counties in the red zone for high levels of community spread.
"The unyielding COVID spread across Oklahoma continues with new hospital admissions, inpatients, and patients in the ICU at record levels, indicating deeper spread across the state," according to the report, released Wednesday. "The most recent trends, showing steep inclines across all indicators, need immediate action including mask requirements to decrease severity in morbidity and mortality among Oklahomans."
Gov. Kevin Stitt hasn't followed the ongoing mask-mandate recommendation of the task force, which is a federal entity established under President Donald Trump.
However, Stitt is asking Oklahomans to follow his advice to wear a mask.
As recently as Tuesday, Stitt said he has been clear that it's a matter of "personal responsibility" and "doing the right thing," not a mandate.
The state's weekly epidemiology report continues to demonstrate the success of mask requirements enacted by municipal governments.
COVID-19 cases in cities with mask ordinances increased only 34% from Aug. 1 to Nov. 1, compared to a 109% gain in the rest of Oklahoma, which is not covered by any mask requirements, according to the Nov. 6 report.
Charlie Hannema, a spokesman for Stitt, said in a statement that the governor and doctors delivered a "much stronger message" to wear a mask during a Tuesday news conference.
"The governor and the highly respected physician leaders who spoke at yesterday's press conference were very clear that the conversation is not about a government mandate; it is about Oklahomans coming together to do the right thing to protect their families and neighbors."
In its latest report, the task force also raised concerns about COVID-19 and nursing homes in Oklahoma.
"Nearly 30% of nursing homes have COVID positive staff, indicating unmitigated community spread," the report states. "Ensure all nursing homes, assisted living, and elderly care sites have full testing capacity and are isolating positive staff and residents."
Hannema said the 30% figure might draw attention, but he said there is no indication that those staff members contracted the virus at work or were at work after testing positive.
"Similar circumstances of employees contracting the virus outside of work are occurring in other industries as well," Hannema wrote.
There are 64 counties in the red zone — up from 53 in the prior report — for high levels of COVID-19. There are 69 counties — or 90% — that have at least moderate transmission. The number was 66 counties in the prior report.
Adair and Creek counties are the only two in northeastern Oklahoma that aren't in the red zone.
Those in red are Tulsa, Cherokee, Craig, Delaware, Haskell, Kay, Latimer, LeFlore, Lincoln, Mayes, McIntosh, Muskogee, Noble, Nowata, Okfuskee, Okmulgee, Osage, Ottawa, Pawnee, Payne, Pittsburg, Rogers, Sequoyah, Wagoner and Washington.
Oklahoma's weekly new case rate reached 259 per 100,000 people, which is above the national average of 209. The state's weekly test positivity rate hit 15.0%, almost double the national mark of 8.4%.
The state ranks 24th highest and 11th highest in the nation on those respective measures even as the country sees worsening trends.
The latest White House report uses data from Oct. 29 to Nov. 6.
---
Oklahoma's weekly new case rate
The numbers signify the weekly rate per 100,000 people. Red zone is 101 and above; orange zone is between 51 and 100; yellow zone is between 10 and 50.
Nov. 8: 259 (209 national average; 22nd highest in U.S.)
Oklahoma's weekly test positivity rate
Red zone is 10.1% and above; orange zone is between 8.0% and 10.0%; yellow zone is between 5.0% and 7.9%.
Nov. 8: 15.0% (8.4% national rate; 11th highest in U.S.)
Nov. 1: 12.6% (6.7%; 11th)
Oct. 25: 11.4% (5.8%; 8th)
Oct. 18: 10.9% (5.4%; 7th)
Oct. 11: 10.0% (5.8%; 8th)
Oct. 4: 11.0% (4.6%; 5th)
Sept. 27: 11.8% (4.8%; 3rd)
Sept. 20: 9.9% (4.4%; 3rd)
Sept. 13: 10.0% (4.8%; 5th)
Sept. 6: 11.3% (5.2%; 4th)
Aug. 30: 9.6% (5.4%; 9th)
Aug. 23: 9.9% (5.8%; 8th)
Aug. 16: 9.4% (6.5%; 11th)
---
Video: Gov. Kevin Stitt discusses mask mandates
---
Gallery: COVID-19 basics everyone needs to know as the pandemic continues