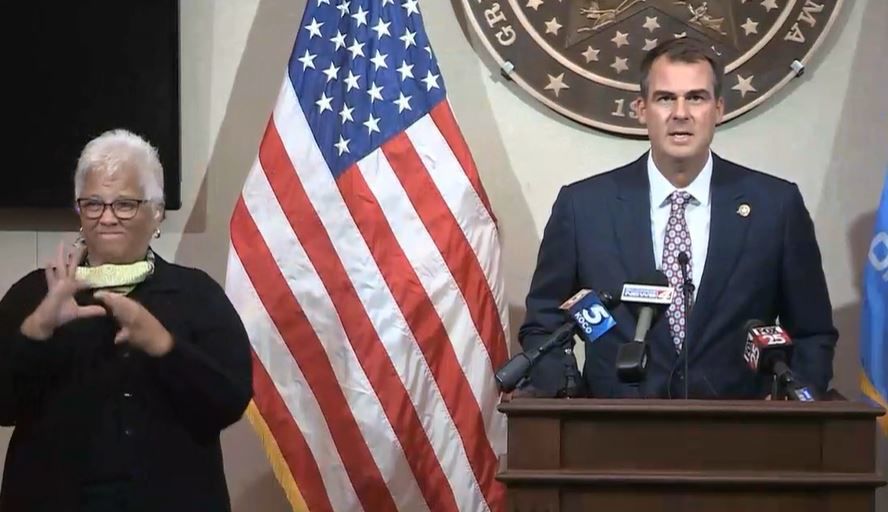 Gov. Kevin Stitt stood steadfast by his stance Thursday that he won't mandate masks as a COVID-19 preventive measure, saying he will protect personal freedoms and not shame people who don't wear face coverings.
Face mask orders are a hot topic as both Norman and Stillwater have implemented them and Tulsa officials are contemplating a similar action.
Stitt told reporters at a news conference that he believes in local control and isn't comfortable requiring masks. The first question would be how to enforce such an order, he said.
"We just think that you can't go down that road, and so I'm going to protect the freedoms in Oklahoma," the governor said. "We're not going to mandate (masks) in the state of Oklahoma, and we're not going to be mask-shamers either."
Stitt said Oklahoma has 5,000 hospital beds designated for COVID-19 patients, with 487 of them filled as of Thursday. He said 1,000 of those beds are in intensive care units.
He noted that the state's peak for COVID-19 hospitalizations was 560 people on March 30, with the number dropping to 306 on April 24, when the he launched the state's reopening.
"We are nowhere close to the capacity at this time. … And when you look at our active cases and you look at our hospitalizations, we would have to go to something like 2,000 positive cases a day for a 14-day period to start approaching those ICU bed capacities," Stitt said.
The state's seven-day rolling average of new daily cases set a record Thursday for the sixth consecutive day, climbing to 565 positive cases per day.
Tulsa County's seven-day rolling average was at 145 cases a day Thursday.
Bynum said Wednesday that this week is the first time since Tulsa started reopening May 1 that hospital leaders in the city have expressed some concern to him about capacity if the county's ongoing surge isn't disrupted.
Stitt also announced on Thursday the release of the state's county-by-county COVID-19 alert system, but the online resource didn't list what constitutes a high risk, only the "new normal," low and moderate risk.
The State Health Department in the evening sent out a news release explaining the high-risk criteria.
The alert system's rankings will be updated once a week and are based on the average number of new daily cases per 100,000 people in a seven-day span in each county.
Green — or the "new normal" — is less than 1.43. Low risk — yellow — is 1.43 to 14.39. Moderate risk — orange — is considered to be more than 14.39.
High risk — red — is the same rate as moderate but with one or more of four additional thresholds breached based on statewide data, not county-level or regional data:
• When the percent of ICU beds available statewide dips below 5%.
• When the percent of medical-surgery beds available statewide dips below 5%.
• When the percent of ventilators available statewide dips below 5%.
• When the average days' availability of personal protective equipment on hand and available statewide dips below 5%.
The four highest-risk counties in the state as of Wednesday are at moderate risk: Tulsa (17.85), McCurtain (44.99) and McClain (15.36). Oklahoma County is at 14.04, just below the moderate risk category.
Stitt said the alert system will help people take personal responsibility and make individual decisions best suited for themselves as Oklahomans learn to live during the pandemic.
"We're not going to start and stop our economy and start and stop our economy unless we see some catastrophic issues with our health-care authority going up to the red level," the governor said.
---
Gallery: COVID-19 basics everyone needs to know as the pandemic continues
Corey Jones 918-581-8359
corey.jones
@tulsaworld.com
Twitter:
@JonesingToWrite