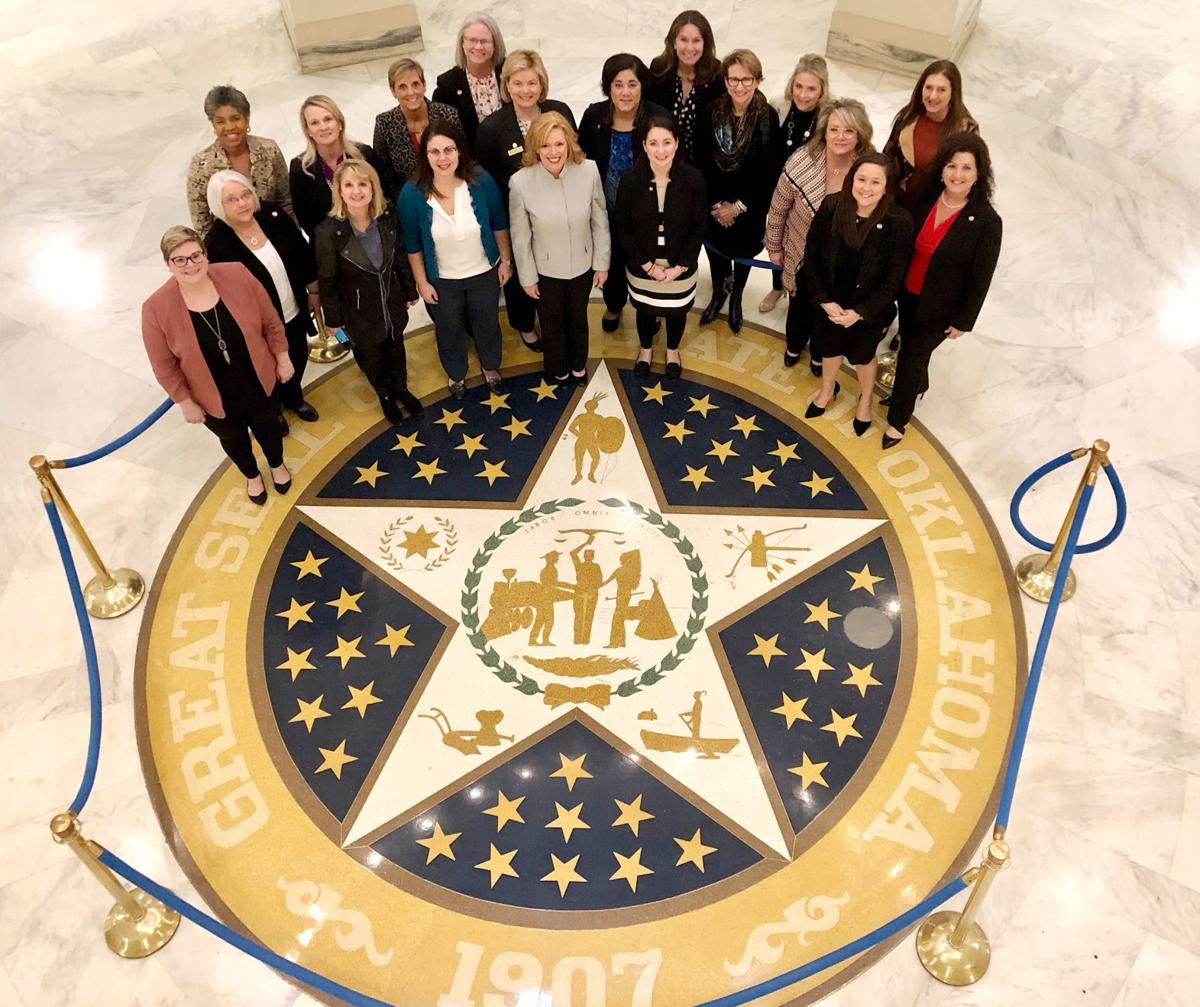 ---
When the Oklahoma Legislature convenes on Feb. 4, it will be an historic time for women.
"It's the most women we've ever had in the Oklahoma House," Rep. Carol Bush, R-Tulsa, told me Friday. "That's a huge voting block."
There are 23 women in the House this session — 12 are Republicans, 11 are Democrats. In the Senate, there are nine women — five Democrats and four Republicans.
Total House representation is 101 members; in the Senate, there are 48 members. Overall, Republicans have the advantage in the House 77-24 and 39-9 in the Senate.
So "huge" may be a bit of an overstatement. But Bush's enthusiasm is warranted.
With women making up almost 23 percent in the House and almost 19 percent in the Senate, there is some optimism that bipartisan support for issues that are important to women can make a difference.
Another bit of history for the upcoming session is that women hold the top minority leadership roles in the House and Senate — Rep. Emily Virgin, D-Norman, and Sen. Kay Floyd, D-Oklahoma City. Top leadership in the House and Senate are held by men — Speaker of the House Charles McCall, R-Atoka, and Senate President Pro Tem Greg Treat, R-Oklahoma City.
In the House, Bush and her "sophomore" colleague Melodye Blancett, D-Tulsa, have formed the Women's Caucus. Under their leadership, the caucus is bipartisan — meaning it's not the red or the blue that matters but rather an effort to improve the state's treatment of women.
The "sophomore" designation means that Bush and Blancett are beginning their second terms as Oklahoma legislators. And in Oklahoma City this year, sophomores could be at the head of the class.
In the Women's Caucus, the freshmen outnumber the upper-class women. Of the 23 members, 15 of them will begin their first legislative session next month: eight Republicans and seven Democrats.
"For those of us who lived through the tumultuous sessions of the last two years, we just felt that as women — if we could come together — we'd have a stronger voice," Bush said.
The intent of the caucus is not to take on any issue that is divisive. "But there are a lot of issues in Oklahoma that affect women where we can work together," she said.
So far, they've had one meeting, an introductory breakfast get-together on the Legislature's organizational day.
Bush said she and Blancett hope to bring some topics to the Women's Caucus soon for discussion.
"Education-related issues, those that are affecting women and children … those seem like the types of issues we could start with," she said. "To be honest with you, I think we agree across party lines on a lot more things than we disagree. Where the disagreement comes in most often is in the funding."
Another area where the caucus might find agreement is in addressing the number of women being sent to prison in Oklahoma.
"The fact that Oklahoma incarcerates more women than anywhere else in the nation, we need to make a difference there. We can find solutions and find alternatives to incarceration, those are issues that can transcend party lines," Bush said. "If the group agrees, we could look for those opportunities and bills that are aimed at reducing those numbers. What would that mean to have 23 co-authors to a meaningful bill?"
Liz Charles also is passionate about issues affecting women. She is executive director of the Oklahoma Women's Coalition and was in Tulsa last week at a networking event held at Mother Road Market.
The small nonprofit based in Oklahoma City is focused on four areas: alternatives to incarceration, health and wellness, violence prevention and economic security.
"Oklahoma women are not bad," Charles said. "Those of us who live here are not worse than women who live in other states. There's no reason we should be leading the nation in the number of women we incarcerate."
On Saturday, the coalition will co-sponsor "Pipeline to Politics" for women who are interested in running for office in 2020 or interested in engaging in public service and politics. Also sponsoring the event is the Carl Albert Congressional Research and Studies Center Women's Leadership Initiative at the University of Oklahoma.
The nonpartisan event will feature professional consultants and elected officials "from both sides of the aisle."
Pipeline to Politics will be held from 8:30 a.m. to 5 p.m. at the OU-Tulsa Schusterman Center, 4502 E. 41st St., Room 145. Registration is $75, and a discounted rate of $50 is available to teachers. For more information, or to register, visit okwc.org/pipelinetopolitics, or email Nicole Eubanks at nicole@okwc.org.
In the meantime, Rep. Carol Bush will be looking for some small wins for her caucus.
"In my mind, for us to be successful as a caucus, we need to have some victories. If we can do that and build trust within the caucus, we can move forward tackling harder issues," she said.
And she's optimistic that her male colleagues in the House will be receptive to the Women's Caucus.
"It's too new right now," she said. "A few of them were joking with me and said they were going to start a male caucus. 'What are you talking about?' I said to them. 'That's already the state of Oklahoma.' "