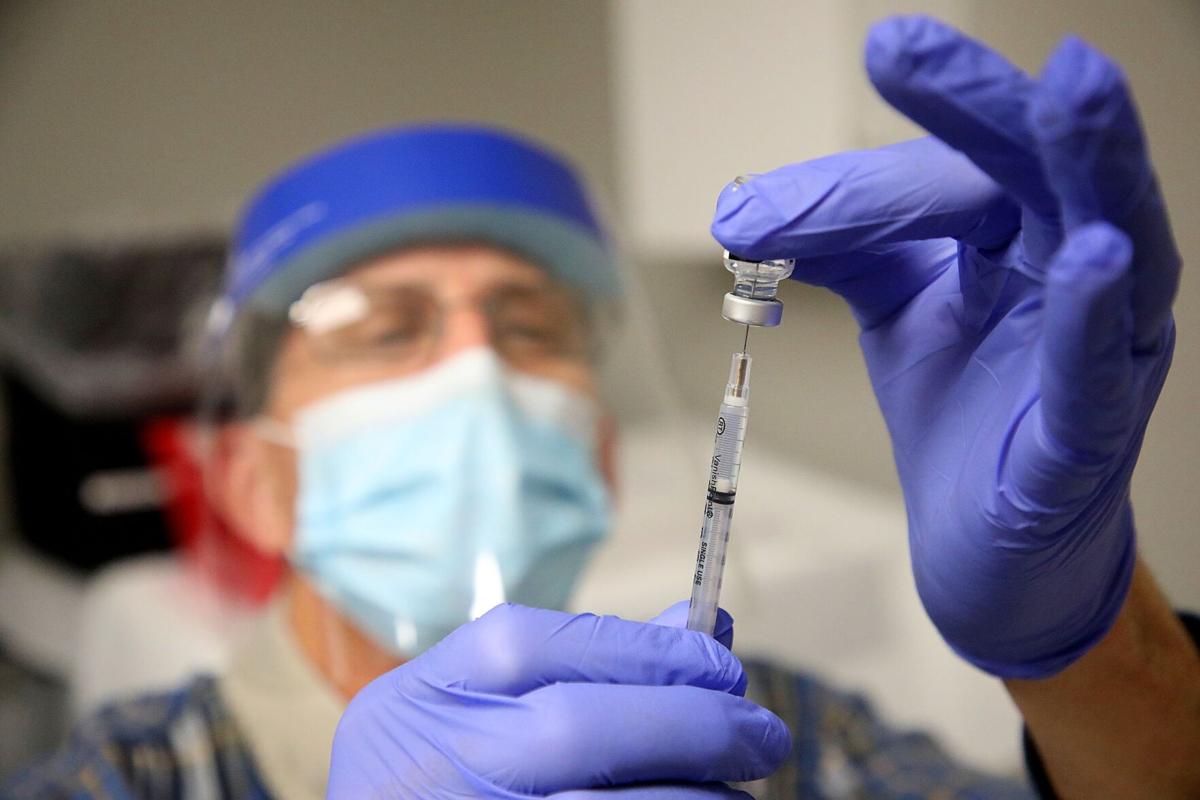 Amid a steep drop in COVID-19 vaccination rate, the Oklahoma State Department of Health set a goal to reach a cumulative total of 3 million doses administered by Memorial Day — or roughly 10,000 shots per day.
OSDH Deputy Commissioner Keith Reed on Tuesday issued that challenge to Oklahomans during a virtual news conference announcing that the state so far has put 2,721,000 shots in arms so far.
Reed said about 1.2 million individuals — 39.5% of the adult population — have completed the full vaccination series. More than 1.5 million — 50.5% of the adult population — have received at least one shot for at a minimum some level of protection.
The state's peak vaccination rate was about 28,000 a day approximately six weeks ago, he said, with rates currently about 10,000 to 11,000 per day.
So the state must maintain its current rate to hit 3 million does by the end of May.
"We're well on our way but need more Oklahomans to get the vaccine to help us reach our goal," Reed said. "This is a feasible goal, but it won't be easy. We need all Oklahomans to step up to the plate and go get their vaccines and keep up the momentum."
In a separate virtual news conference hosted by Healthier Oklahoma Coalition, State Epidemiologist Jolianne Stone underscored the importance of immunization.
Stone said Oklahoma has seen less than 200 vaccine "breakthrough" infections — or people who have been infected with COVID-19 after becoming fully vaccinated.
"(That is) fantastic," Stone said. "The vaccine is doing its job."
She noted that of the breakthrough cases, only 14 required hospitalization.
"So that's a very, very minute number of individuals that have been hospitalized," Stone said. "Twelve of those had had one other type of comorbidity, which might have put them at a higher risk for hospitalization.
"So really, if you're healthy and you're vaccinated the risk of being hospitalized or having a severe outcome from this disease is greatly diminished."
Reed expressed disappointment in the slipping vaccination rate because the state doesn't want people to have to worry about a potential widespread resurgence of the deadly virus in the fall.
"We're definitely not satisfied that we're where we need to be with this vaccination program," Reed said. "That's why we encourage everyone that is eligible to get vaccinated, please step up and get vaccinated.
"It is an unselfish act. It's something you do not just for yourself. You do it for your neighbors, you do it for your family, you do it for your friends, you do it for your community."
Community Vaccination Clinic in Tulsa
The Community Vaccination Clinic (CVC) at Tulsa Community College's Northeast Campus is administering 100 to 160 vaccinations per day for a total of 1,444 vaccinations as of Sunday, according to federal data.
Reed said the federally supported clinic that can handle up to 3,000 shots per day hasn't attracted nearly as many people as hoped — an issue with uptake, not performance.
The CVC is receiving a lot of walk-ins and reaching individuals who have transportation issues, he said, which are two important population subsets within an underserved area.
Reed said officials have discussed reducing staffing levels at the CVC to align more closely with the demand but that they aren't backing off the work.
He reiterated that 50.5% of Oklahoma's adult population has received at least one dose and added that surveys indicate about two-thirds of adults in the state are willing to be vaccinated.
"So we've got another 15% or so that we really need to get vaccinated — those that are interested and willing to do so," Reed said. "We're going to, quite frankly, fight for that group. We're going to work hard to get that group vaccinated."
The CVC site fully opened April 20 and is slated to last for up to eight weeks. The local, state and federal partnership effort identified a location centered in an area of socioeconomic disadvantages that disproportionately is underserved by COVID-19 vaccinations.
Vaccinations are readily available throughout the state, and individuals ages 16 and older can search for appointments at vaccinate.ok.gov or vaccinefinder.org, as well as call their primary care physician.
Vaccinations are free and don't require health insurance.
There were 1,220 providers in the state with vaccine out of 1,742 enrolled pandemic providers as of April 27, according numbers provided by the Oklahoma State Department of Health. In Tulsa County, there were 224 of 338 pandemic providers that had vaccine to serve as access points.
---
Community Vaccination Center information
Location: Tulsa Community College's Northeast Campus, 3727 E. Apache St.
Hours: 10 a.m. to 7 p.m. Tuesdays through Sundays for eight weeks.
Who: Any individuals ages 16 and older.
How to schedule: Local, state and federal personnel are staffing the clinic, which encourages appointments but will accept walk-ins.
Transit options: Individuals ages 62 and older or who are disabled and need a free ride to and from the clinic may call the Tulsa Health Department's phone bank at 918-582-9355 and ask for COVID-19 vaccination information to be transferred to the appropriate call-takers.
THD has partnered with LIFE Senior Services, which will provide the free rides.
Another option, Tulsa Transit has a bus stop at the TCC Northeast Campus.
AARP Oklahoma awarded grants to several nonprofits across the state to provide homebound individuals with free rides to COVID-19 vaccine sites, including the Tulsa Health Care Indian Resource Center and Pelivan Transit in the Tulsa area.
Tulsa Health Care Indian Resource Center can be called at 918-588-1900.
Pelivan Transit can be called at 800-482-4594.
The center is managed by the Tulsa Health Department in partnership with the Federal Emergency Management Agency, Tulsa Area Emergency Management Agency, Oklahoma State Department of Health, Oklahoma Department of Emergency Management and Homeland Security, Tulsa Community College, the Oklahoma National Guard and the Department of Defense.
Sources: Tulsa Health Department and AARP Oklahoma