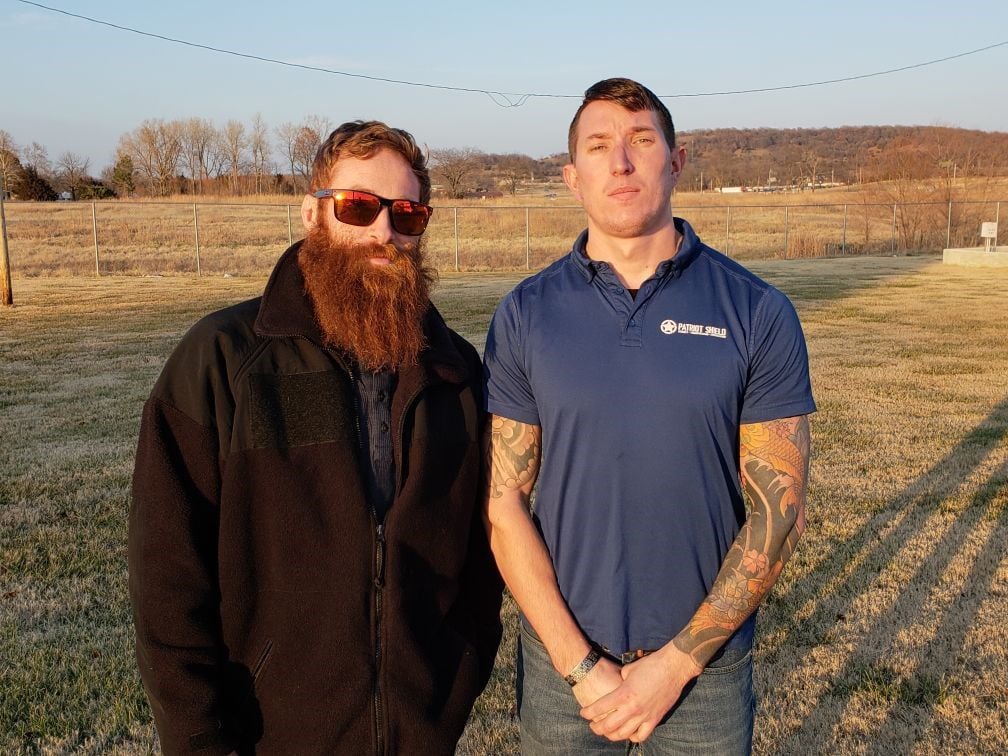 PAWHUSKA — Two hemp security officers charged with marijuana trafficking are expected to have their cases dismissed next week as the case's investigators said the defendants were "duped" into shipping illegal cannabis.
Defense attorney Matt Lyons on Wednesday said he has received an email confirmation from prosecutors that they will dismiss the charges against his clients Aug. 7 during a court appearance in Osage County District Court.
But Andrew Ross and David Dirksen, veterans who co-founded Patriot Shield Security to provide protection for hemp transports, remained in hot water.
"We knew we were innocent from the beginning," Ross said. "As stressful as it was with that sort of sentence over our heads, there weren't too many points where I was that worried or thought that anyone would convict me or send me to life in prison for what we were doing."
A statement from Fisher's office says investigators believe the seller of the contents in the truck "was involved in the illegal transport of marijuana under the guise of an industrial hemp shipment." It states that belief formed after a probe by local authorities, including Pawhuska police, as well as defense attorneys Lyons, Scott Goode and Frank Robison.
"Additional evidence has come to light to indicate that (Ross and Dirksen) were duped by the seller into participating in the illegal shipment of 4,326 pounds of marijuana," the statement reads. "As a result, the State will be dismissing the charges against both security guards in the interests of justice."
According to the statement — signed off on by Fisher and the defense attorneys — a federal lawsuit has been brought by the Colorado buyer of the shipment against the Kentucky seller.
The seven-month saga exposed how unprepared Oklahoma — and likely other states — were for legal industrial hemp after President Donald Trump signed the 2018 Farm Bill into law Dec. 20.
Patriot Shield Security had existed for only a few months before the hemp seizure and their Jan. 9 arrests, which Ross said landed them in a "pretty bad financial situation." But he believes the business is "much farther ahead" now than it otherwise would be given the media attention and has expanded into four states.
He said they now hold licenses in Oklahoma for armed security, marijuana processing and hemp cultivation. The latter two are because the state doesn't have transportation licenses, he said.
"Now we know firsthand how to deal with it and the worst-case scenario, which is product being seized as noncompliant hemp," Ross said.
Lyons said he doesn't blame prosecutors or law enforcement. But the protracted ordeal must be a learning experience for authorities moving forward on how to deal with hemp, he said.
"Making the assumption that everyone is doing it illegally will not suffice for constitutional law," he said.
The Agriculture Improvement Act of 2018 — better known as the 2018 Farm Bill — removed hemp from the Controlled Substances Act. It protects the interstate commerce of hemp, not allowing prohibition of its transport or shipment.
The measure states that a hemp producer who negligently violates a state or tribal plan "shall not as a result of that violation be subject to any criminal enforcement action" by federal, tribal, state or local governments.
Lyons noted that the U.S. Department of Agriculture in late May released a legal opinion that emphasized hemp no longer is a controlled substance and that its transport or shipment can't be banned.
"I think that's a direct result of this case," Lyons said.
---
Corey Jones
918-581-8359
Twitter: @JonesingToWrite
Be the first to know
Get local news delivered to your inbox!