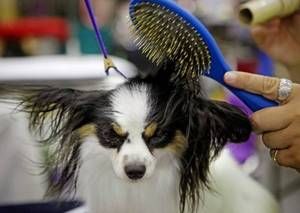 BLANCHARD — Sharon Hazelbaker always has loved the world of showing and breeding dogs, but the Blanchard resident is finding out that getting out of the hobby she loved is one big headache.
Hazelbaker — a champion dog breeder — owns 40 papillon dogs that will be auctioned off at her home on Sunday. But the auction hasn't come without controversy.
Two out-of-state rescue groups — one called Papadopters and Placement Services Inc. and another that goes by the name Paphaven — are concerned the dogs are going to be sold to puppy mills. To that end the groups have raised about $35,000 on a Gofundme.com account to bid for the dogs at the auction with the aim of placing them in homes, organizer Joanne Singer said.
"There is a bit of a mystery about why Sharon Hazelbaker is handing these dogs over to an auction house," Singer said.