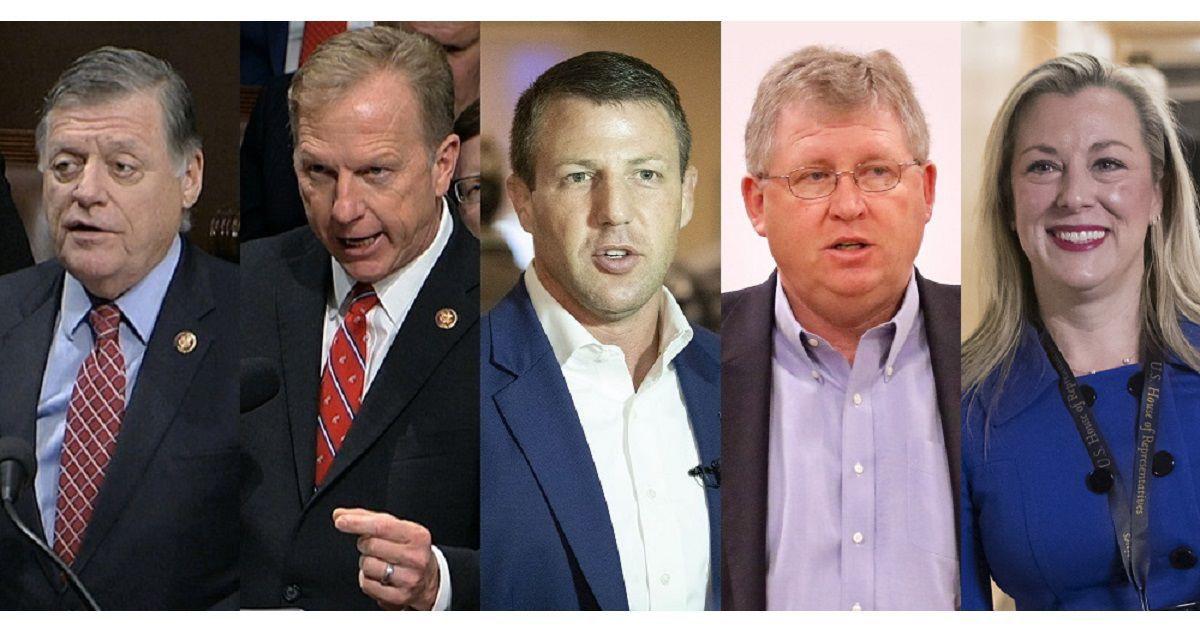 Oklahoma's four Republican U.S. House members late last week defended President Donald Trump's right to contest the Nov. 3 election in court, but declined comment on whether they think he'll win or the elaborate conspiracy theories being thrown up by his legal team.
"The President has every right to pursue legal action when he suspects foul play," 1st District Congressman Kevin Hern said in a written response to an e-mail from the Tulsa World.
But, though asked, Hern did not offer any examples of such foul play. Neither did fellow Republicans Markwayne Mullin, Frank Lucas or Tom Cole.
The four were emailed six questions Friday in an attempt to obtain definitive positions on Trump's voting fraud claims. All four chose to answer in writing.
The offices of U.S. Sens. Jim Inhofe and James Lankford were also contacted but did not respond.
Fifth District Congresswoman Kendra Horn, a Democrat, was not questioned because she lost to Republican Stephanie Bice on Nov. 3.
A week ago, Horn tweeted: "The election is over. Experts and news outlets on both sides have examined the results & declared Biden the winner. Instead of trying to spin and divide us, we should look for common ground for newly elected officials to work together. There's no excuse for undermining democracy."
Oklahoma's six congressional Republicans have been fairly silent on Trump's refusal to concede defeat and fraud claims.
Asked specifically if they knew of instances of fraud or mismanagement, none said they did, although Mullin said Trump has "valid and legal concerns."
"Every American should want transparent elections, every legal vote counted, and election laws enforced," said Mullin. "That's what President Trump is fighting for and I fully support him."
Trump's critics say his strategy is more about throwing out votes against him on technicalities than counting all legal ones, but his efforts have uncovered some discrepancies, albeit none that would change the overall outcome of the election.
"Any instance of voter fraud, no matter how small it may seem, influences an election and should be fully investigated," said Mullin.
Cole said he remains "confident in the U.S. election system, which provides mechanisms in every state for requesting a recount or raising other concerns related to official results. If anyone has evidence of suspicious activity that threatens the integrity of free and fair elections, they can and should make the appropriate officials aware or challenge the issue in court."
"Every voter should have faith in their election system, that their vote is secure and safe," said Hern. "When so many Americans raise concerns about the validity of an election, we must do our due diligence to pursue justice and uphold our democracy."
A poll conducted last week found slightly more than half of Republicans believe Trump lost the election because of vote-tampering. While Republicans and Democrats alike fretted about election security ahead of Nov. 3, in the end few if any candidates except Trump have claimed wrongdoing.
By the end of last week, some prominent conservatives, including Karl Rove and Tucker Carlson, were calling time on the president.
But that doesn't mean Trump does not have the right to pursue his allegations in court.
"I have no direct knowledge of the election process outside of Oklahoma, but I tend to trust the work of county and state public servants with the courts of each state being the final arbitrator," said Lucas. "Ultimately, when the votes are certified following the laws of each state, a winner, based on those rules must be declared."
As it happens, the last question asked the congressmen was who they thought would be president in two months.
"During election years I often think back to what my father told me when I first ran for office," Lucas said. "He told me that in free elections sometimes the best candidate, even the candidate we support, doesn't win, but thank goodness we have free elections."
---