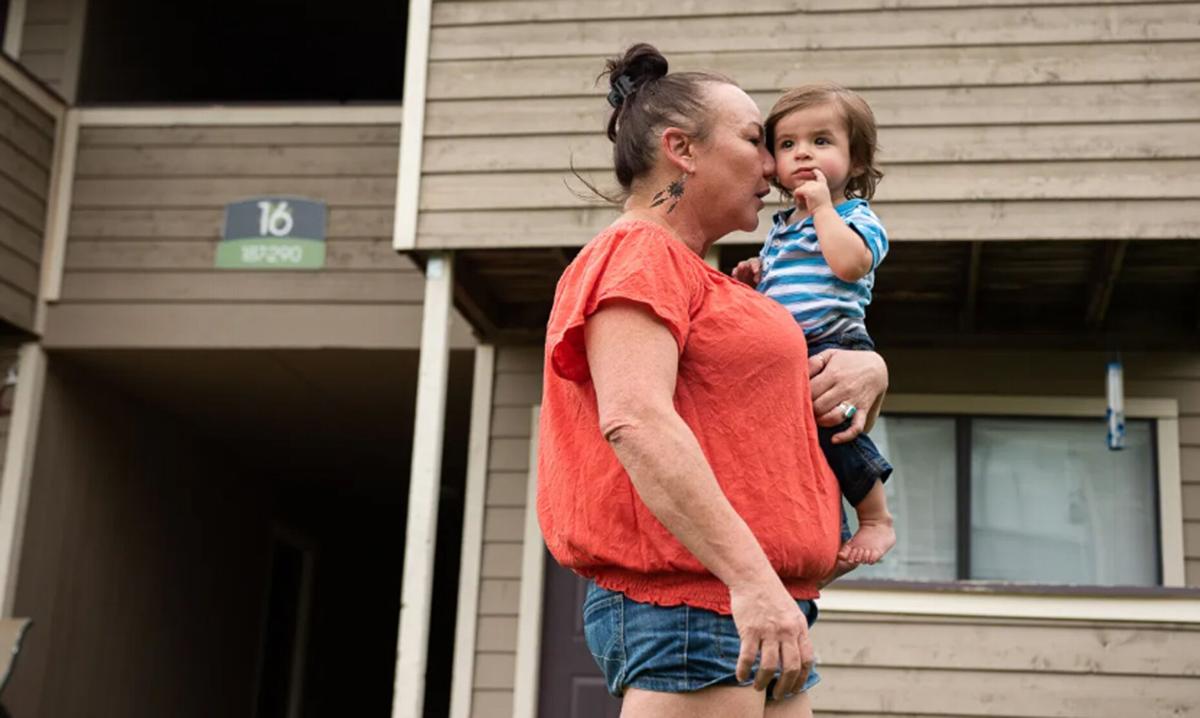 OKLAHOMA CITY — Debi Jacks and her two teenage daughters are likely to lose their home soon.
The federal eviction moratorium ends July 31, and with no job, no more unemployment benefits, and rent that's already past due, her outlook is bleak.
Jacks, 51, lives with her daughters in an Oklahoma City apartment. She was a structural welder for 25 years before her son died in late 2018. After taking all of the next year off to cope with mental health challenges, she launched a service lending single moms an extra hand as a housekeeper or cook or tackling other odd jobs.
But just after she launched her business, Two-of-You, in January 2020, the COVID-19 pandemic struck.
Jacks was forced to shut down and had to rely on state and federal unemployment to get by while she looked for another job.
So far, she hasn't landed one.
With the Federal Pandemic Unemployment Compensation benefits ending last month, thousands of unemployed Oklahomans, like Jacks, are still struggling to find work.
Since Gov. Kevin Stitt's announcement in May, Oklahoma joined two dozen other Republican-led states in ending a $300-a-week federal supplemental unemployment benefit, the Federal Pandemic Unemployment Compensation, or FPUC, and another federal benefit aimed at helping gig workers — Pandemic Unemployment Assistance, or PUA.
Stitt said his decision was meant to help employers find workers and increase below-standard labor participation rates. But as the unemployment and labor participation rates reach levels close to what they were before the pandemic, a tight labor market means closing the employment gap isn't just about how much Oklahomans are collecting in unemployment benefits.
Shelley Zumwalt, executive director of the Oklahoma Employment Security Commission, said the state has been seeing record job opening rates this year.
"The administration wanted to take action," Zumwalt said. "We have employers that are trying to stay open, and they are not finding candidates. So how can we connect employers and employees, and what (does the administration) have control over in that scenario?"
She said the answer, now that businesses have the option to fully open, is unemployment benefits — who receives them and what kind of training opportunities exist for those willing and able to participate.
'A fight every day'
Oklahoma is one of 25 states that ended federal supplements to unemployment benefits.
On July 7, Tulsa County resident Ronda Kay Owens sued over the move. The petition argues that the OESC exists to provide unemployment benefits to Oklahomans who qualify and to help them find jobs, not to work to enforce political policy aimed at economic recovery or build a business-friendly environment in the state.
Zumwalt said the agency cannot comment on pending litigation, while Owens has been directed by her attorney to not comment to the media.
The case is expected to be wrapped into another lawsuit filed against Stitt and the OESC. A hearing is expected Aug. 11. The case could set the precedent for similar cases.
Jeri "Jae" Robinson-Guthrie, who had experience with unemployment insurance claims before the pandemic, is an administrator for the Oklahoma Unemployment Issues Facebook group.
She said people are on unemployment for many reasons, including being concerned about the pandemic, not having access to child care, being too old, too experienced, living too far away or having previously worked in an industry that doesn't exist at the same capacity.
"These are people who can't afford even $20 for blood pressure medication because every bit of money they get is going to rent and utilities. A lot of them don't know what they're going to do," she said.
Jacks, who doesn't qualify for traditional unemployment insurance, said her ex-husband can likely take their two girls when she loses her apartment. Her own plans involve a truck and a tent.
"I don't trust the government. I don't," she said. "Because right now I see too many people hurting and suffering, and this isn't how life is supposed to be — worried about whether you got a roof, food, if your kids are safe. Life should not be a fight every day for survival."
She has lost track of how many job applications and resumes she has submitted but has applied for all kinds of positions. She's rarely heard back. Welding isn't an option anymore because of nerve damage in her hands, she said.
"I voted for (Stitt), too, if that matters," she said between resigned chuckles. "I'll put it this way: If elections were today, I would not vote for him again."
'Not as many people on the sidelines'
Oklahoma's unemployment levels have recovered from the pandemic at a faster pace than those of the rest of the nation. The state's unemployment rate is 4%, which is significantly lower than the 13% it was in 2020; in 2019 it was 3%. The unemployment rate for the U.S. spiked from 3.7% in 2019 to 14% in April 2020, and it was back down to 5.8% this May.
The unemployment rate counts those who are unemployed and looking for a job, while the labor participation rate, 60.7% in Oklahoma, counts people who are employed or unemployed and looking for a job.
An unemployed person who is not looking for a job is not counted in the labor force participation rate. Chad Wilkerson, chief economist of the Oklahoma City branch of the Kansas City Federal Reserve, said the rates alone aren't going to explain the status of Oklahoma's labor market but that when considered together they provide a better picture. 
Wilkerson said the fact that Oklahoma's unemployment and labor participation rates are both close to prepandemic levels — something that is not true for the nation as a whole — means the labor market in this state is tight.
"There are not as many people on the sidelines, if you will, either not working or not in the labor force relative to the recent past as in the country," he said.
"If you're getting unemployment insurance, I think you technically have to be looking for a job, which means you're counted in the labor force participation rate. So to be getting the benefits, you are in the labor force. I don't think that changing that will affect what the labor force participation rate is."
State Rep. Monroe Nichols, D-Tulsa, said there are two main reasons people have not returned to work in the state: They have either found work elsewhere or wages in the state are too low.
"Why should you make more on unemployment than you would make if you were working?" he asked, explaining that the minimum wage in Oklahoma hasn't changed since the state adopted the federal standard of $7.25 in 2008.
Right before the benefits ended, Oklahomans who qualified for traditional unemployment insurance received weekly payments equal to 1/23rd of their wages in the highest paid quarter of the base period, up to a maximum of $539, plus $300 a week from the Federal Pandemic Unemployment Compensation program. With the maximum possible payout being $839 a week, someone in the service industry might make the same amount from unemployment as they would after tips and wages are added together. 
"I think one thing that almost certainly will happen is some people will return to work because the unemployment insurance is less," Wilkerson said. "But at the same time, there also will be a share of people who do not, because that's not what's keeping them from working in the first place."
Jacks is one of 103,300 Oklahomans in the workforce who are still struggling to find a job, while 70,800 more remain uncounted in the workforce at all. She signed her next year's lease and paid July's utilities because it was the only way she could buy herself more time, knowing she doesn't have the money to pay the rent.
"I've been trying for a job for over a year, and I'm honestly shocked I haven't found anything," she said. "Me and my children could very easily become homeless."
---
Featured video: U.S. housing crisis worsens as millions fear eviction