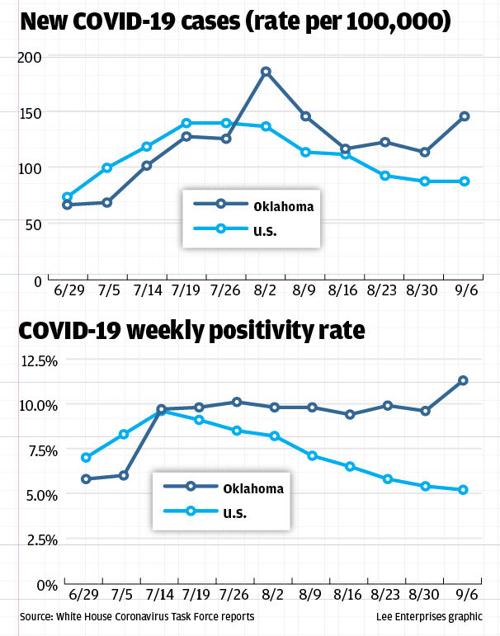 Oklahoma now has the fourth-highest test-positivity rate in the country to pair with the ninth-highest new COVID-19 cases daily rate per capita, according to the latest White House Coronavirus Task Force report.
Both metrics place Oklahoma in the "red zone" for high levels of community transmission of the novel coronavirus that causes COVID-19.
The task force's Sept. 6 weekly report, released Wednesday, marks the first time the state has ranked in the top 10 simultaneously for both of the statistics since the report began including state comparisons three weeks ago.
Oklahoma has an 11.3% positivity rate — the percentage of COVID-19 tests that are positive — more than double the country's positivity rate of 5.2%. The state's rate is its highest yet, surpassing the 10.1% in the July 26 report to become the second time Oklahoma has landed in the positivity red zone.
Oklahoma's new case rate is 146 per 100,000 people, nearly two-thirds more than the national average of 88 per 100,000. The state has been in the red zone for new cases for nine consecutive weeks.
The report notes that 65% of the counties in Oklahoma have moderate or high levels of community spread. Or, put another way, 24 counties are in the red zone and 26 counties are in the yellow zone.
"There is virus in rural and urban counties," the report states.
The red zone for positivity rate is at least 10%, and it's more than 100 per 100,000 population for new cases. The Sept. 6 weekly report comprises data from Aug. 29-Sept. 4.
The White House task force first recommended that Oklahoma install a mask mandate in its Aug. 2 report. Its first report, on June 29, recommended ensuring the public use of masks in all COVID-19 hot spots.
Perhaps in response to Gov. Kevin Stitt's concerns about mandating a face covering requirement in counties not experiencing as much spread of the virus, the task force on Aug. 23 recommended a tailored approach based on moderate or high rates of transmission in each county.
The task force's latest message evolved again to a degree: "Require masks in metro areas and counties with COVID-19 cases among students or teachers in K-12 schools."
A week ago the report warned that virus transmission was increasing in the "major university towns."
Stitt has resisted calls to enact a statewide mask mandate, even as he has acknowledged that face coverings are helping slow the virus' spread in municipalities with mandates. The governor has cited concerns about enforcement and says he believes the decision is best made locally.
The latest report continues to recommend that bars be closed and that indoor dining be restricted to 25% of capacity in red zones and 50% of capacity in yellow zones.
Metro areas in the red are Enid, Fort Smith, Guymon, McAlester, Muskogee, Stillwater and Tulsa.
Metro areas in the yellow are Altus, Bartlesville, Durant, Elk City, Lawton, Miami, Oklahoma City, Shawnee, Tahlequah and Weatherford.
Red zone counties are Adair, Atoka, Choctaw, Coal, Cotton, Craig, Creek, Garfield, Haskell, Johnston, LeFlore, Major, McClain, McCurtain, Muskogee, Nowata, Okmulgee, Osage, Payne, Pittsburg, Seminole, Texas, Tulsa and Wagoner.
Counties in yellow are Beckham, Blaine, Bryan, Caddo, Canadian, Cherokee, Cleveland, Comanche, Custer, Delaware, Jackson, Kingfisher, Lincoln, Logan, Love, Mayes, McIntosh, Noble, Okfuskee, Oklahoma, Ottawa, Pawnee, Pottawatomie, Rogers, Sequoyah and Washington.
---
Oklahoma's new cases (rate per 100,000)
Red zone is 100 and above; yellow zone is 10 to 100
Sept. 6: 146 (88 national average; ninth highest in U.S.)
Oklahoma's test positivity rate
Red zone is 10% and above; yellow zone is 5% to 10%
Sept. 6: 11.3% (5.2% national rate; 4th highest in U.S.)
Aug. 30: 9.6% (5.4%; 9th)
Aug. 23: 9.9% (5.8%; 8th)
Aug. 16: 9.4% (6.5%; 11th)
Source: White House Coronavirus Task Force reports
---
COVID-19 basics everyone needs to know as the pandemic continues
Corey Jones
918-581-8359
Twitter: @JonesingToWrite
Concerned about COVID-19?
Sign up now to get the most recent coronavirus headlines and other important local and national news sent to your email inbox daily.