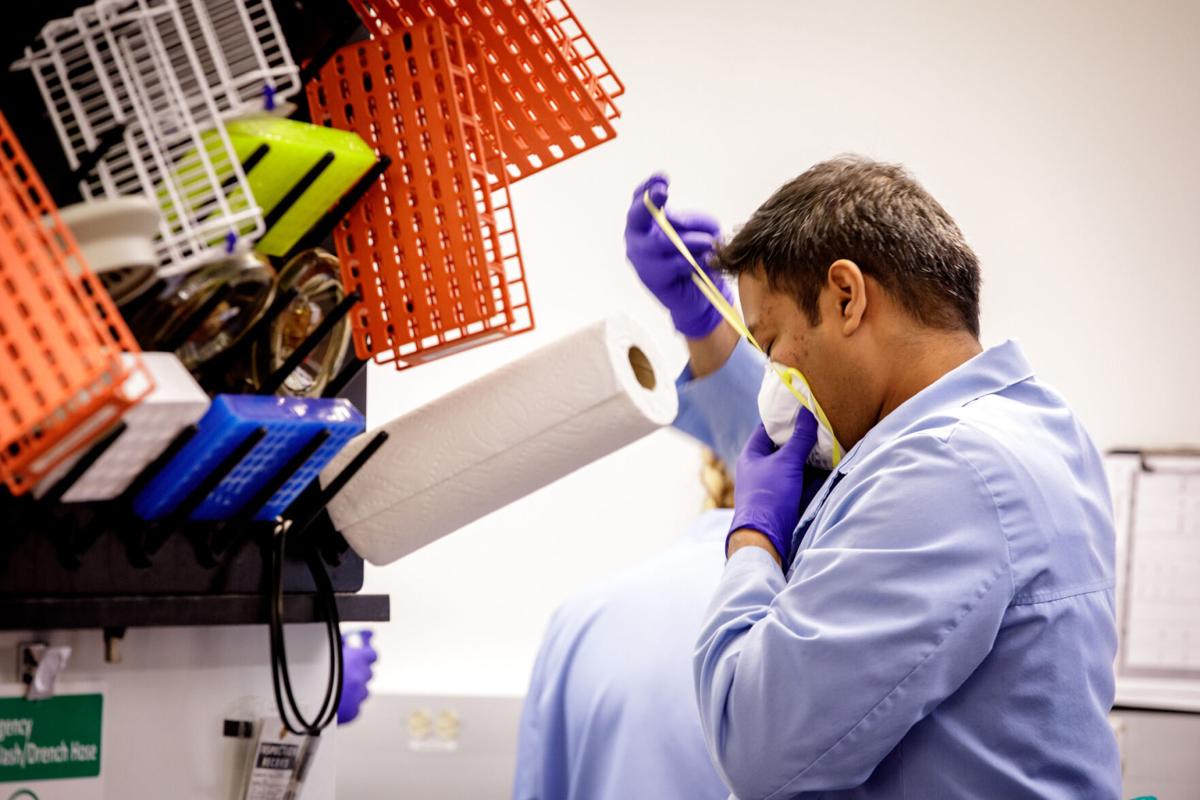 The Oklahoma State Department of Health is actively encouraging labs and hospitals to submit COVID-19 specimens for genomic sequencing to look for variants as new cases in Oklahoma and the region rapidly rise.
The state put out a Health Alert Network notification June 21, which State Epidemiologist Jolianne Stone said it did after a few weeks of perhaps "just monitoring the situation" and not receiving enough specimens to have a clear picture of what's happening here after a large lab submitting its samples stopped testing.
"The OSDH PHL now has the capacity to sequence positive COVID-19 specimens from across the state," the notification states.
Oklahoma still ranks last in the U.S. in sequencing to identify COVID-19 variants as the state's Public Health Lab transitions to Stillwater.
Stone said the health lab's ability to sequence has been hampered by its transition to Stillwater. Low positivity rates and limits on samples sent to the CDC also have contributed, she said.
"We have gotten very positive feedback," Stone said of the health alert bulletin. "We've gotten a few labs signed up already to submit their samples twice a week, which is a normal process."
OU's chief COVID officer suggested Thursday that the Delta variant outbreak in southwest Missouri likely is driving northeast Oklahoma's recent rise in COVID-19 cases as the virus travels down Interstate 44.
Dr. Dale Bratzler noted what a concern that is because of how it "spread like wildfire" through India. In a short time frame it usurped the Alpha variant to become the dominant variant in the U.K. — and Oklahoma is among the states with the lowest percentage of its population vaccinated.
"We will see clusters of outbreaks," Bratzler said. "We will see outbreaks among groups of people who are unvaccinated, and the Delta variant spreads very rapidly in those groups."
Bratzler said the Delta variant is 50% to 60% more transmissible than the original novel coronavirus, with twice the risk of hospitalization for the disease.
The good news? He said research indicates the Pfizer vaccine reduces the risk of infection by 88% in fully vaccinated people but only 36% after one dose. It remains unclear what level of protection is offered by natural immunity after infection.
"By far the most effective mitigation strategy is to get the vaccine," Bratzler said, adding that masks are universally effective against all variants.
He said the Delta variant's most common symptom is a headache, followed by fever and runny nose. Those are different from COVID-19's classic symptoms: cough, fever, shortness of breath, loss of taste and smell and a number of others.
Bratzler nodded to comments made by Dr. Anthony Fauci, who in a White House briefing Tuesday called the Delta variant the "greatest threat" to the country's attempt to eliminate COVID-19.
OSDH has reported only 41 known cases of the Delta variant so far, but Bratzler says that variant already accounts for more than 20% of new COVID cases in the U.S.
"I'm betting that there are many, many more cases in Oklahoma right now," Bratzler said. "The UK variant — the Alpha variant — had been the predominant strain in Oklahoma, but now I think it is the Delta variant."
There have been only about 25 Oklahoma specimens sequenced per week in the past four weeks of reports, according to state data. Stone said she wants to see hundreds of new specimens added to each weekly report if enough samples are sent to the state.
Stone said OSDH specifically has reached out to partners in Tulsa, Tulsa County and northeast Oklahoma to submit COVID samples because of local rises in cases and proximity to the Delta variant outbreak in southwest Missouri.
The state has received criticism from the Oklahoma State Medical Association for suddenly choosing to move the Public Health Lab during a pandemic.
Having not necessarily been involved in the discussions, Stone said she couldn't speak on the timing of the move but that it was necessary to gain more space and equipment to ultimately improve its sequencing efforts.
"All things considered, it was kind of one of those perfect storms to where we have lower case counts compared to the rest of the country, we had to rely on CDC while we moved our laboratory — we do recognize the importance of getting specimens for sequencing," Stone said. "Hopefully we can start increasing our repository for sequencing so we can get a better idea of what's going on."
Bratzler said it's important to recognize that COVID case counts in Oklahoma increased by 90% in June, so it's important to maintain vigilance because the pandemic isn't over.
The seven-day moving average of new cases was 99 on June 7, rising to 190 by Thursday.
"So the number is still relatively small, but I think the rising trend of new cases is a concern," Bratzler said.
So far hospitalizations in Oklahoma have remained stable around 110 to 120 patients per day, he said.
"However, I am concerned that we need to watch that number carefully because as we see more cases I would expect that hospitalizations may go up," Bratzler said. "But there will be a delay between new cases and hospitalizations. Over the next couple of weeks we need to watch that quite carefully."