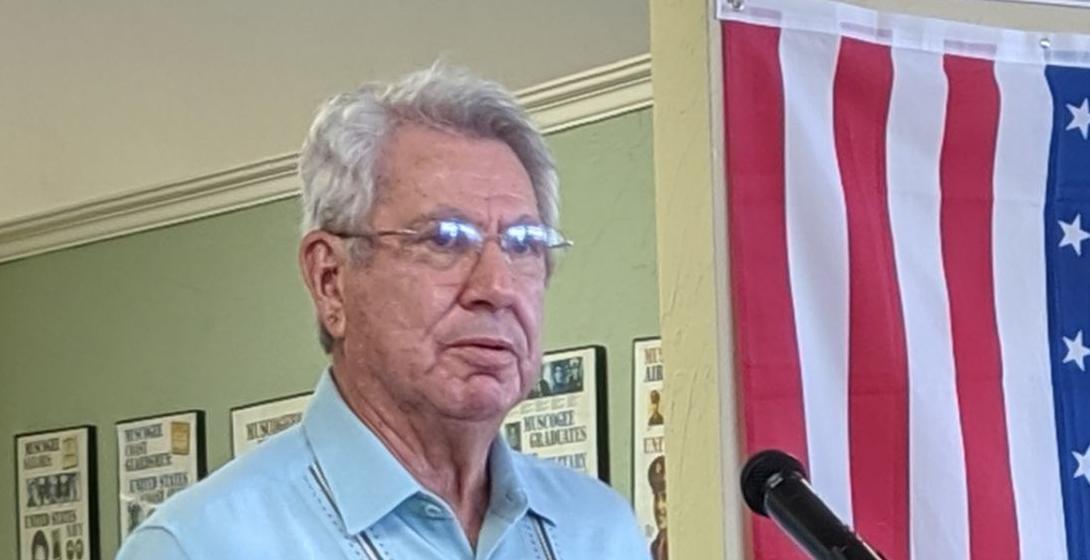 OKMULGEE — Fresh felony charges have been filed in tribal court against a candidate for principal chief of the Muscogee (Creek) Nation.
Late Wednesday, four criminal conspiracy charges were filed in Muscogee (Creek) Nation District Court against Bim Stephen Bruner in connection with an attempt to open a casino in Broken Arrow.
The former National Council member was arrested in August 2017 in connection with a raid conducted on Embers Grille, a restaurant and dance hall located on his family's allotment in Broken Arrow near the Creek Turnpike and 129th East Avenue. Affiliated with the Kialegee Tribal Town, the National Indian Gaming Commission twice denied a gaming license to the facility. However, according to court documents, there were 100 unlicensed slot machines on the premises at the time of the raid.
According to the complaint, Bruner and Jeremiah Hobia, the Kialegee Tribal Town's leader at the time of the raid, conspired to have unlicensed gaming devices, maintain an unlicensed casino and participate in unlicensed gambling.
As per a copy of the lease documents submitted with the complaint, the Kialegee Tribal Town was to pay Bruner $300,000 in rent annually during the facility's construction phase. Once the casino opened, Bruner would receive $600,000 or 1.5% of the gross revenue from gaming, whichever amount was larger. Plans called for the facility to have 800 Class II and Class III slot machines and up to eight poker tables.
Court documents also list Bruner as a director for Red Creek Holdings, a Florida-based limited liability company established to design and build the facility in question.
The three felony complaints each carry a maximum sentence of three years and a fine of up to $15,000. The fourth, a misdemeanor charge of conspiracy to commit license fraud, is punishable by up to one year's imprisonment and a fine of up to $2,500.
A hearing is scheduled for Oct. 22 at 1:30 p.m. before Judge Jeremy Pittman. The tribe's election code bars felons from serving as principal chief.
Two additional felony charges are still pending in connection with the raid: one count of possessing unlicensed gaming devices and one count of maintaining an unlicensed gaming practice. Those initial charges are scheduled to be back before Pittman on Nov. 14, along with a contempt of court complaint from Bruner aimed at the tribe's Police Department for not mowing the allotment as ordered by the court.
"Nothing that happened today changes anything," said Bruner's attorney, Trevor Reynolds. "We'll fight these charges just like we've fought the previous charges. I believe they have some detrimental, if not fatal flaws in their pleadings. We will continue to fight to exonerate Mr. Bruner."
Bruner also faces an additional nongaming-related criminal complaint, a misdemeanor charge of unauthorized use of the tribe's seal on campaign material. It is also scheduled for consideration at the Oct. 22 hearing.
Attempts to reach Hobia for comment Thursday afternoon were unsuccessful.
In a written statement, Bruner tied the additional charges to his candidacy for principal chief, calling it a power grab.
"The Attorney General's Office is trying to take my Indian allotted land. That's what this is all about," he said. "But I wouldn't back down then, and I've been fighting back against them ever since.
"They're now afraid that when I'm elected chief, I'm going to clean up their corruption."
---
FEATURED VIDEO
Be the first to know
Get local news delivered to your inbox!