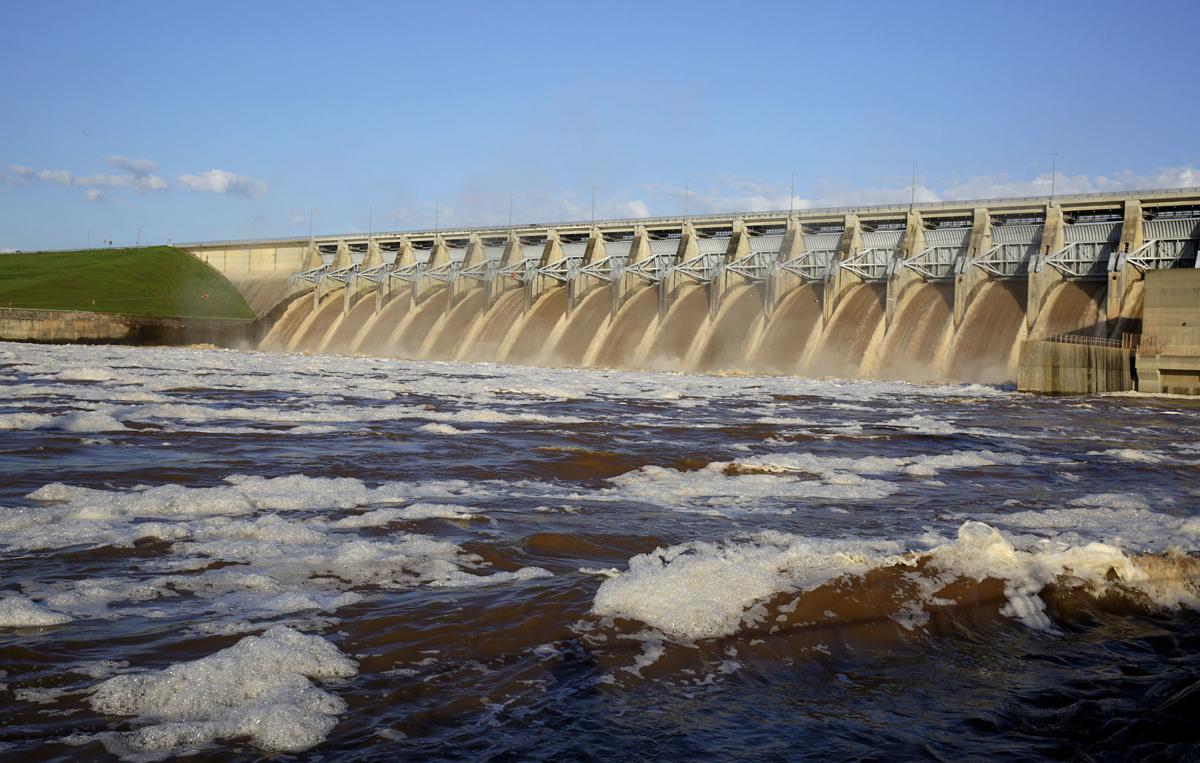 The Army Corps of Engineers plans to increase the rate of water released from Keystone Dam from 160,000 to 215,000 cubic feet per second Wednesday, bringing the Arkansas River in Tulsa to its highest level since 1986 flooding.
The forecast for the Arkansas River at the Tulsa flood gauge near U.S. 75 downtown is expected to reach 21 feet, according to the National Weather Service, which would put it at moderate flood stage. The river crested at 25.2 feet in 1986. 
According to a news release, the Corps announced they will begin releasing 205,000 cfs at noon and 215,000 cfs at 2 p.m. The Corps increased the release to 185,000 cfs at 10 a.m. The amount released during the 1986 flood was 307,000 cfs, according to Mayor G.T. Bynum.
Tulsa County District 12 Levee Commissioner Todd Kilpatrick said the increased flow will put additional strain on levees in the area, and crews are monitoring for weak points as the water rises.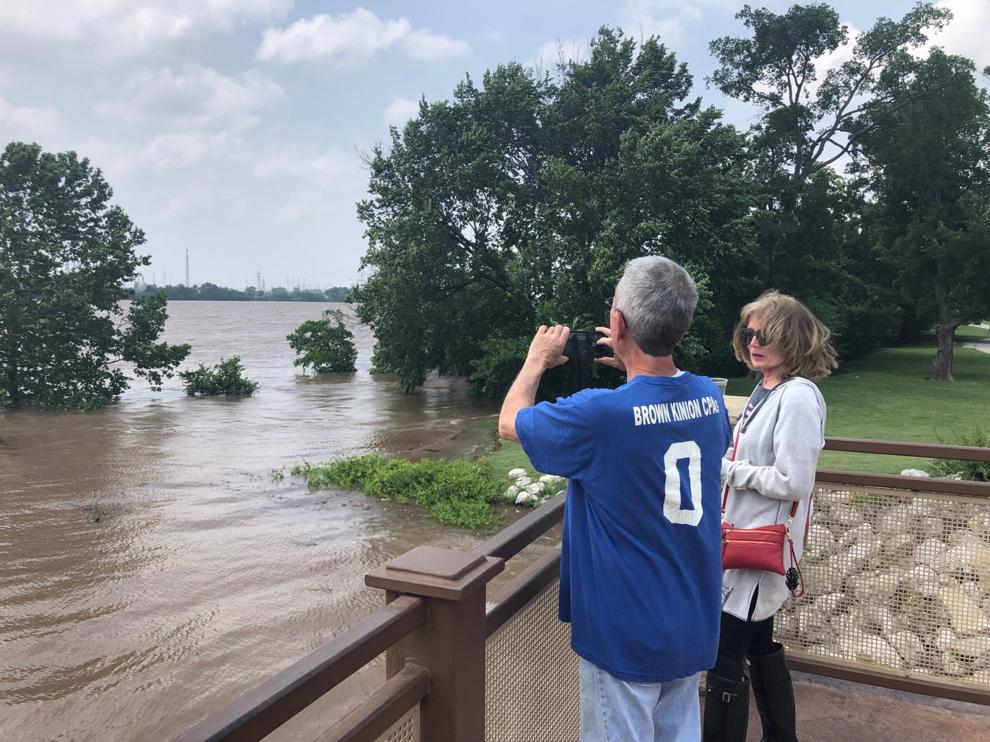 "We've been watching it for the last few days," Kilpatrick said. "It's worrisome anytime you get water up on that levee, things can happen. So we're going to keep an eye on it; it's the best we can do."
Evacuations have been requested by officials Wednesday in Bixby, Sand Springs and Okmulgee County.
The Arkansas River near Muskogee was at 36 feet this morning, according to NWS Tulsa. Flooding in the Muskogee area is expected to exceed 1986 flood levels by today, sooner than previously anticipated and in greater volume.
NWS Tulsa forecasts the river to reach 41 feet by Wednesday evening and remain near or above 40 feet through Monday. The 1986 flooding at that gauge, near U.S. 62 at Three Forks Harbor, reached 39.6 feet.
"If I had to reiterate one thing, this is going to be, based on data from the Corps of Engineers and the National Weather Service, worse than originally anticipated and faster than anticipated," Muskogee County Commissioner Ken Doke said. "Not Thursday, not 38 feet. We're talking about a lot of water in a short time."
Those living along the Arkansas River should consider their elevation and the elevation of their escape routes to safety. Doke said they expect roads to become impassable. Those who remain in flood-prone areas risk becoming stranded.
"This is not the time for sandbagging," Doke said. "It is the time to get your family and get your stuff and get out."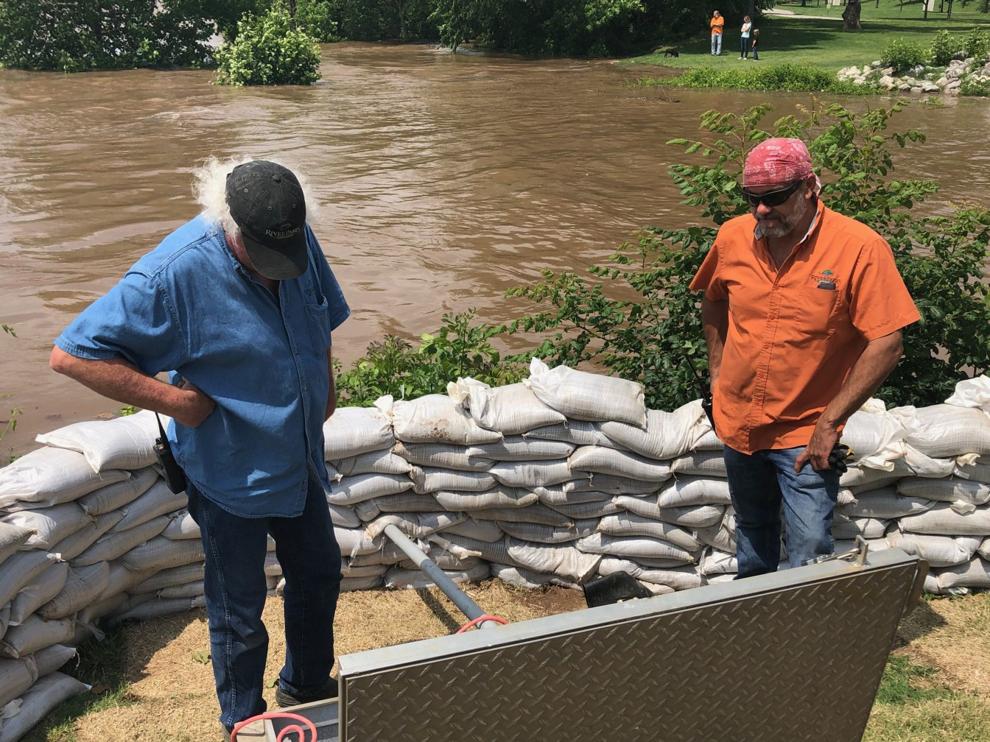 At 41st Street and Riverside Drive on Wednesday afternoon, Gary Williams and Tim Carlisle tried to keep the electrical systems working at the park. This systems control all water features and it had a few feet of water in it that they were bailing out. They planned on turning out the lights in the area and hope people stay away.
Areas in Haskell, Muskogee, Fort Gibson, Gooseneck Bend, the Elm Grove area, Webbers Falls and Porum are at risk for flooding.
According to Doke, Oklahoma 62 between Fort Gibson and Muskogee is likely to be flooded Wednesday afternoon, prompting a road closure, and remain flooded through the weekend. OHP reports that closure could come as early as 1 p.m.
Maps and projections are largely based on the flood of record, the 1986 flood. The warned flood levels the Corps of Engineers and the Weather Service are "talking about exceeds all the data models they have," Doke said.
In addition to evacuations in Webbers Falls, the city of Fort Gibson is recommending to at-risk residents to evacuate.