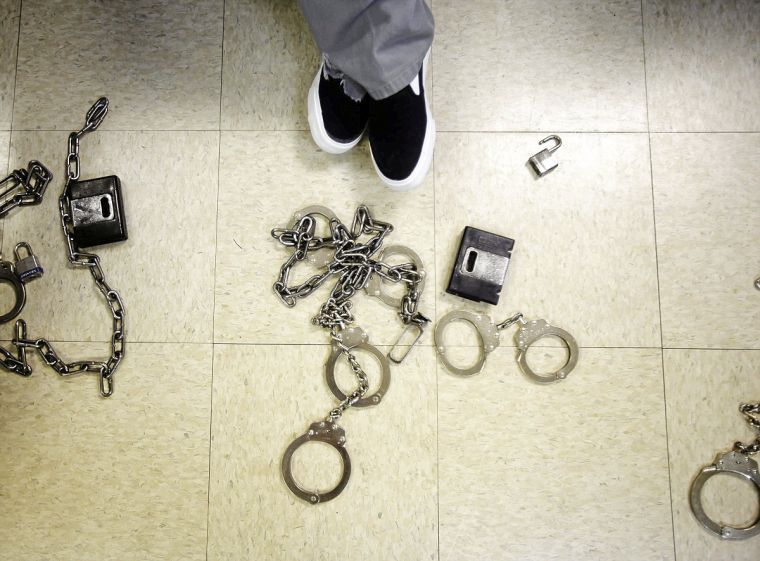 OKLAHOMA CITY — Carla Sleight, who was released Wednesday from the Eddie Warrior Correctional Facility in Taft, where more than half of the inmates have tested positive for COVID-19, described the conditions there.
"There is no way to get away from anybody," said Sleight, 34. "Everybody keeps getting reinfected."
She said she tested positive. She was released after serving a term for an Oklahoma County second-degree burglary conviction and is now headed to a sober living facility in Tulsa.
No medication was given for COVID symptoms at the prison, she said.
"Medical is not doing anything," she said. "You can put in a sick call. It might take a week or two and only if your temperature is high enough."
Complaints about the conditions at Eddie Warrior and other state prisons during the COVID-19 pandemic have been aired not only by inmates buy by volunteers who visited the prisons regularly before the pandemic and keep in touch with the inmates.
Justin Wolf, Oklahoma Department of Corrections spokesman, responded to the criticism, saying inmates are receiving medication and that medical staff are making the rounds on the units.
Susan Esco, a board member for Oklahomans for Criminal Justice Reform, recently wrote to state leaders in an effort to improve conditions at Eddie Warrior, a minimum-security women's prison.
The prison is an open dorm-style facility, making isolation and quarantine for infected inmates challenging.
On Wednesday, the agency's website indicated that 583 offenders and 15 staff members at the prison had tested positive for COVID-19.
Esco said she has been told inmates are getting small portions of food that are high in carbohydrates — something that she suggested will not help provide any possible protections to minimize infection. Sleight said the food was "horrible."
Esco was also concerned that low staffing rates and inmates' inability to spend time outside increased transmission probability.
In addition, Esco has been told that inmates at the facility have to wear a single mask for long periods of time.
Sleight said that "on some dorms, it is hard to get a new face mask." She also said there was no hand sanitizer but that inmates were provided some cleaning supplies.
Because visitation and volunteer programs have been suspended, volunteers can't get inside to see for themselves what is going on, Esco said. However, she said she and others have heard from enough women about the conditions that she believes their statements are valid.
"These are human beings who are sick and struggling in the midst of a crisis and need to be treated as more than offenders and inmates," Esco said.
But Jessica Brown, Oklahoma Department of Corrections chief of strategic engagement, said: "I don't think all of that (the allegations about conditions) is accurate."
Wolf said the meals being served are approved by a dietitian.
Department of Corrections officials say inmates are also being provided masks and cleaning products.
Brown said the facility has been provided 42,000 paper masks, more than 3,300 cloth masks, more than 500 K95 masks and 186 large bottles of hand sanitizer. In addition, the facility has been provided rubbing alcohol, bleach and disinfectant, she said.
The stockpile of supplies, Wolf said, is currently enough for inmates and prison staff.
"These issues come up enough times that we have been reviewing video footage to ensure the logs are accurate," Wolf said.
He said the Oklahoma State Department of Health has provided the agency with a great deal of support, including personal protective equipment, staffing and testing.
"I believe we are doing everything we can," Wolf said.
---
---
Gallery: COVID-19 basics everyone needs to know as the pandemic continues
Concerned about COVID-19?
Sign up now to get the most recent coronavirus headlines and other important local and national news sent to your email inbox daily.