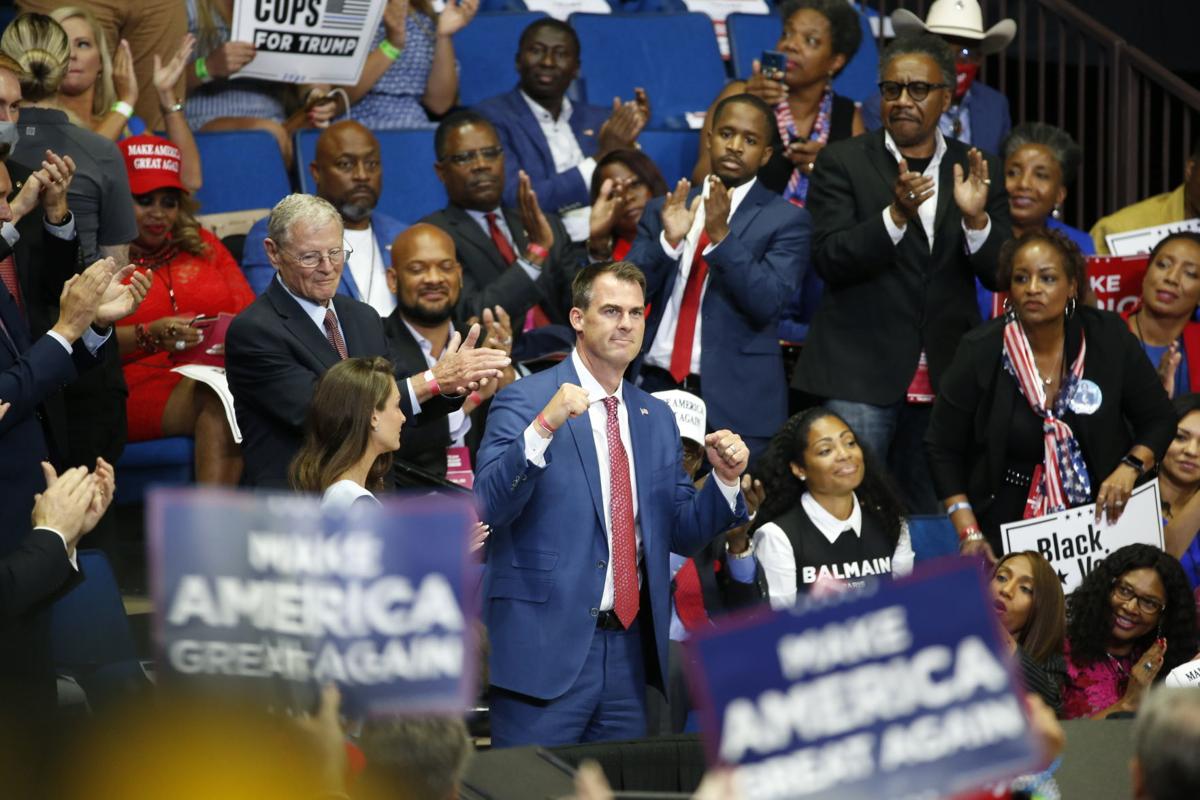 Correction: This story originally stated incorrect information about the relationship between the Oklahoma Council of Public Affairs and the 1889. The story has been corrected.
Poll position: Fifty-four percent of Oklahomans like the job Gov. Kevin Stitt is doing, but only 47% want him to run for reelection in 2022, according to a poll by the Oklahoma City consulting group Amber Integrated.
The firm surveyed 500 registered voters on March 26-28 and said the results have a 4.38% margin of error.
Amber Integrated said Stitt's approval ratings were largely unchanged from a year ago.
Unsurprisingly, the poll found large partisan differences, with 63% of Republicans approving of Stitt's performance compared to 28% of Democrats.
U.S. Sens. Jim Inhofe and James Lankford, both of whom took some hits from the right for not doing more to block the swearing-in of President Joe Biden, both remained above 60% approval among fellow Republicans and in the high 40s overall.
Fifty-seven percent of Republicans and 42% overall said Lankford should seek reelection next year.
Angry Republicans: On that same topic, the Mayes County Republican Convention recently called for Lankford and Inhofe to be kicked out of the party and barred from speaking at GOP events or running for office as Republicans.
In a resolution, the county party complains that the two senators did not vote to block certification of the Electoral College results that elected Democrat Joe Biden for president, which the Mayes County resolution says was a "complete betrayal of (former) President Donald J. Trump, the Republican Party and the State of Oklahoma."
The resolution subscribes Trump's unproven and discredited but widely embraced claim that the election was tainted by widespread fraud.
The matter could be of some concern to the two senators and particularly Lankford, who is up for reelection in 2022. Although the Amber Integrated poll suggests that he remains popular with rank and file Republicans, many members at Saturday's state convention remained unhappy with the pair.
Session notes: Last week was a little edgy in the Legislature as members maneuvered to keep their bills moving past a Thursday committee deadline.
That sometimes involved bills popping up in unexpected committees with language that did not match the titles, but the work got done.
As of Friday, about 400 bills and joint resolutions remained active, including a handful already signed by Gov. Kevin Stitt.
Some of those are still in limbo because the deadline for the House Appropriations and Budget Committee to hear bills is this coming Friday.
Campaigns and elections: The Oklahoma Senate veered a little further to the right on Tuesday when a northwest Oklahoma City district chose abortion abolitionist and Donald Trump loyalist Jake Merrick to fill the vacancy created when fellow Republican Stephanie Bice was elected to Congress.
Bottom lines: Non-farm payrolls for metropolitan Tulsa shrank by about 1,400 workers in February and by about 4,000 statewide, according to the U.S. Bureau of Labor Statistics. Overall, Oklahoma had almost 100,000 fewer people working in February than it did during the same month a year ago. … Deputy U.S. Marshals Callen Stephens, Jermaine Vaughn and Travis Sutterfield and Postal Inspector Brian Hess each received the Congressional Badge of Bravery in Oklahoma City last week. … A nonprofit formed by former Democratic U.S. Senate candidate Abby Broyles has mailed out 40,000 voter registration packets to young Oklahomans. … Kitty Bell of Sapulpa and Grace Harrison of Bristow won this year's Creek County Democratic Party scholarships. … Former 1st District Congressman and NASA Administrator Jim Bridenstine will chair the advisory committee of Denver-based Voyager Space Holdings. … The 1889 Institute urged the cancellation of the state's Film Enhancement tax rebate, a business incentive that came close to elimination a decade or so ago but now seems to have fairly broad support in the Legislature.
— Randy Krehbiel, Tulsa World