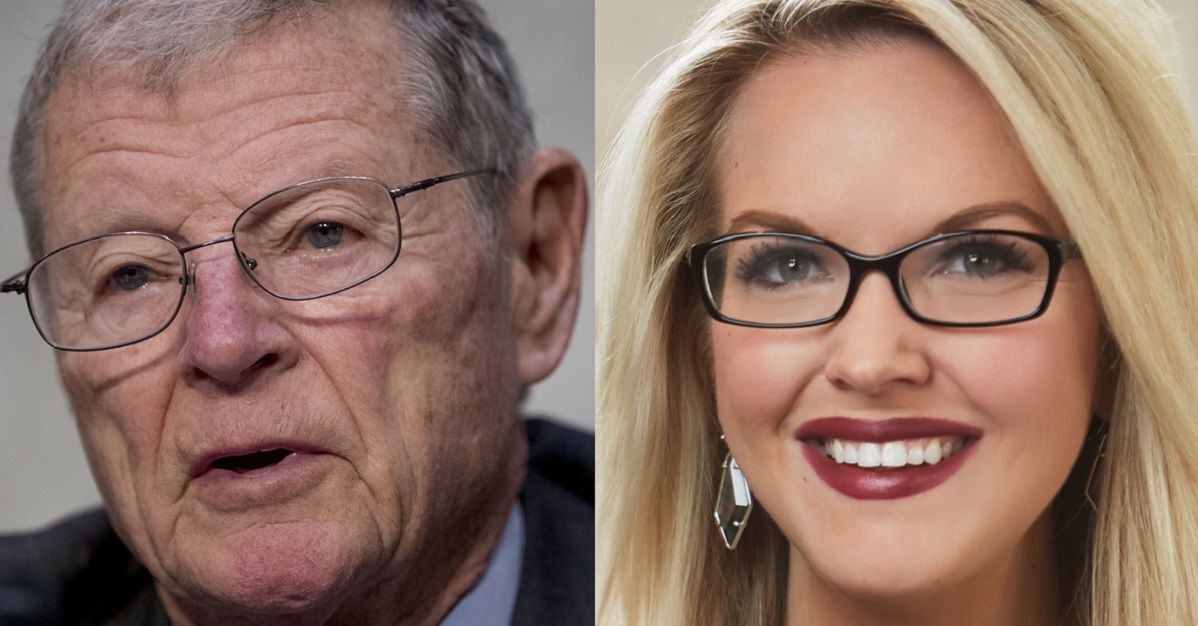 U.S. Sen. Jim Inhofe remains a strong favorite to win a fifth full term when the final votes are tallied Nov. 3, but Democratic challenger Abby Broyles continued to post competitive fundraising numbers during the three-month period ending Sept. 30.
Broyles reported net contributions of $906,493.09 for the quarter, or almost $40,000 more than Inhofe. Her campaign said the average contribution was $17, and more than 22,000 Oklahomans sent Broyles money.
Broyles' camp bragged she did not receive "a dime of corporate PAC money." She did, however, get $35,000 from noncorporate political action committees, including $23,500 from labor unions.
Inhofe, chairman of the Senate Armed Services committee, received $243,350 from PACs, the largest share of them associated with defense industries.
Inhofe continued to hold a huge advantage in cash on hand with almost $1.7 million compared to $273,152.41.
In the 1st Congressional District, Republican incumbent Kevin Hern reported contributions of $362,428 to Democratic challenger Kojo Asamoa-Caesar's $76,043.75.
Medicaid: State Senate Majority Floor Leader Kim David, R-Porter, endorsed Gov. Kevin Stitt's controversial plan to privatize management of the state's Medicaid system.
An earlier experiment with outsourced management did not go well, but David said she's confident it can provide better care at lower cost.
"I believe this is the right next step to improve the health of vulnerable Oklahomans through preventative care, which will ultimately reduce expensive emergency and critical care costs," David said in a written statement.
Not bad: Payments to Oklahoma's general revenue fund exceeded expectations by 1.7% in September.
It was the second straight month for GRF deposits to beat projections, which came as particularly good news in light of the economic impact of the COVID-19 pandemic.
September's GRF deposits totaled $562.8 million, or $9.5 million more than expected and $8.5 million more than the same month a year ago.
OMES Director Steven Harpe advised caution, however, saying revenue has been kept afloat by federal programs that have expired or are about to.
The General Revenue Fund is the state's primary operating account.
Campaigns and elections: A 1st Congressional District candidate forum with Republican incumbent Kevin Hern and Democrat Kojo Asamoa-Carter is scheduled for 6 p.m. Oct. 29 at Southpoint Church, 13164 S. Memorial Drive. The event is sponsored by the Bixby Chamber of Commerce.
A libel suit against a Tulsa-area state Senate candidate and his campaign manager was allowed to move forward by District Judge Caroline Wall.
Wall refused to grant Senate District 37 Republican nominee Cody Rogers and campaign manager John Fritz's motion to dismiss the suit by Dr. Chris Emerson, who lost to Rogers in the June 30 GOP primary.
Emerson alleges advertisements for Rogers made several false statements about Emerson.
State Question 805 supporters called on the Oklahoma Sheriff's Association "to acknowledge the need for reasonable criminal justice reform."
Law enforcement officials and prosecutors are generally opposed to SQ 805, which would ban the consideration during sentencing of past nonviolent felony convictions.
Asamoa-Caesar will hold a rally at 1 p.m. Saturday at Bartlesville's Tower Center at Unity Square, 300 SE Adams Blvd.
A Ridin' With Biden caravan will begin at 9 a.m. Saturday at the Blue Whale in Catoosa and proceed to the Black Wall Street mural on North Greenwood Avenue in Tulsa. RSVP to mblz.io/vfAhlu.
An exchange last week between 5th Congressional District candidates Kendra Horn and Stephanie Bice underscored the difference between state and federal government.
Bice, a Republican state senator trying to replace Democratic incumbent Horn, tried to tie Horn to the "defund the police" movement. The congresswoman had a ready answer: Bice this year voted for a state budget that cut the Department of Public Safety by $9 million.
Oklahoma lawmakers, and especially the majority Republicans, have had to cut a lot of budgets over the past decade. Some may be doing so with a sense of satisfaction, and it must be said that legislators past and present bear some responsibility for Oklahoma's budget chaos, but the point is that the state's balanced budget requirement forces them into tough votes their federal counterparts don't have to take.
Bottom lines: A report by the Pew Charitable Trusts said Oklahoma's travel and leisure industry has been one of those least effected by COVID-19. ... Oklahomans may like Texas' zero income tax, but four of the nation's five highest property tax rates and six of the top 10 are found in Texas cities, according to the real estate investment firm Roofstock.
---
Get Government & Politics updates in your inbox!
Stay up-to-date on the latest in local and national government and political topics with our newsletter.