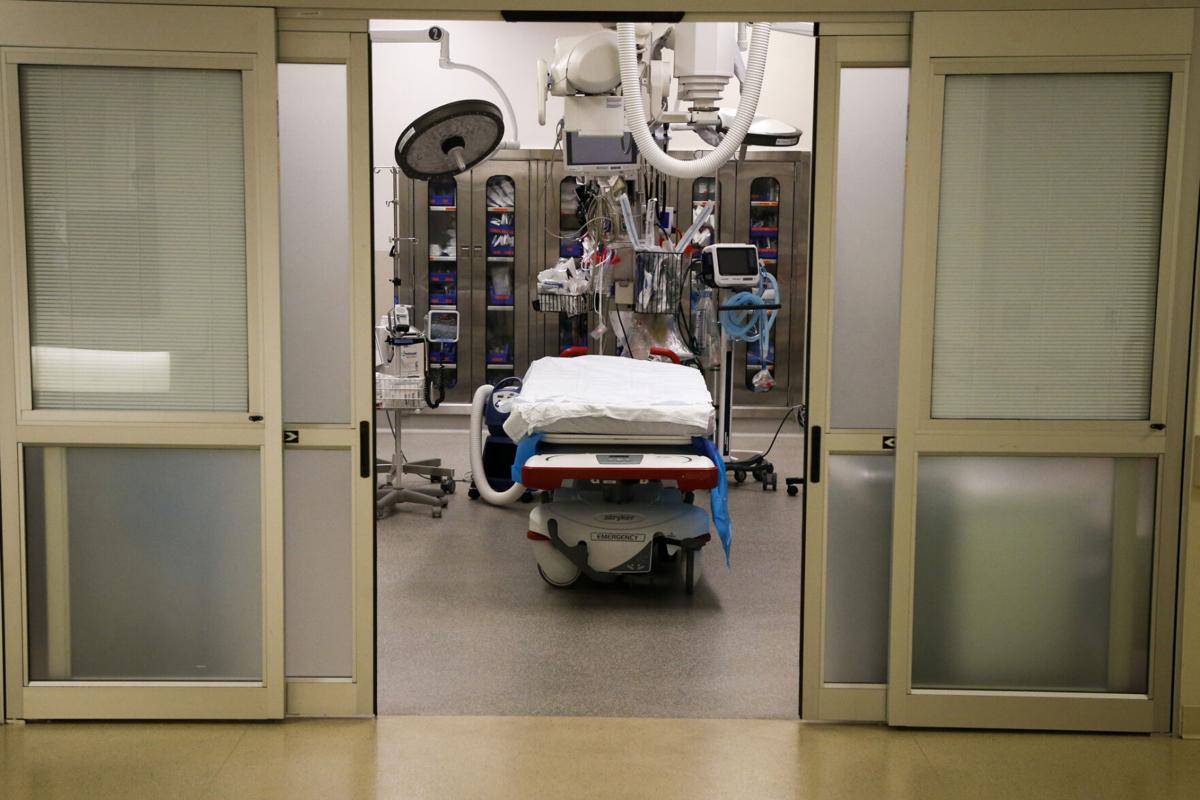 In some respects, Oklahomans are finding it more difficult to track how poorly their state is doing in the midst of the roaring pandemic as compared to other states and the country as a whole.
Oklahoma ranks among the five worst in three statistical areas that the White House highlights in gauging COVID-19's severity — but the state won't ask the federal government for the private reports so they can be posted for the public to view.
In the White House Coronavirus Task Force's Dec. 27 report, Oklahoma is worst in test positivity, fourth highest in hospital admissions per bed and fourth highest in new cases per capita. It ranks 34th lowest in deaths per capita.
The White House Coronavirus Task Force recently changed its policy, providing states with their individualized reports only by request instead of automatically. Weekly reports for Oklahoma through Dec. 6 are still available on the state's website.
Gov. Kevin Stitt has said that as far as he's concerned, the information is "out there" and "available to the public," so he won't make the request.
"If our team wants any specific recommendations they can call them for it, but the data's there," Stitt said, gesturing toward interim Health Commissioner Dr. Lance Frye at a news conference Dec. 22. "I'll leave it up to these guys if they want to get more recommendations from them."
The federal government is posting the data that make up the state reports — and much more — at HealthData.gov. But the new COVID-19 Community Profile Reports and accompanying data spreadsheets don't include individual state commentary, notes or recommendations.
The Tulsa World queried the Oklahoma State Department of Health about whether it would start requesting the reports so the department can keep posting them publicly for Oklahomans who want to see the state-specific offerings.
A spokesman didn't directly confirm that the Health Department won't ask for the reports but repeated the same claim as Stitt, adding that the state is committed to "robust and transparent data" for Oklahomans.
The state hasn't posted a report since early December.
"Oklahoma, like all states, has recently stopped receiving the White House reports, as the task force began requiring states to request the data each week," wrote Jackie Shawnee, chief of communications for the State Health Department.
"However, all of the data available as part of the White House report is now available and updated daily online at healthdata.gov. We will continue to use this data, in addition to the extensive data we collect as a state, to drive decisions that are best for Oklahomans in combating the COVID-19 virus."
"The spread in Oklahoma is exponential and unyielding, with hospitalizations increasing week over week and reported limited bed availability," according to the Nov. 15 report.
The Nov. 29 report stated that orders are needed "compelling Oklahomans to act differently," noting that states and cities that "aggressively mitigated" saw high plateaus and early stability not experienced where mitigation efforts remained inadequate.
Stitt on Dec. 14 signed an executive order that limited "public and social gatherings" to 50% of a building's or area's permitted capacity. The order limited attendance at indoor youth sports and extracurricular activities to four spectators per participant up to half capacity.
An 11 p.m. curfew for bars and restaurants began Nov. 19, including a requirement that tables, booths and bar tops be spaced at least six feet apart.
A judge placed a temporary restraining order against Stitt's curfew on Dec. 18 and since has extended it until Jan. 8 for a rescheduled hearing on a court challenge, according to The Oklahoman.
On Tuesday, three Oklahoma health leaders voiced support for the White House's weekly reports in response to a question during a virtual news conference.
Dr. Jean Hausheer, who heads the Healthier Oklahoma Coalition COVID-19 Task Force, said they prefer to look at all data and methodologies possible, which is helpful in studying a novel virus.
"Their methodology is obviously different — the White House — it doesn't mean that it's bad," Hausheer said. "It's actually quite interesting, and I personally like to look at all of it."
Dr. George Monks, president of the Oklahoma State Medical Association, said he wants to see the state continue to make the reports public because every bit of information or data is helpful.
Dr. David Kendrick, CEO of MyHealth Access, said the reports are important for helping to shape thinking and decisions.
"Admittedly, sometimes it creates some confusion when the numbers don't match exactly what we see from the state," Kendrick said. "That in and of itself gives us some more information about who knows what and where they are.
"Especially at the federal level where most of the funds originate to help states through this, we need them to be parroting back to us that they understand what's going on in Oklahoma and what our numbers are so we can be assured to get the resources we need to address this pandemic."
---
Oklahoma's weekly new COVID-19 hospitalizations per inpatient beds ranking
Dec. 27: 4th highest in U.S.
Oklahoma's weekly new COVID-19 deaths per capita ranking
Dec. 27: 34th lowest in U.S.
Oklahoma's weekly new cases per capita ranking
Dec. 27: 4th highest in U.S.
Oklahoma's weekly test positivity rate ranking
Dec. 27: 1st highest in U.S.
---
Video: Staff writer Corey Jones' most memorable stories of 2020.