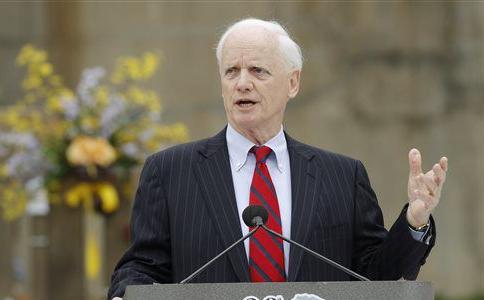 OKLAHOMA CITY — Former Gov. Frank Keating has resigned from the board of the politically conservative Oklahoma Council of Public Affairs, citing a number of reasons.
The organization has been a fixture at the state Capitol for years, advocating with a loud voice for school choice, smaller government and lower taxes.
Keating is well-respected in the Oklahoma Republican Party. He gained national attention leading the state in the wake of the April 19, 1995, bombing of the Alfred P. Murrah Federal Building.
He served as governor from 1995 until 2003, is a former U.S. attorney for the Northern District of Oklahoma, and held other federal posts.
Keating said the OCPA's staff decision to endorse State Question 805 was one of the reasons he resigned.
Voters on Nov. 3 will get the opportunity to enshrine in the Oklahoma Constitution a ban on using sentence enhancements for nonviolent crimes.
Keating called it "terrible public policy."
"It is an embrace of the career criminal," he said.
Keating also faulted the group for supporting Gov. Kevin Stitt's position on gaming compacts. Tribes successfully sued to get a ruling that their gaming compacts automatically renewed after Stitt sought higher exclusivity fees.
The former governor also criticized the group for comments it has made that were critical of some current and former politicians, including former U.S. Rep. Dan Boren, Attorney General Mike Hunter and U.S. Rep. Tom Cole.
"These are fellow citizens who are very good at what they do," Keating said. "Give them a break and work together."
He said the organization has been very critical and used uncomplimentary language about Republicans in the Legislature.
"You don't do that," Keating said. "I guess we are in the (President Donald) Trump era so we have to insult everybody. I just don't feel that way."
He said he thinks OCPA is a conservative think tank that deserves a seat at the table.
"But you don't make fun of other people's views and attack them," Keating said. "You sit down and explain why they are wrong. I think that culture is a culture of yesterday, and that is wrong."
Although he thinks the staff at OCPA is extremely bright, "I think they need to have a courtesy course," Keating said.
He said he still has good will and respect for the organization.
"I felt like my voice was not one that was listened to and it was time for me to walk the dog," Keating said.
Rep. Mark McBride, R-Moore, commended Keating for taking a stand on the direction of the organization.
"I hope OCPA gets back to what the founders of the organization envisioned — meaningful policy," McBride said.
Jonathan Small, president of OCPA, was asked to respond to Keating's remarks.
"OCPA is governed by principles and not personalities," Small said. "We really feel like whether it is fighting for parental school choice or trying to help nonviolent offenders learn from past mistakes and improve their lives, our mission is to fight every day for the most vulnerable and to help Oklahomans hold government accountable."
Small said he was grateful for the work Keating did on school choice and protecting Oklahomans from tax increases.
"Although Gov. Keating isn't going to be on the board, we look forward to continuing to work with him on issues where we agree for the betterment of all Oklahomans."
---
Get Election 2020 & Politics updates in your inbox!
Keep up on the latest in national and local politics as Election 2020 comes into focus.