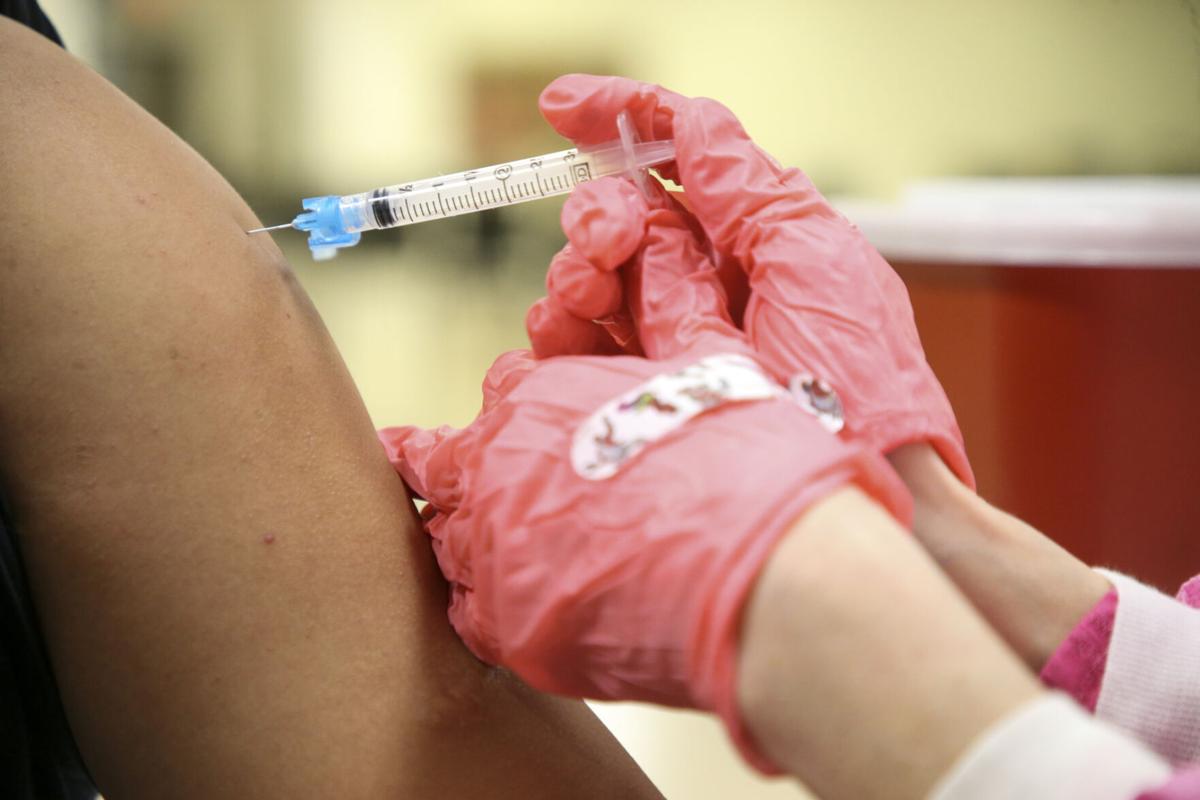 Oklahoma health leaders point to many unclaimed vaccine appointments at large-scale sites as an indicator that the rollout must focus even more intently on disadvantaged populations and those who are hesitant to get inoculated.
As if on cue, the CDC on Tuesday announced it has awarded the state $36 million to support local efforts to improve vaccine uptake, equity and access for people disproportionately affected by COVID-19.
Dr. George Monks, president of the Okahoma State Medical Association, on Tuesday noted that surveys have shown the physician's office is at the top of the list for places where people prefer to be immunized. Monks said some hesitancy likely is because there are individuals who would feel more comfortable discussing questions or concerns in a one-on-one setting.
About two-thirds of providers in Oklahoma who signed up to offer COVID-19 vaccinations have vaccine now to serve as access points for the general public, according to the Oklahoma State Department of Health on Tuesday.
OSDH Deputy Commissioner Keith Reed in a written response to questions said the agency is providing vaccine to any pandemic provider that has signed up and puts in an order for it. So far, 1,098 providers have vaccine, with 1,720 total providers enrolled as pandemic providers.
Reed said pandemic providers choose when and how much vaccine they want to order. He said the state hasn't imposed a limit on them and urges them to place orders, so the reasons why one-third of pandemic providers don't have vaccine yet likely vary.
Some might not be ready nor comfortable to receive and administer it yet, he said.
"We strongly encourage providers still interested in being a pandemic provider to sign up as soon as possible," Reed wrote. "We agree that primary care providers are a key element to our strategy in continuing this vaccination program, and we need every willing provider to sign up as soon as possible."
Dr. Jean Hausheer, chair of the Healthier Oklahoma Coalition, during its weekly news conference Tuesday said the group is reaching out to physicians statewide to try to get them more involved in office settings or small groups for immunization to help ease vaccine hesitancy.
"I think that those questions that they have are important to get answered," Hausheer said. "For whatever reason — there's a whole list of reasons that they have, and some of them are really easy to cover — they just don't know who to go to."
With limited supply the state's rollout began by shipping out vaccine as quickly as possible to hospitals and local health departments to focus on priority groups. There has been enough supply the past several weeks to support large-scale vaccination events to efficiently immunize as many people as possible as the state opened up vaccine appointments to any Oklahoman starting March 29.
Dr. Dale Bratzler, OU's Chief COVID officer, recently said he has noticed some of the university's vaccine event appointments aren't filling up now, as well as some other large ones. Bratzler said he suspects that people who really wanted to be immunized sought out and already secured appointments.
He said thinks there will be more large-scale offerings that see more vacant appointments, so there is a need to promote the vaccine among disadvantaged populations and get out into communities.
"I think we need to get the vaccine in doctors' offices because there may be patients out there who are very high risk for COVID-19 but they want to talk to their doctor first before they get the vaccine," Bratzler said. "It's the ideal time when they're in the doctor's office to potentially get the vaccine. I think that's going to have to be a part of the approach going forward."
The $36 million award to Oklahoma is part of the CDC's $3 billion in funding to grant to 64 jurisdictions for broad-based vaccine distribution, access and administration efforts, according to an agency news release. The funding comes from the American Rescue Plan and the Coronavirus Response and Relief Supplemental Appropriations Act.
The CDC release states that 75% of the funding must go toward specific efforts to increase access and acceptance among racial and ethnic minority communities, as well as 60% to support local health departments, community-based organizations and community health centers.
For example, funds could identify and train trusted members of the community to do door-to-door outreach and help people sign up for appointments, according to the CDC.
"We are doing everything we can to expand access to vaccinations," CDC Director Rochelle Walensky said in a statement. "Millions of Americans are getting vaccinated every day, but we need to ensure that we are reaching those in the communities hit hardest by this pandemic."
The Healthier Oklahoma Coalition also took a few moments Tuesday to address an overlooked health matter related to the pandemic: eyesight.
Hausheer, an ophthalmologist, explained that school closures were among the first measures put into place, resulting in children spending more time in front of digital screens for learning and entertainment as part of quarantining at home.
"A recent perspective given in the American Journal of Ophthalmology has asked whether the shift has accelerated what already was a boom of cases of nearsightedness worldwide," Hausheer said. "The authors pointed to several research papers suggesting that these pandemic-associated trends could be linked to myopia onset and progression."
Hausheer said there is still much to discover about the link between nearsightedness and digital screen time, noting a research complication that weakens data is that screen time often is estimated based on self-reported measurements.
She added that the influence of near work and outdoor time on development of nearsightedness also isn't fully understood, though there is compelling evidence of potential correlation with environmental factors.
"Meanwhile, we should continue to promote socially distanced outdoor activities for our children and try to limit their screen time," Hausheer said. "This means setting clear limits on television time, taking kids to the park or take them on a bike ride until more research has been completed on this topic."
She said adults who have increased their digital screen in the pandemic also have often noticed increased eye irritation, burning and itching from dry eyes.
"They also should strive to limit their screen time and consider using artificial tears throughout their day," Hausheer said.
---
Oklahoma Gov. Kevin Stitt gets COVID-19 shot