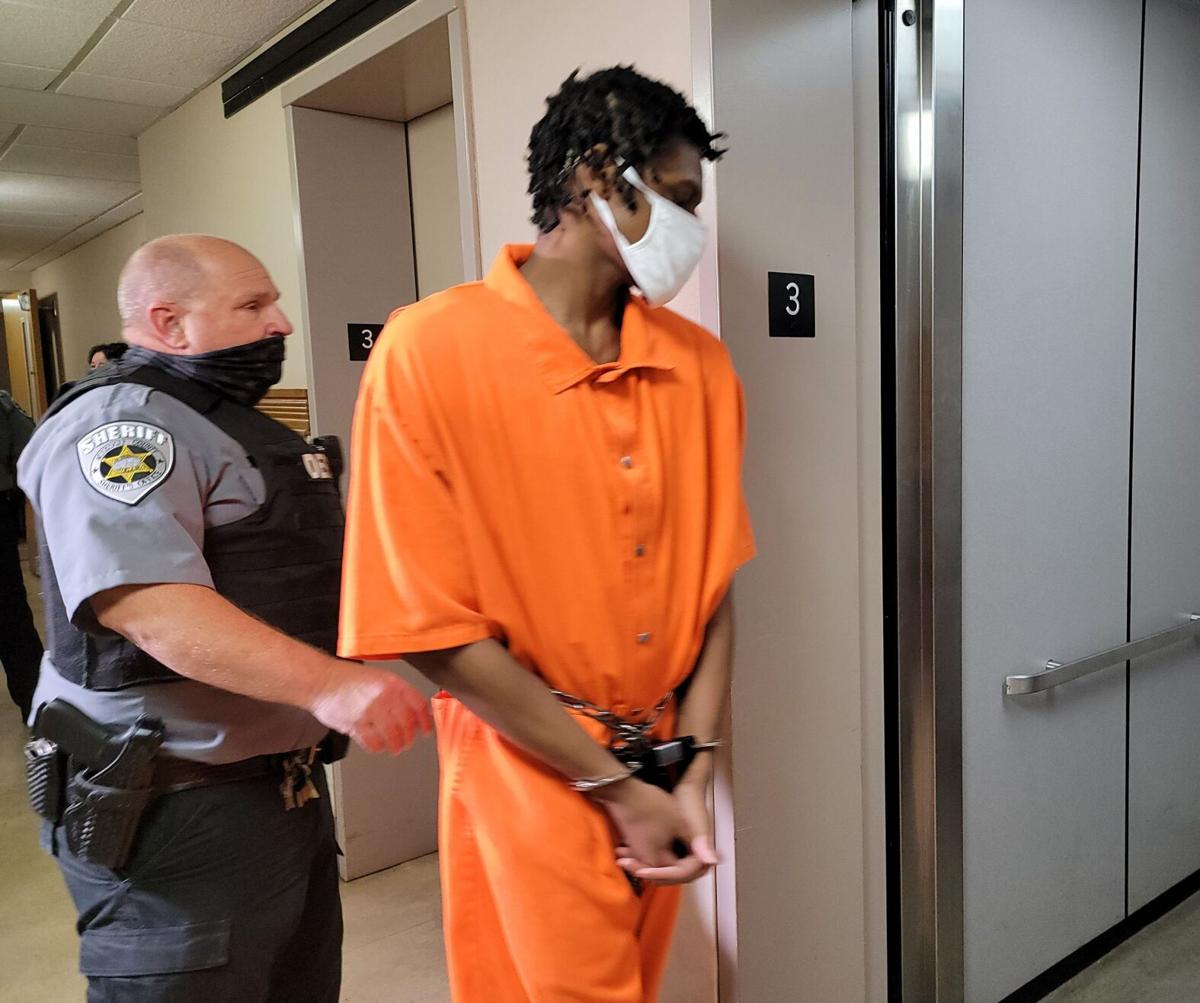 MUSKOGEE — A judge found probable cause on Wednesday for a man to face the prospect of a jury trial on six first-degree murder charges after hearing testimony from the mother of five young children who were fatally shot in February.
But the judge reiterated his decision to block journalists and other spectators from listening to evidence in the case.
Muskogee police arrested Jarron Deajon Pridgeon on Feb. 2 in connection with the deaths of Jalaiya Pridgeon, 1; Jaidus Pridgeon, 3; Harmony Anderson, 5; Nevaeh Pridgeon, 6; and Que'dynce Anderson, 9.
Pridgeon, 26, is also accused of killing 24-year-old Javarion Lee — Pridgeon's brother — and of shooting at the children's mother. Pridgeon's charge related to the woman was filed as shooting with intent to kill, but it was amended Wednesday to assault and battery with a dangerous weapon.
Defense attorney Gretchen Mosley argued Wednesday afternoon that "a reasonable theory of innocence" exists with regard to allegations that Pridgeon killed the children.
She acknowledged that the evidence could lead a person to a "reasonable inference" that Pridgeon killed Lee, but she said her client has "some real mental health issues."
She alleged evidence suggests that Lee, not Pridgeon, was involved in the homicides of the children, possibly prompting Pridgeon to shoot Lee in response while in the midst of a mental health crisis.
But District Attorney Orvil Loge remained adamant that Pridgeon was criminally responsible, pointing to testimony from the surviving mother, who said she saw Pridgeon with a gun in his hand while he said, "I shouldn't have done that."
"The only adult in the home uninjured that evening is Jarron Pridgeon," Loge said. He added that Pridgeon's legal history, including a 2019 felony assault and battery case, should have precluded him from having a gun.
District Judge Bret Smith on Wednesday accelerated Pridgeon's three-year deferred sentence in that case to a 10-year prison sentence, which Loge said was the maximum for the charge. Pridgeon had received the deferral following the completion of a mental health evaluation, records show.
Smith ordered him to return to court Sept. 2 for trial court arraignment.
The judge had closed nearly all proceedings to anyone who was not directly involved with the case, telling attorney KatieBeth Gardner it was because he had agreed also to hear evidence on a deprived-child matter apparently related to the surviving children.
Gardner is an attorney with the nonprofit organization Reporters Committee for Freedom of the Press. She entered into the case on behalf of the Muskogee Phoenix newspaper and has helped the paper in its quest to obtain records under the Oklahoma Open Records Act.
Smith did not permit reporters to listen to Gardner's arguments, which lasted about 10 minutes before she reported that he denied the motion because he's "trying to serve the interests" of the surviving children.
"And I noted that, obviously, you know, he could protect the interests of the children by having the deprived hearing separately, and that can be conducted privately according to state law," Gardner said.
"And then we could proceed with the preliminary hearing. And he just said he's thought about it a lot; he wasn't going to do that; so he's planning to proceed."
Loge has generally declined to comment on details of the case out of court but alluded last week to Smith's having an order that would restrict public access to the hearing.
However, Muskogee County Assistant District Attorney Larry Edwards notified reporters that Smith said it was acceptable to hear arguments from attorneys made after Smith concluded the deprived-child hearing.
Some of the testimony collected Monday and Wednesday, including from the mother — the final witness — is expected to be used in both proceedings.
"We've got a decision to make in the office. We don't take that lightly," Edwards said. Asked to clarify, he said, "Whether this is a death penalty case or not."
"We're obviously still discussing that," he said.
Despite the restrictions in place, Smith on Wednesday signed an order releasing portions of police body camera footage to the public. In doing so, he said "the public has a right" to see them and wrote that "accurate reporting by the media serves the public interest."
He withheld portions he determined were "particularly graphic and disturbing," including "recordings of deceased/survivors."
Gardner said it's likely she will appeal the decision to close the hearing and that Smith still has not issued an order explaining the reasons journalists could not hear testimony. Smith told a Tulsa World reporter on Monday to leave his courtroom while a witness was on the stand, citing the deprived-child matter.
"You have to have transparency and have to allow the public to participate," Gardner said.