A federal judge has found a second Fort Gibson man guilty of charges related to the Jan. 6, 2021, riot at the U.S. Capitol.
U.S. District Judge Colleen Kollar-Kotelly on Tuesday found Anthony Alfred Griffith Sr., 58, guilty on all four counts on which he was tried in March, according to court records.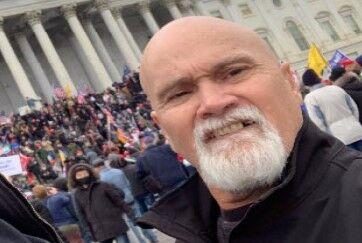 "Beyond a reasonable doubt, Anthony Griffith knew on January 6, 2021, that his actions at the Capitol were unlawful," Kollar-Kotelly concluded in her findings of fact and conclusions of law.
Griffith is one of more than 1,000 people arrested in the days and weeks after the 2021 attack on the U.S. Capitol.
Griffith was found guilty following a five-day bench trial in U.S. District Court for the District of Columbia of entering and remaining in a restricted building, disorderly and disruptive conduct in a restricted building, violent entry and disorderly conduct in a Capitol building, and parading, demonstrating or picketing in a Capitol building.
The misdemeanors carry jail sentences ranging from six months to one year in jail, plus possible fines.
Griffith was arrested March 4, 2021, after he and his employee Jerry Ryals, 28, were charged with violations at the Capitol on Jan. 6.
The pair and a third person traveled from Oklahoma to the District of Columbia to attend former President Donald Trump's "Stop the Steal" rally prior to the riot.
Griffith testified during his trial that he marched from the rally to the Capitol, occasionally yelling "Freedom," among crowd chants of "Stop the Steal," according to Kollar-Kotelly's findings.
After arriving at the Capitol, Griffith entered the building about 2:45 p.m., stepping over broken glass only to leave the building and enter it again five minutes later through another door, according to the judge's findings.
Griffith left the building for the last time at 3:33 p.m.
"In general, defendant maintained in his testimony that he thought it was lawful to enter and remain in the Capitol and its grounds until instructed otherwise," Kollar-Kotelly wrote in her findings of fact and conclusions of law.
"The Court does not find this testimony credible," Kollar-Kotelly wrote, noting that Griffith encountered chemical spay, an ear-splitting alarm upon entering the Capitol, a ransacked office and glass broken by rioters while breaching the building.
The judge also commented on Griffith's claim of being guided by his religion.
"Although Griffith testified that he was guided by firm religious convictions, particularly in regards to his views on abortion, those religious convictions do not negate the clear video and photographic evidence speaking to his intent to engage in political demonstrations in concert with the mob around him," Kollar-Kotelly wrote.
Griffith will be sentenced at a later date.
---