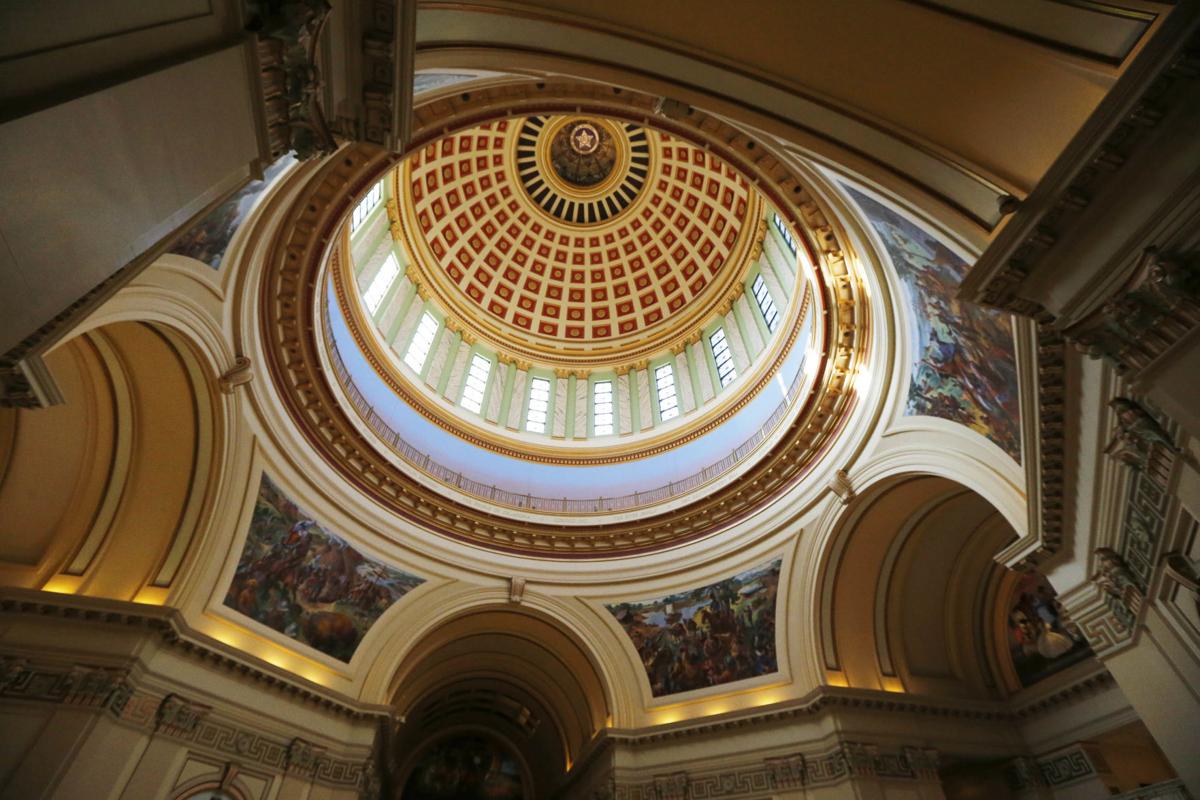 Correction: This story originally stated President Donald Trump's 1,018,870 votes were a record for any candidate in the state's history. Although Trump's total surpassed the previous high, Corporation Commissioner Todd Hiett received 1,098,561 votes in the same election, thus beating Trump's total. The story has been corrected.
Tuesday's record election turnout powered a Republican gain of five seats in the Oklahoma House of Representatives, pushing the Legislature even further into the red zone and leaving Democrats with only the faintest silver linings.
The GOP broke even in the Senate — losing one seat and gaining one, both in Tulsa County — but will be down one at least part of the upcoming session because of a vacancy created by state Sen. Stephanie Bice's election to Congress. Republicans currently hold a 39-9 majority there.
Republicans increased their supermajority in the lower chamber to 82 of 101 seats.
"Oklahomans want growth, freedom and conservative government, and their election of the biggest Republican majority in the state House history will deliver it," said House Speaker Charles McCall, R-Atoka. "It was encouraging to make gains statewide, from picking up all rural seats for the first time in state history to adding representation in the Oklahoma City area."
Legislative Republicans have had a net gain in every presidential election since 1992, and Democrats knew from the start they were in trouble again this year. The retirements of Ben Loring of Miami and David Perryman of Chickasha and the defeat of Matt Meredith of Tahlequah means the party has only one legislator — Rep. Trish Ranson of Stillwater — from outside the two major metro areas.
House Minority Leader Emily Virgin, D-Norman, said outside money coming into the state for the 5th Congressional District race between Bice and Democratic incumbent Kendra Horn played a part in her party narrowly losing two House seats in Oklahoma County.
"The urban seats we lost were not due to our candidates not working hard," Virgin said. "They outworked and had great campaigns."
In addition, what happened in Oklahoma is what is happening across the nation, she said.
"I think voters picked their local representatives based on what is happening in Washington, D.C., and not what is happening in Oklahoma," she said.
President Donald Trump's popularity was also a factor, she said.
Trump not only carried all 77 counties, but topped 70% in 70 of them. His unofficial total of 1,018,870 votes are the most for any presidential candidate in state history, and would have been the most for any candidate for any office had Corporation Commissioner Todd Hiett not totaled 1,098,561 in this same election.
Tuesday's results also revealed the growing gulf between the two largest urban areas and the rest of the state.
Trump's 56% in Tulsa County was 2 points below 2016, the lowest for any Republican presidential candidate since 1964.
Conversely, Joe Biden received 12,000 more votes in Tulsa County than any Democratic presidential candidate ever, and his 40.9% share was the best since 1964.
In Oklahoma County, Trump's 3,300-vote margin was the narrowest for a Republican presidential candidate since Democrat Lyndon Johnson carried it in 1964.
Statewide, Biden's 503,289 votes were the most for a Democrat since 2004 — an election that featured a high-powered U.S. Senate contest between Tom Coburn and Brad Carson — and the second-most since Jimmy Carter's narrow loss here in 1976.
State House members will be sworn in 11 a.m. Nov. 11 at the Capitol.
Senators will be sworn in Nov. 16 in the early afternoon at the Capitol.
Gov. Kevin Stitt is expected to call a special election to fill the post vacated by Bice due to her congressional win.
Senate President Pro Tem Greg Treat, R-Oklahoma City, is confident Republicans will maintain that seat.
He believes voters in Senate District 22 "will select a leader with our shared commitment to common sense conservative policies that help Oklahoma grow and prosper."
Voter registration in the district is: 40,503 Republicans; 519 Libertarians; 16,295 Democrats; and 11,688 independents.
---
VostCast post-election roundup
VoteCast post-election roundup
Biden got more votes than any candidate ever
That's mainly because overall voter turnout spiked this year, as an estimated 68.2% of the US electorate cast ballots. This chart is current as of Nov. 4, 2020, and will not update. Sources: AP Election Research Group; The American Presidency Project.
Police and pandemic expose racial differences
A summer of protests over racial inequality in policing exposed sharply divergent views on racism, while the coronavirus pandemic laid bare racial disparities in health care. Both affected how voters cast their ballots.
Biden voters almost universally said racism is a serious problem in U.S. society and in policing, including about 7 in 10 who called it "very" serious. A slim majority of Trump voters — who are overwhelming white — called racism a serious problem in U.S. society, and just under half said it was a serious problem in policing.
There also were sharply divergent experiences with the pandemic. About 4 in 10 Black voters and about 3 in 10 Latino voters said they lost a family member or close friend to the virus, while just about 1 in 10 white voters said the same.
Latino and Black voters also were more likely to lose household income because of the pandemic.
Those voters fall into Biden's column, meaning his voters were somewhat more likely than Trump voters to say they've felt the impact in at least one of the ways the survey asked about, 73% to 62%.
Trump supporters distrust the vote-counting process
Trump for months has sought to sow doubts about vote-counting — especially of mail-in ballots, which take longer to count and tend to favor Democrats — claiming without evidence that the process was ripe for fraud and that Democrats would try to steal the election.
The survey suggest his voters were listening.
Trump supporters were more likely to distrust the vote-counting process, though voters for both candidates had their doubts. About 7 in 10 voters were confident that votes would be counted accurately, though only about a quarter of voters were "very confident." Almost 8 in 10 Biden voters were confident, compared with about 6 in 10 Trump supporters.
Trump voters felt more confident about another democratic institution that has already played a role in this year's election: the Supreme Court. The high court, along with lower courts, handled lawsuits in recent weeks about the count of mail-in ballots in several states. That was before conservative Justice Amy Coney Barrett filled her seat on the Supreme Court after the Republican-controlled Senate sped through her confirmation just before the election.
About 9 in 10 Trump voters were at least somewhat confident in the high court to be fair and impartial in its decisions, compared with about half as many Biden voters.
We pretty much knew all along who'd get our vote
Longstanding partisan divides have defined the past four years, explaining why roughly three-quarters of voters said they've known all along who they were supporting in this election. VoteCast shows stark differences between Trump and Biden supporters — on the virus, the economy, even on football.
As U.S. coronavirus cases rise, claiming more than 232,000 lives, a majority of Biden voters — about 6 in 10 — said the pandemic was the most important issue facing the country. And Biden voters overwhelmingly said the federal government should prioritize limiting the spread of the virus — even if that damages the economy.
But Trump voters were more focused on the economy. About half of Trump voters called the economy and jobs the top issue facing the nation, while only 1 in 10 Biden voters named it most important.
The two groups did not agree on the state of the economy, either. Trump voters remain adamant that the economy is in good shape: About three-quarters call national economic conditions excellent or good. About 8 in 10 Biden voters call them not so good or poor.
Partisanship even seemed to cloud views on football among voters in many states, including Iowa, Wisconsin, Michigan and Ohio. When the coronavirus threatened the Big Ten's college football season, Trump campaigned on ensuring the games would be played. Not surprisingly, across eight states, voters who approved of the Big Ten playing this year supported Trump over Biden. Those who saw it as a mistake were more likely to back Biden.
This survey's backers ranged from Fox News to NPR
AP VoteCast is a survey of the American electorate conducted by NORC at the University of Chicago for Fox News, NPR, PBS NewsHour, Univision News, USA Today Network, The Wall Street Journal and The Associated Press.
The survey of 110,485 voters was conducted for eight days, concluding as polls closed. Interviews were conducted in English and Spanish. The survey combines a random sample of registered voters drawn from state voter files; self-identified registered voters using NORC's probability based AmeriSpeak panel, which is designed to be representative of the U.S. population; and self-identified registered voters selected from nonprobability online panels. The margin of sampling error for voters is estimated to be plus or minus 0.4 percentage points. Find more details about AP VoteCast's methodology at https://ap.org/votecast.