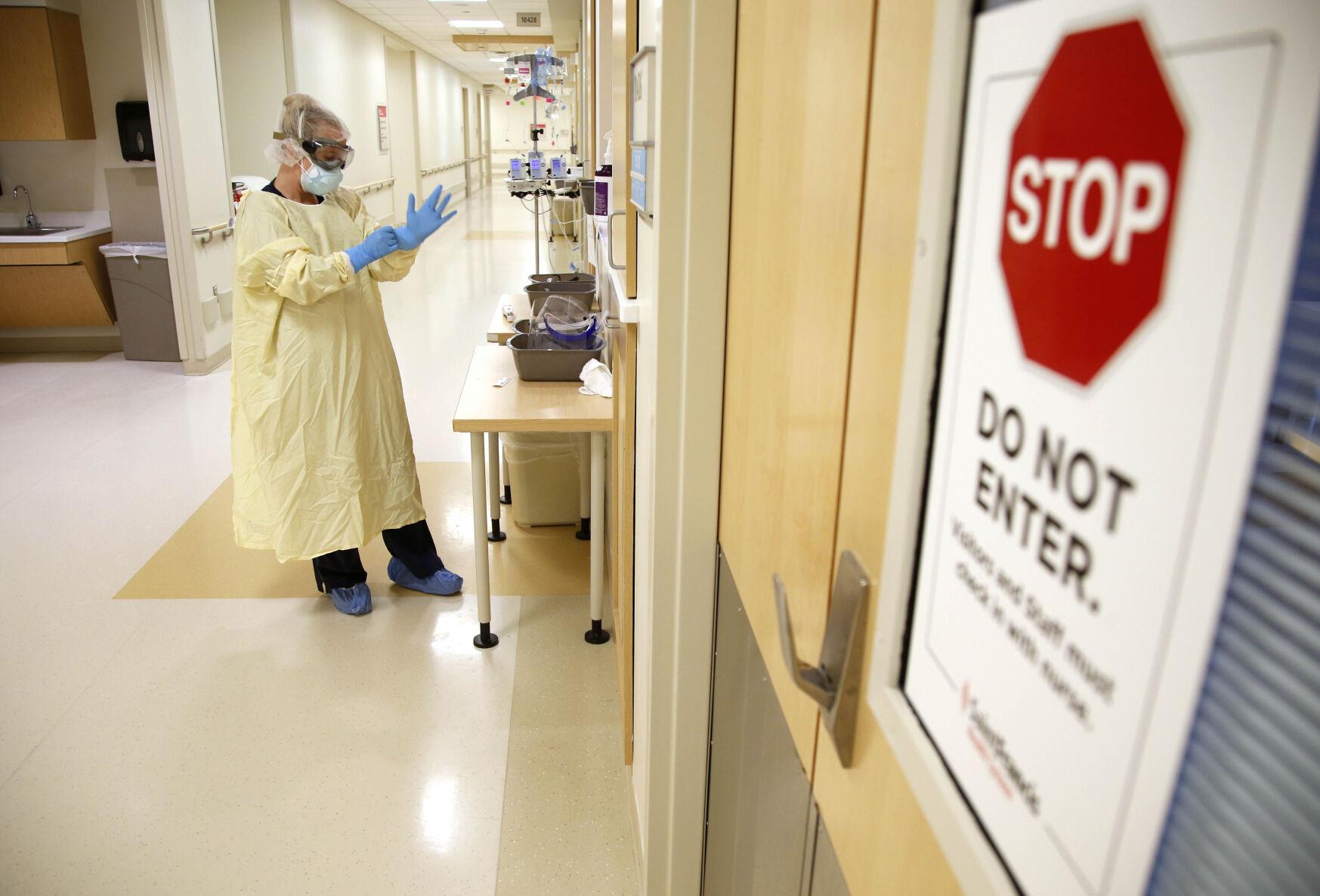 Oklahoma has broken the overall COVID-19 hospitalization record seven of the past 10 weekdays the state has reported that data.
COVID-19 ICU hospitalizations also are at an all-time high in the state.
But Oklahomans don't know what the specific numbers are within each hospital or hospital region because the state doesn't publicly release that data. And there have been conflicting viewpoints in recent weeks between state officials and public health and medical professionals about just how strained or not hospitals are, with some patients being transferred out of the Oklahoma City metro area.
Dr. Dale Bratzler, OU Health's COVID chief, said Friday that transparency is the best course of action for Oklahoma. He noted that the Healthier Oklahoma Coalition — he is a member of the group of medical and public health professionals — has asked the state for more transparency on bed capacity at individual hospitals.
"I think transparency is the best thing that we can do right now," Bratzler said. "Let people understand where this disease is spreading, how many cases, what the reality is around hospitalization.
"Right now, it's difficult sometimes even at a hospital for an emergency room doctor, for instance, to know where there's a hospital that has a bed available without just making a bunch of phone calls. I think we need to continue to have as much transparency as we can."
Overnight Thursday night, 792 COVID-19 hospitalizations were reported in the state, with 301 COVID patients in ICUs — a record. The state's overall COVID hospitalization record was set the previous night at 793 patients.
A spokesperson for Gov. Kevin Stitt declined to say why the governor hasn't released more granular hospital bed data for the benefit of the medical community and public.
Charlie Hannema, Stitt's chief of communications, on Friday deferred all questions to the Oklahoma State Department of Health "as the lead agency working on these issues and best suited to provide specific answers."
In a statement Friday, the Health Department said it is working to improve public release of data.
"OSDH is working with hospitals to release regional hospital bed capacity," according to the statement. "Timing and details are not yet available, but we will keep media updated as more progress is made."
This marks an advancement from Oct. 6, when Health Department Deputy Commissioner Travis Kirkpatrick told the Tulsa World that the agency was considering adding regional hospital bed capacity to its data dashboard but continued to "weigh the need for transparency with accuracy and timeliness."
Incomplete picture
Bratzler said the Healthier Oklahoma Coalition is composed of the Oklahoma State Medical Association, Oklahoma Hospital Association, Oklahoma Nurses Association and other groups.
He said he thinks all of the group members are frustrated about "some of the lack of interventions to prevent the spread of disease." He is a proponent of a statewide mask mandate but said people should take personal responsibility to wear a mask because even "pretty good data" show that cities with mask ordinances see slower growth in COVID-19 cases.
But another aspect, Bratzler said, is publicly releasing granular data to ensure that hospital physicians can quickly determine where there is bed capacity to transfer patients with as little delay as possible.
Statewide, the ICU bed availability snapshot has hovered between 10% and 13%, with the number of available staffed beds ranging from 101 to 124 out of 961 to 1,114 total. The total bed data shift each day depending on hospital staffing levels.
Bratzler said community hospitals that have available beds would prevent a region from entering the red zone on the regional risk map the state currently uses even though other hospitals are at capacity.
"So I just don't think we're getting the complete picture of what's actually happening with respect to the ability of hospitals," Bratzler said.
"I think the one thing that patients may find out is that if they have a serious medical condition — and it might not even be COVID — they may end up getting transferred to a different hospital or even to a different community to receive their care if the hospital is filled up."
Tenuous or strained capacity
Dr. Jennifer Clark, a former hospital administrator, noted on Wednesday that October metrics are on pace to "far outstrip" September's.
Clark leads the data portion of the COVID-19 sessions for Project ECHO, an Oklahoma State University Center for Health Sciences program that helps serve rural and underserved areas. She said COVID-19 is spreading at much higher rates in rural areas than urban and that there is "widespread community involvement" throughout the state.
As an example of how that affects hospitals, "ICU capacity is kind of very tenuous in Stillwater," Clark added.
Dr. George Monks, president of the Oklahoma State Medical Association, said Friday that hospital capacity can vary from hour to hour but that many hospitals are strained.
"This is where having our state release the regional hospital capacity information on ICU and COVID beds is so critical," Monks said. "We need that daily snapshot of this information to understand what's going on. Our whole state surge plan is based on regional hospital regions, yet we are just not getting that information publicly."
Oklahoma Army National Guard Lt. Col. Matt Stacy, a member of the Governor's Solutions Task Force, said hospitals are doing a "great job" of managing patient case loads, which he said is a testament to health care workers.
Stacy noted that he isn't involved in determining what kind of hospital data are released.
He said hospitals are functioning at close to staffed capacity, not capacity of licensed beds — which is an important distinction because "staff is very expensive" and hospitals operate as businesses.
"It is stressful but effective," Stacy said of how hospital capacity is managed. "I don't want to say it's good, because I know it's hard. There's a lot of hard work happening."
Hospital personnel are stressed "but doing a great job," he said.
Hospital support
LaWanna Halstead, vice president of quality and clinical initiatives for the Oklahoma Hospital Association, said Friday that there is ICU capacity in every hospital region of the state but that it is limited in metro areas.
"While COVID is adding to the patient load, hospitals are still caring for all types of patients, including surgical patients," Halstead said. "Occasionally a patient may need to be transferred to another hospital if one hospital is temporarily full. The capacity in hospitals changes continuously."
The Oklahoma Hospital Association notes that Oklahoma has had a shortage of nurses and other health care professionals "for some time" and that the shortage is exacerbated by the pandemic.
Halstead said some nurses, especially temporary staff, go to COVID-19 hot spots for more money.
She previously said hospitals' patient surge plans are no longer supported by state funding since the state Health Department canceled its overflow contracts at the end of September.
Stacy, who helps develop the state's surge plans, said the state paid hospitals at least $60 million in federal CARES Act funds through the overflow contracts to help them prepare for a surge of patients. He said the state is still supporting hospitals in other ways.
The state wants to develop a long-term solution for improving the hospital system rather than pay for temporary staffing help with the remaining federal COVID-relief dollars that must be spent by the end of the year, he said.
The state increased testing capacity from 100 per day at the pandemic's outset to 6,500 per day now, which bolsters data for decision-making, Stacy said. He said the state also has made massive investments in personal protective equipment to distribute to hospitals and clinics.
"We're constantly replenishing the stockpile," Stacy said.
He said Oklahoma is leading the nation in developing its inoculation plan, with health care workers the first priority once vaccine shipments arrive.
Additionally, he said the Health Department is working with the Oklahoma Hospital Association and hospital CEOs to revise the state's patient surge plan to create new tiers and triggers, including a better distribution of patients and an updated hospital bed survey.
He said the state expects to release the surge plan — its third iteration — this week. The Health Department has asked hospitals to tell it what their needs are, as well as what thresholds make sense for their systems, he said.
"It's probably going to vary by region, honestly, where those thresholds need to be for actions whereupon the state takes certain types of action," Stacy said. "One of those actions could be at some point a reduction or elimination of elective procedures. There's going to be a threshold for that because that obviously creates more capacity.
"It also has some negative health consequences because patients need some of those treatments even though they're considered elective."
There also will be a threshold for constructing field hospitals, although neither the Health Department nor hospital executives expect that to be necessary, Stacy said.
---
Featured video: What COVID-19 treatment patients can expect to receive today
---
Virus basics: Your COVID-19 questions answered
Am I immune to the coronavirus once I've had it?
You have some immunity, but how much and for how long are big unanswered questions.
There's evidence that reinfection is unlikely for at least three months even for people who had a mild case of COVID-19. That's how long New York City researchers found stable levels of protective antibodies in a study of nearly 20,000 patients of the Mount Sinai Health System.
Reinfection so far has been rare. The best known example: Researchers in Hong Kong said a man had mild COVID-19 and then months later was infected again but showed no symptoms. His second infection was detected through airport testing, and researchers said genetic tests revealed slightly different strains of the virus.
It's actually evidence the man's immune system worked like it should. Very few diseases leave people completely immune for life.
Antibodies are only one piece of the body's defenses, and they naturally wane over time. And usually, "memory" immune cells can identify germs they previously encountered so they're better at fighting them the second time around. That can help make any repeat infections less severe.
Scientists are studying how the other parts of the immune system kick in with the coronavirus.
It's not known whether people who've been reinfected but show no symptoms would be able to spread the virus to others. That's why health authorities say even people who have recovered from COVID-19 need to wear a mask, keep their distance and practice good hygiene.
Is it safe to go to the gym during the coronavirus pandemic?
It depends on where you live and the precautions you and the gym take.
If cases of COVID-19 are poorly controlled where you live, experts say it's best to stay away. But if you live in an area where the spread is being contained, there are ways to minimize risk when going for a workout.
To ensure everyone stays at least 6 feet apart, gyms should take steps such as moving machines, blocking off areas and limiting the number of people allowed inside, says Dr. Marybeth Sexton, an assistant professor of infectious diseases at Emory University.
Avoiding the locker room, bringing your own water bottle and using hand sanitizer also helps reduce risk, Sexton says.
The U.S. Centers for Disease Control and Prevention also suggests checking in online, rather than in person, and seeking activities that are outdoors instead of indoors when possible.
Gym staff should be cleaning exercise machines between uses and regularly wiping down other frequently touched areas with products that kill viruses.
And experts say face coverings should be worn at the gym whenever possible.
Sexton also suggests bringing a backup mask. If the one you're wearing gets really damp with sweat, she says it might not be as effective.
Even for those being careful, gyms pose a risk. Many are indoors, where ventilation is limited and social distancing can be challenging. In an ongoing pandemic, if you can manage to break a sweat without returning to the gym just yet, that's the best option, according to Sexton.
"If you can exercise by yourself outside, that's safer than being at the gym," she said.
The AP is answering your questions about the coronavirus in this series. Submit them at: FactCheck@AP.org.
Has the coronavirus mutated in any significant way?
Coronavirus doesn't seem to have changed in a way that makes people less or more sick. There's some evidence that a specific mutation called D614G may have made it easier for the virus to be transmitted between people. But not all scientists are convinced, and it's hard to say how strong any such effect might be.
The D614G mutation, which appeared quite early in the pandemic, has since become so common that most outbreaks are caused by strains that carry it.
It's normal for viruses to mutate over time, but most genetic changes don't affect their behavior.
Who does a facemask really protect? Me or others?
Does a face mask protect me, or just the people around me? It likely provides protection for both.
Studies on the new coronavirus and other germs show wearing a mask helps stop infected people from spreading disease to others. Evidence also suggests that masks may offer some protection for the people wearing them.
The virus spreads from droplets people spray when they cough, sneeze or talk. Surgical or cloth face masks can block most of those particles from spreading.
While some droplets may still spread out, wearing a mask could reduce the amount, providing a benefit to others. Research shows people don't get as sick when exposed to smaller amounts of virus, said Dr. Monica Gandhi, a virus expert at University of California, San Francisco.
And masks may protect the people wearing them by reducing the amount of droplets from others that might make contact with them.
In two U.S. food processing plants where masks were required and infection clusters occurred, Gandhi noted that most workers who developed COVID-19 had mild illness or no symptoms.
Research on a different coronavirus has also found low infection rates among people who frequently wore masks in public.
Experts say masks are particularly important with the new coronavirus because infected people can be contagious even if they don't have symptoms.
The AP is answering your questions about the coronavirus in this series. Submit them at: FactCheck@AP.org.
Does my employer have to say if a coworker has the virus?
Employers are generally not required to tell workers when someone in the workplace has tested positive for the coronavirus.
The U.S. Centers for Disease Control and Prevention recommends that companies monitor employees for symptoms and alert those who may have been in contact with an infected person. Some states may order businesses to follow such guidance.
Employers have the right to take employees' temperature and ask about symptoms or if they have been exposed to or diagnosed with the virus. If an employee doesn't respond to those questions, they can be barred from the workplace.
Businesses are required to provide a safe working environment. They also have to keep track of infections contracted on the job and report any hospitalizations or deaths related to the disease to the U.S. Occupational Safety and Health Administration.
Some workers are unsettled by the lack of information. Amazon, for example, alerted warehouse workers when someone tested positive for the virus, but didn't disclose a tally of how many workers tested positive. So workers began trying to keep track on their own.
There are also pending lawsuits against employers filed by workers who were exposed to or diagnosed with the coronavirus. In general, there's a high legal bar for finding an employer at fault for endangering employees and most claims are resolved via worker's compensation settlements. There has also been some debate over whether Congress should grant businesses liability protections during the pandemic.
What should I look for in a hand sanitizer?
Pick one that contains mostly alcohol, and has few other ingredients.
The U.S. Centers for Disease Control and Prevention says hand sanitizers should be at least 60% ethyl alcohol or 70% isopropyl alcohol. Other approved ingredients may include sterile distilled water, hydrogen peroxide and glycerin, according to the U.S. Food and Drug Administration.
You should avoid anything with methanol or 1-propanol, both of which can be highly toxic. The FDA also warns people to watch out for hand sanitizers packaged in food and drink containers, since accidentally ingesting them could be dangerous.
Health officials also say to avoid hand sanitizers that replace alcohol with benzalkonium chloride, which is less effective at killing certain bacteria and viruses. Making your own sanitizers isn't encouraged either; the wrong mix of chemicals can be ineffective or cause skin burns.
And you should only use hand sanitizer when you can't wash your hands with soap and water, says Barun Mathema, an infectious disease researcher at Columbia University. Hand washing is better at removing more germs.
Can I use a face shield instead of a mask?
No. Health officials don't recommend the clear plastic barriers as a substitute for masks because of the lack of research on whether they keep an infected person from spreading viral droplets to others.
However, those who want extra protection may want to wear a face shield in addition to a mask.
Face shields have the added benefit of protecting your eyes and discouraging you from touching your face by acting as a physical barrier, says Christopher Sulmonte, project administrator of the biocontainment unit at Johns Hopkins Hospital.
Meanwhile, the available research so far indicates that the best face shields for preventing viral spread are hooded or wrap around the sides and bottom of the face, according to the U.S. Centers for Disease Control and Prevention. That's because those shields leave less space for droplets from sneezing, coughing and talking to escape.
If you do wear a reusable face shield in addition to a mask, the CDC notes the importance of cleaning it after each use. The agency also says you should wash your hands before and after taking it off, and avoid touching your face while removing it.
What are the 3 types of coronavirus tests?
There are three broad categories of coronavirus tests in the U.S. Two diagnose whether you have an active infection, and a third indicates if you previously had the virus.
Most tests look for bits of the virus' genetic material, and require a nasal swab that is taken by a health professional and then sent to a lab. This is considered the most accurate way to diagnose an infection, but it's not perfect: The swab has to get a good enough sample so any virus can be detected.
These tests usually take hours to process at the lab so you likely won't get results back for at least a day, though a handful of rapid tests take about 15 minutes on site. Other genetic tests use saliva, instead of a swab.
A newer type of test looks for proteins found on the surface of the coronavirus, rather than the virus itself. These antigen tests are just hitting the market, and experts hope they'll help expand testing and speed up results.
Antigen tests aren't as accurate as genetic tests, but are cheaper, faster and require less specialized laboratory equipment. They still require a nasal swab by a health professional.
A recently approved test from Abbott Laboratories takes 15 minutes and can be performed at schools, offices and other locations.
Antibody tests look for proteins that the body makes to fight off infections in a patient's blood sample. Antibodies are a sign that a person previously had COVID-19.
Scientists don't yet know if antibodies protect people from another infection, or how long that protection might last. So antibody tests are mostly useful for researchers measuring what portion of the population was infected.
What are the rules on masks in schools?
Whether students have to wear masks, and the trouble they could face if they don't, depends on where they go to school.
The U.S. Centers for Disease Control and Prevention encourages masks for most students, especially when they are less than 6 feet apart. The exceptions are children younger than 2 and those with breathing problems or who can't remove the mask without help.
But how states and districts interpret the guidance varies. Ohio mandates masks across the board in K-12 schools. Massachusetts requires masks for students in second grade and higher, and encourages them for younger children. South Carolina says students have to wear masks in the hallways, but can take them off in the classroom if a teacher allows it.
Rules vary outside the United States, too. In Germany, Berlin requires masks in hallways, but not during classroom instruction. In the western state of North Rhine-Westphalia, masks are required in class as well. In the northern Italian town of Codogno that was hit hard by the virus, elementary and middle school students have to wear masks. They can be lowered during lessons, unless students can't maintain distance.
The issue has led to some contention. Back in the U.S., Utah's school mask mandate has drawn protest from parents, as well as support from some students who say it's worth it to be able to attend school in-person. The state also allows for some of the strictest consequences. Students and staff who refuse to follow the rules could be charged with a misdemeanor.
In New York City, officials say students will simply be sent home and told to attend school remotely if they refuse to wear masks.
The AP is answering your questions about the coronavirus in this series. Submit them at: FactCheck@AP.org.
Is it safe to reopen schools during the pandemic?
Is it safe to drink from a fountain during the pandemic?
Does wearing a mask pose any health risks?
How can I tell the difference between the flu and COVID-19?
It's impossible to tell without a test. Influenza and COVID-19 have such similar symptoms, you may need to get tested to know what's making you miserable.
Body aches, sore throat, fever, cough, shortness of breath, fatigue and headaches are symptoms shared by the two.
One difference? People with the flu typically feel sickest during the first week of illness. With COVID-19, people may feel the worst during the second or third week, and they may be sicker for a longer period.
Another difference: COVID-19 is more likely than the flu to cause a loss of taste or smell. But not everyone experiences that symptom, so it's not a reliable way to tell the viruses apart.
That leaves testing, which will become more important as flu season ramps up this fall in the Northern Hemisphere. Doctors will need to know test results to determine the best treatment.
It's also possible to be infected with both viruses at the same time, said Dr. Daniel Solomon, an infectious diseases expert at Brigham and Women's Hospital and Harvard Medical School in Boston.
Whether you get tested for one or both viruses may depend on how available tests are and which viruses are circulating where you live, he said.
"Right now we are not seeing community transmission of influenza, so widespread testing for the flu is not yet recommended," Solomon said.
Both the flu and coronavirus spread through droplets from the nose and mouth. Both can spread before people know they are sick. The flu has a shorter incubation period — meaning after infection it can take one to four days to feel sick — compared to the coronavirus, which can take two to 14 days from infection to symptoms.
On average, COVID-19 is more contagious than flu. But many people with COVID-19 don't spread the virus to anyone, while a few people spread it to many others. These "superspreader events" are more common with COVID-19 than flu, Solomon said.
Preventing the flu starts with an annual flu shot tailored to the strains of the flu virus that are circulating. Health officials would like to see record numbers of people get flu shots this year so hospitals aren't overwhelmed with two epidemics at once.
There's no vaccine yet for COVID-19, although several candidates are in the final testing stages.
Precautions against COVID-19 — masks, social distancing, hand-washing — also slow the spread of the flu, so health officials hope continued vigilance could lessen the severity of this year's flu season.
The AP is answering your questions about the coronavirus in this series. Submit them at: FactCheck@AP.org.
How easily does coronavirus spread among children?
It appears the virus can spread among children and teens, but how easily may vary by age. Research is still underway, but children under age 10 seem to be less likely than older kids to transmit the virus to other children and adults.
Children generally don't appear to get sick or experience symptoms as often as adults when they're infected. Some evidence suggests that may be particularly true for younger kids. That might help explain why they appear less likely to spread the virus — they're less likely to be coughing and sneezing.
Some of the latest evidence comes from a recent report that showed infected children in Utah day care centers and day camps spread the virus to family members, including siblings. That suggested very young children with no symptoms or very mild ones can spread infection, but that the rate of spread was low.
A large study from South Korea suggested that kids aged 10 and up may spread the virus more easily to family members than younger kids, and might even spread it as easily as adults.
Spread among children was also suspected in an outbreak at a Georgia summer camp.
With other respiratory viruses, "young children are the germ factories. In this case, it's different and we don't really know why,'' said Dr. Sean O'Leary of the American Academy of Pediatrics.
What do we know about superspreader events in the pandemic?
We're still learning, but it seems that much of the spread of the coronavirus has been caused by what disease trackers call superspreader events.
That's when a single person infects a large number of other people, or when a gathering is linked to a large number of cases.
There's no rule for when a cluster of cases is big enough to be called a superspreader event. But these are not instances of spread within one household. Instead, these are large clusters of cases where infection occurs in settings such as churches, restaurants or bars.
In the United States, for instance, a choir member with symptoms attended a rehearsal in March. Of 60 others who attended, 52 got sick with COVID-19, including two who died.
In Hong Kong, an outbreak at four bars infected 39 customers, 20 staff members and 14 musicians before ballooning further to infect 33 family members and other contacts. Disease trackers discovered that bands played at all four bars, so musicians may have spread the virus to more than 100 people all told.
Scientists studying three months of contact tracing data from Hong Kong estimated that 19% of people infected were responsible for 80% of the spread of coronavirus infections.
To prevent superspreader events, we need to better understand them, said Anne Rimoin, an infectious diseases expert at the University of California, Los Angeles.
She has called for detailed contact tracing of the infections around President Donald Trump, including those who attended a Sept. 26 Rose Garden ceremony and indoor White House reception for Supreme Court nominee Judge Amy Coney Barrett.
The timing of the event and the number of people infected suggests the possibility of superspreading, she said.
"Contact tracing is the way you get to the bottom of a superspreader event," Rimoin said. "That's how you break chains of transmission."
Unlike many contact tracing investigations, where it can be difficult to find everybody involved, the White House investigation would have "exquisite records and video about who was where and when," Rimoin said. "It's an opportunity to learn about superspreader events that could save thousands of lives, if not millions of lives, in the long run."
Does a flu shot reduce my chances of getting COVID-19?
The flu vaccine protects you from seasonal influenza, not the coronavirus — but avoiding the flu is especially important this year.
Health officials and medical groups are urging people to get either the flu shot or nasal spray, so that doctors and hospitals don't face the extra strain of having to treat influenza in the midst of the coronavirus pandemic.
Not to mention the confusion factor: The illnesses have such similar early symptoms that people who get the flu may mistakenly think they have COVID-19, said Dr. Gregory Poland, an infectious disease specialist at Mayo Clinic.
Only a test can tell the two apart.
The U.S. Centers for Disease Control and Prevention recommends the flu vaccine for everyone starting at 6 months of age, and suggests getting it by the end of October.
The CDC says the vaccine will not cause you to fall ill with the flu, and that the protection it provides takes about two weeks to kick in. And the flu vaccine isn't perfect but studies show if the vaccinated get sick, they don't get as severely ill.
A few flawed studies over the years have attempted to link the flu vaccine to increased risk of other respiratory infections, but experts say there is no evidence that's true.
"We need that daily snapshot of this information to understand what's going on. Our whole state surge plan is based on regional hospital regions, yet we are just not getting that information publicly."

-- Dr. George Monks, Oklahoma State Medical Association
Concerned about COVID-19?
Sign up now to get the most recent coronavirus headlines and other important local and national news sent to your email inbox daily.