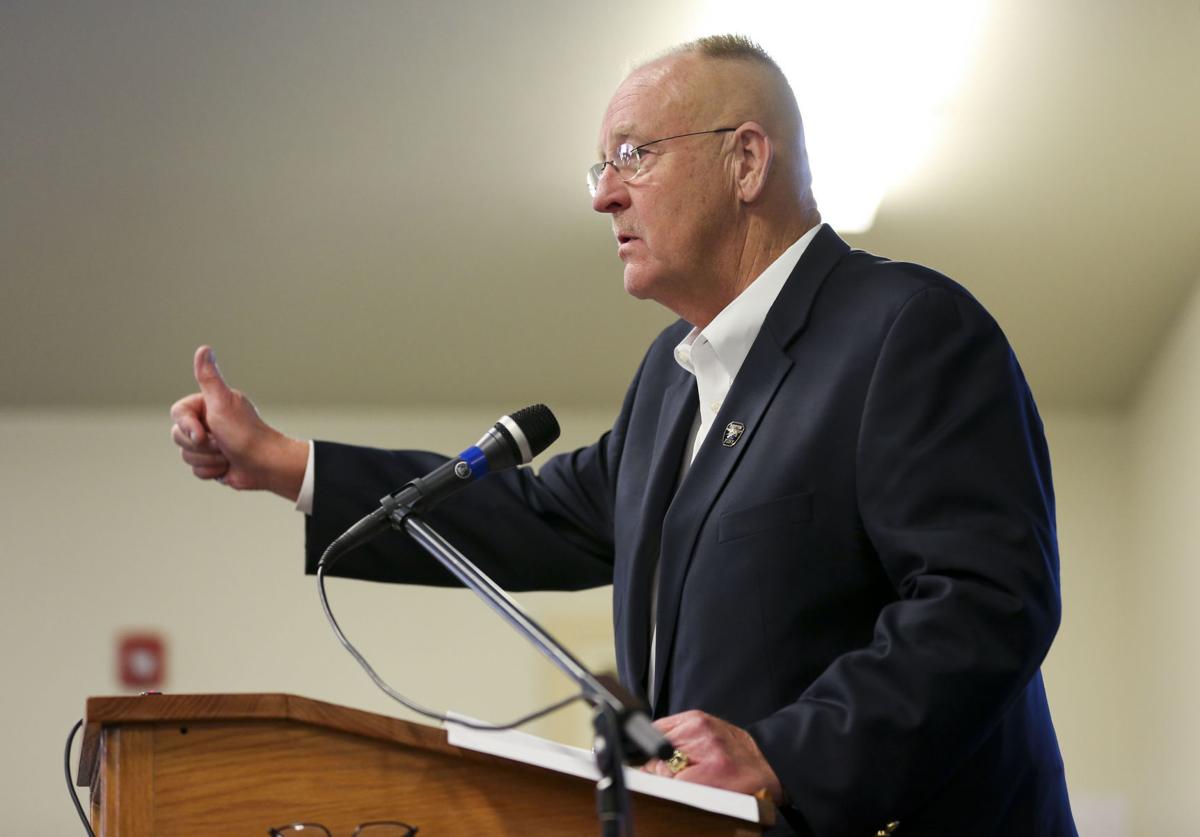 OKLAHOMA CITY — Department of Corrections Director Joe M. Allbaugh abruptly resigned Wednesday during a Board of Corrections meeting.
His resignation came after the newly constituted board elected officers.
Allbaugh took personal privilege to address the board. His resignation was not on the agenda.
"For the last three years, five months and four days, I have had the honor of leading this organization, rightly or wrongly," Allbaugh said. "It has been a challenge. But as the good book says, every season has its time."
He said he was resigning effective immediately with plans to retire July 1.
He wished the board "all the best."
The employees of the Oklahoma Department of Corrections are the hardest-working people he has ever worked with in his life, Allbaugh said.
"They are subject matter experts," he said.
Allbaugh asked the board not to treat DOC workers like second-class citizens like the state Legislature has done.
"They deserve your respect," Allbaugh said. "They deserve your attention. And they deserve their knowledge to be heard."
Allbaugh then abruptly left the meeting.
Asked for comment, he said, "They (the Board of Corrections) have a different set of ideas than I do."
Since a recent change in the law, Allbaugh said he thought he was working for the governor, "but apparently I am not."
He declined to comment further.
Gov. Kevin Stitt signed legislation in March giving the governor five spots on the nine-member corrections board and the ability to hire and fire the director.
Stitt had interviewed Allbaugh for the job.
Former Tulsa First Lady Kathryn LaFortune was among five people named to the state board of Corrections by Stitt on April 30.
Also appointed were Reginald Hines, a former department employee from Oklahoma City; Rodney Thornton, a Norman construction company owner; Steven Harpe of Broken Arrow, chief information officer at Gateway Mortgage Group, the company founded and owned by Stitt and his immediate family; and Betty Gesell of Bixby.
Harpe was elected chairman of the Board of Corrections.
Stitt said he was given no advance notice of the resignation and had not asked Allbaugh to resign.
Stitt said he accepted the resignation and a nationwide search will be conducted to find the best person to replace Allbaugh.
"We will make sure that the transition is smooth and that we don't disrupt any kind of services there," Stitt said.
"Here is what has happened," the governor said. "I want Oklahomans to know this. They elected me to do things differently, so we are bringing new people into these boards and we are bringing new thoughts into the management of these state agencies."
Stitt said he wants board members to dig into the details and question and challenge executive directors.
"Sometimes the pressure and the heat, you know, starts intensifying and you will see folks that decide they would rather go and do something else, and that is fine," Stitt said.
He said he handpicked his members on the Board of Corrections.
Scott Crow, chief of operations, was named interim director.
The agency for years has suffered from inadequate staffing and funding and crumbling facilities.
Oklahoma leads the nation in incarceration rates.
Allbaugh was hired as interim DOC director in January 2016. He became the full-time director in July 2016.
He previously served as director of the Federal Emergency Management Agency under President George W. Bush.
He grew up in Kay County, graduated from Oklahoma State University and worked with the Republican Party for years, including a stint with former Texas Gov. Rick Perry's 2012 presidential campaign.
He had no direct corrections experience upon being hired, when he was serving as president and CEO of Allbaugh International Group, a Washington, D.C.-based strategic and operational consulting services business.
"The sudden resignation of Director Allbaugh is a sad day for Oklahoma and the Department of Corrections," said Bobby Cleveland, Oklahoma Corrections Professionals executive director and a former House member.
The organization represents about 1,000 correctional employees.